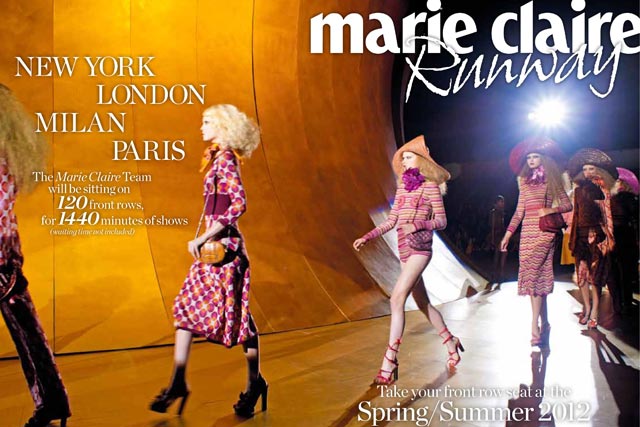 The new biannual Marie Claire Runway, which launches on January 26 2012, will cost £6 and feature exclusive fashion interviews, photography and behind-the-scenes features.
It will be available both in print and digital formats, although IPC has not yet confirmed what its digital form would be.
Marie Claire magazine, which fell 10.4% year on year to a circulation of 250,785 in the latest ABCs, will also move into a bigger format and will feature more editorial pages.
Its website, www.marieclaire.co.uk, is also set to undergo a redesign, while its mobile site, launched in 2007, is to feature more content.
Justine Southall, publishing director at Marie Claire, said: "We've developed Marie Claire to deliver an even more premium proposition, which, combined with our investment and development plans, gives us the strongest magazine brand offering for our upmarket audience.
"Marie Claire is this premium product that is still selling a lot of magazines. It's so important for us to invest more into the value of the product.
"These are changes we hope will have an impact on sales, but it's also about maintaining your core audience in these times."
Southall said that the brand's digital offerings continued to be its driving strength, with 1.2 million unique visitors to Marie Claire's website and 57,000 downloads of its beauty app.
IPC announced earlier this month that it had brokered an ad deal with Procter & Gamble across the mobile sites of Marie Claire, InStyle, Look, Good to Know, Woman & Home and House to Home.