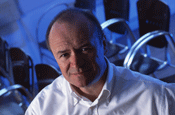 Cranmer has signalled his intention to step down from the role of worldwide chief executive of the WPP-owned research company and is currently serving out his notice.
It is understood that Cranmer does not yet have a plan for his next career move but has decided that he has done all he can at Research International.
He joined Research International in March 2006. As global chief he is responsible for managing 2500 employees spread across 50 countries. During his time at the company he has restructured the business and introduced new operational practices.
Cranmer has spent more than two decades as a leading media industry figure, and became one of the business' best-regarded media thinkers. His name has recently been linked to the vacant commercial role at ITV, but this is not thought to be part of his future plans.
Cranmer was unavailable to comment.