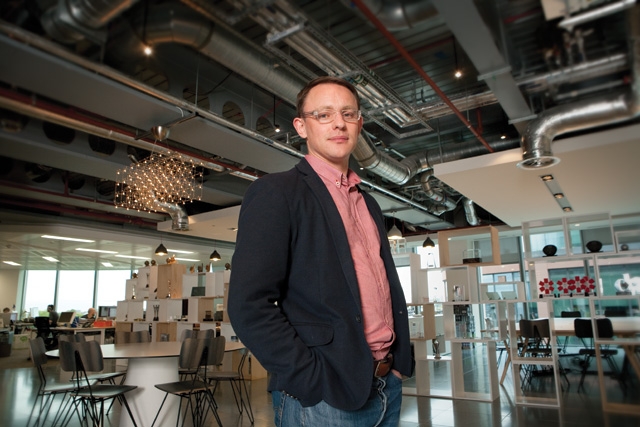 Mark Cridge has been named as a leader who has made an outstanding contribution to advertising, marketing and communications over the past decade.

It's a hard-earned accolade made all the greater by the fact it was given to him after voting from his peers and the wider industry. Yet for his part, Cridge would far rather talk about his agency and those around him, betraying a humility many say is typical of the character from Paisley, Scotland.
There is a certain fit in celebrating Cridge's achievements in the digital space as part of Brand Republic's 10th anniversary celebrations. The birth of both the marcoms portal and Cridge's independent Glue were among the more positive events of a terrorist-stricken September 2001.

While keen observers will note Glue was actually formed in 1999, at the height of the dotcom boom, it was not until that September when the agency really took shape: its core management team, strategic direction and even early office furniture, can all be traced back to that autumn and the spectacular collapse of digital start-up, Deepend.
Deepend, in which Glue was housed and closely linked with, had been the darling of the new media age, winning a host of international awards and industry accolades. Employing more than 340 people though operations in nine countries, its fall into liquidation proved to be a seminal moment for a 28-year-old Cridge.
"They really screwed-up," says Isobar's global leader, who at the time was knocking out "down and dirty" 468 x 60 animated gif banner ads.
"They tried to do breadth and depth at the same time, with no real management experience, kids out of university basically. They had ridden that dotcom wave but there was no real fundamental business nous there – or not enough of it."
Charting a new path

Painful at the time, Cridge now credits the experience with helping to form Glue's formative strategic focus, having made the decision to keep the operation going with Seb Royce, Martin Bailie and a dozen others.

"Knowing what not to do proved to be utterly critical," he says. "It's a very American cliche, that [as an entrepreneur] you have to go through that type of failure, but we were fortunate enough to be on the periphery of it, but close enough in to say don't do that, don't do that, definitely don't do that..."

And so, with backing from ad agency St Luke's, Glue stayed open for business, developed its digitally creative offering and began to evolve into something else more credible entirely.

Cridge drew from his time working at Modem Media, where he'd been privy to the working practices of traditional ad creatives, including Stephen Vranakis, Lee Leggett (nee Wright) and Simon Andrews.

He says: "We recognised that by taking that ad agency model and applying it to this new digital space, you could create something really unique and different."

Cridge does not have a traditional ad background, having studied to be an architect at the University of Strathclyde. But Jason Goodman, chief executive and founder of Albion, credits Cridge's unconventional skillset as part of his success.

He says: "Mark has the ability to combine emotional intelligence with rational skills. This suits today's modern marketer, who needs to handle data and interactivity, as well as all the softer stuff like brand and communications."

Glue's experimental approach struck a chord, and by 2004, Cridge, Royce and Bailie were emboldened to buy back St Luke's stake by taking out three "very high risk" bank loans of more than £100,000 each.

He recalls: "From that point on we knew where every penny was being spent, which is not a bad discipline."

Some 18 months later, with the debt paid and digital ad market booming, the three found themselves in the enviable position of being courted by the big communications groups.

Cridge says: "With hindsight, Deepend collapsing was very fortuitous for us, even though traumatic. It meant by that point we had full control of the company, before we only had a third share between us.

"When we came to sell the company that ownership made it, well, 'worthwhile'."

'Worthwhile' in this instance, relates to the near £15m deal struck with Aegis in 2005. The three investors are believed to have pocketed more than £2.7m each, However, all 50 or so staff had reason to celebrate.

"Every single person who worked at Glue got something out of the buyout, from the most junior all the way up to the senior designers", says Lbi's Laura Jordan-Bambach, a former Glue employee whose career also started at Deepend.

"Everyone felt like they were part of it, the approach was truly pretty amazing and went a long way in building the agency's story."
Building the story

The importance of building a 'story' or legacy around an agency should not be underestimated in the digital world, where even the stalwart companies are barely teenagers.

It's a recurring theme in the sector that goes beyond drunken tales in the Owl and Pussycat, to having a discernable impact on an agency's business performance.
Nick Farnhill, founder of Poke London, explains: "The ability to nurture and inspire talent is a vital part of the business for those operating in digital.

"You soon realise that it's a spiritual thing that keeps people together more than any management techniques."

He adds: "Who Mark keeps around him, his tight senior management, including Seb and Martin, have ultimately been key to Glue's success, and Mark knows it."
It's not Shoreditch


But how does this myth-building play out once you've sold to a global network and, symbolically at the start this year, physically moved from Shoreditch's Tea Building to the contemporary 10 Triton Street in Fitzrovia?

"The space inside is wonderful," says Cridge, unable to suppress his years of study. "Terry Farrell is an interesting architect, known as a bit of a postmodernist, he also designed Charing Cross Station… but it's not Shoreditch."
He admits to feeling "nervous" about the move, and the fear of taking a core component out the mix, that will somehow kill its ethos.
However, he notes Glue has just reached the point where it has been owned by Aegis (6 years) longer than it was independent. Meanwhile, the office move 10 months on has enabled a "very fertile crossover of ideas" between Aegis' agencies Carat, Vizeum and iProspect.
"We're cooking on gas now," says the chief executive, supported by a series of new business wins, including Auto Trader and The Guardian in the UK and Kelloggs across Europe.
What happens next?

But with money in the bank, UK operations run by Wayne Brown, and global network activity focusing on "soft directional touch", is there enough challenge left to keep Cridge interested?
The man himself points to a culture within Aegis of senior management having come through acquisitions, including Jerry Bulmann and Nigel Morris. He adds that Isobar's chief executive, Mark Cranmer, has played an "instrumental role" in keeping him motivated, despite being "a grumpy old bastard".
But Albion's Goodman is among those not convinced it will be enough. He says: "My secret worry is that we might soon lose him.

"In my opinion he's far too young to be put out to pasture just yet in a global network role. I've always admired the entrepreneur in him and think he's still got much to give."
Earlier this year, Cridge was among a delegation of "UK influencers" invited to Facebook's head-quarter's in Silicon Valley. MEC's Steve Hatch also attended, and remembers how Glue's leader "came alive and came into his own" during the experience.
Cridge remains adamant he has no plans to leave Aegis, saying, "it's not finished yet". Perhaps envisaging a role not dissimilar to Facebook's general manager, Boz, he places the talent at the top of his future motivations.
"The most creative part of it for me is building a team and watching a team grow," he says. "We've got some wonderful, talented people. Now it's not about how can we make it better, it's about how are we going to take it stratospheric, how is it going to be that category defining network. And that's exciting."
Will it be enough? Poke's Farnhill believes, "with his care and humility", Glue is now "forging its new story for the next decade". Only time will tell how active a role Cridge will play, but with a six month sabbatical on the immediate horizon, Aegis will be hoping by next summer his journey will continue.
Cridge on…


Seb Royce and Martin Bailie: After all these years, they're the giant shoulders that I'm standing on. We're the classic triumvirate of planner, suit and creative. Historically, I've had more of the limelight, but it should never detract from their equal part in the story.

Facebook is already feeling quite media channelesque - they're really driving it in terms of how do you monetise the audience. It's fairly sad but I guess it's inevitable as well. I think Google+ is much more connective tissue than a Facebook killer. They're socialising so much of what Google has already done, rather than it being about the Facebook killer-type approach. Google is much broader, it's more about real life.

Social is not a department it's got be into everything every piece of communication you do is an invite into 'what next?' What next is where social really lives, whether you're doing work to provoke a response or get people involved.

Client retention is one of our biggest criticisms. We can't look and do a JWT and go, 'here's our client list, we've had these for forty years, and these for 20 years. I think over the past four years maybe we've grown up a little bit. We're much more deeply involved in a clients business now than we were. I think that's an industry trend as much as an Isobar trend.