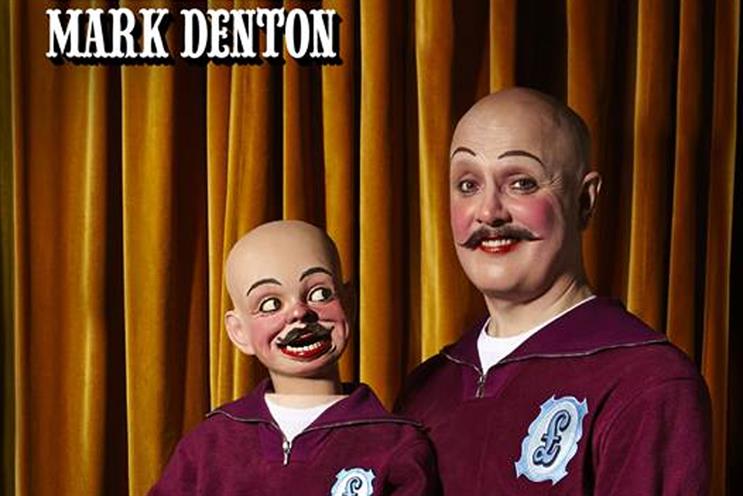 An hour crammed full of anecdotal advice, Denton took us through a whirlwind of his achievements, including but not limited to re-launching the Creative Circle awards, publishing his own book and hosting the UK's first ever World Championship Mexican Wrestling event.
As Denton appeared dressed in a full blue velour tracksuit embellished with his own sterling-esque logo, it was clear from the off that the ad director was about to deliver a talk that no-one else could.
A man of a thousand traits, Denton has had a string of different jobs from Knitting Digest's premier paste-up artist, to visualiser, art director, creative director and everything in between.
During his talk he offered his views on the key to success.
Refuse to take no for an answer
For Mark and his friends, refusing to take no for an answer formed the bedrock of his career: "When a client says 'no', what they're really saying is 'yes' – they just don't know it yet."
Throughout his 40 years in the industry, Denton has developed concepts that no client has asked for, yet have been exactly what they were looking for.
Wrangler jeans, one of the very first clients of Denton's, refused on a series of prints that remodelled the Wrangler 'W' trademark.
However, Denton continued to mock up prints paid for by himself, showing the client the finished product. This convinced Wrangler to say yes, providing designs for in-store posters, t-shirts and more.
Take risks
Risks are there to be taken. And as we learnt from Denton, it's the risks that got him noticed.
In his first agency job at Leo Burnett, Denton decided to draw his own designs for a Cadbury's Creme Egg campaign. By defying his boss, Denton pushed through his idea and ended up creating his own commercial – an ad that was not only his first, but one that led him to work for BBH.
Work with talented people
It was on this same commercial set that he bumped into his first collaborator, and where he learnt the key lesson in creating things – make sure you surround yourself with talented people. As the old mantra goes – none of us are as creative as all of us.
It's through collaboration that Denton has really made his mark. From his own creative projects – creating old football card designs, or decking his house out in mocked photographs of his fictional ancestors – Denton has continuously collaborated with others to materialise his concepts.
The creative inside anyone needs to work with people who will push them on, and collaborate with them on the craziest of projects.
Help others, and it'll come full circle
As Denton spoke about the long line of projects he's worked on both for clients and in his spare time, he also reeled off a list of creative legends he's worked alongside and met along the way.
What was so important about this is that the same names kept cropping up, with Denton imploring that we help others and it will come full circle.
Offering help to others throughout his career, Denton emphasised the importance of helping one another, as without this help, many of his wild ideas may have remained just that.
Have the confidence to be arrogant
What perhaps struck the audience most was the endearing, humble, yet gentle arrogance Denton had when asked when he knew he was good at what he does.
Denton explained that he always knew he was good at what he does, however "arrogance and confidence are two very different things".
In short, I left Nabs' Tuesday Club Talk with one clear vision in mind – to collaborate with the brilliantly creative people I'm surrounded by on a daily basis. You never know where it might take you next.
Virginia McFarlane-Watts is the global new business manager at Maxus and a Nabs ambassador