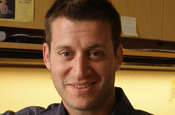 Gross began his advertising career at Chiat/Day New York in 1991, moving to DDB two years later.

At DDB he created the Bud Light 'Always Worth It' and 'Real Men of Genius' campaigns.

Commenting on his appointment, Gross said: "It's an honour and a privilege to serve as this year's Radio Jury President. There's nothing more exciting to me than sitting down to a collection of the greatest radio creative in the world, pressing play and preparing myself to be blown away."

Next year's Cannes International Advertising Festival will be held from the 15th to the 21st June.