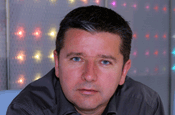 The promotion follows a six-month period where White was interim chief executive of the company while it awaited the arrival of incoming chief executive Dawn Airey.

White, who joined Five in 1996 following time in sales at Thames TV and UK Gold, will work closely with Airey on a restructure of Five.

Kelly Williams, the sales director at Five, will continue to oversee the running of Five's commercial department.

Airey said: "Mark has made phenomenal contribution to Five over the last decade and more, and I am pleased to be able to formalise his position as my right-hand man."