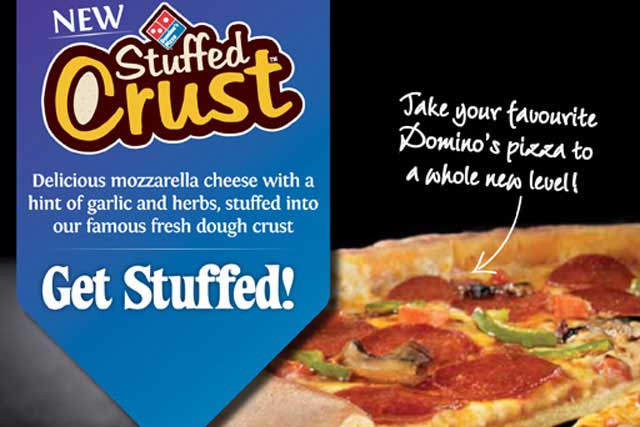 Earlier this year, Domino's Pizza incorporated behavioural economics (BE) into its marketing strategy to help it decide what kinds of incentives to offer customers.
The chain is the latest of several UK brands, including Lloyds TSB, Hyundai and Transport for London, to use BE.
The technique, also known as 'nudge theory', examines consumer activity by understanding the social, cognitive and emotional factors behind purchase decisions.
BE has given a label to a well-known problem: what people say doesn't correspond to what people do. The theory explores, for example, why people give different answers to the same questions when these are asked or framed differently, and why they are more attracted to short-term rewards than to a longer-term, better deal.
'This label provides an academic underpinning for techniques and approaches that have been used for years,' says Sid Simmons, chairman of agency Incite. 'It also reinforces the need to link behavioural data, such as the frequency of shopping, to attitudes and claimed intention to use in the future.'
The agency used BE for a study for the National Blood Donation service, to identify ways of encouraging greater contributions. The ideas generated ranged from giving some people badges, because they wanted to be recognised for their effort, to simply providing more 'on-site' collection services for those who wanted the experience to be quick and easy.
So, to what extent is BE turning traditional market research methods on their head? Rory Sutherland, vice-chairman of Ogilvy UK, the ad agency sister of research firm TNS, is a former president of the IPA. Under Sutherland, the body carried out research showing that emotional advertising has a higher return on investment than rational variants.
Sutherland gives two examples of how the sector has been challenged. He argues that the understanding that a lot of human decision-making takes place at an instinctive level is significant as much conventional research assumes that respondents have full access to the mental processes behind their actions.
'There is also the understanding that, at different stages of a customer journey, or simply in different moods, modes or contexts, consumers may deploy various heuristics to help them decide,' he says. 'Research is generally not context-sensitive, which may mean it lacks real predictive value.'
Economic realities
Many of the agencies ranked in Marketing's latest annual market research league table, in which TNS retains the top spot, believe that BE is giving the industry more legitimacy and opportunities.
'Drawing a more formal connection between people's behaviour and the economic realities that underpin or benefit them has made our lives as qualitative researchers easier,' says Dr Bob Cook, director of innovation and inspiration at research agency Firefish. 'Brands find it easier to apply research insight to business objectives as the complexities of non-rational influence on decision-making are explained and formalised.'
The agency has used BE to create roadmaps for brands that enable them to identify a desired customer behaviour or attitude and plan a realistic way to bring this about.
It claims this works well with some of the 'lifelogging' (where a wearable camera automatically takes photos of the world as seen and experienced by a subject) views and ethnographic methodologies the agency is developing. Cook says this offers a realistic version of people's existing behaviour, from which to develop insight and, eventually, strategy. With increasing interest in BE from brands, it is not surprising that market research agencies are developing fresh approaches incorporating the technique. Peter Harrison, creative director at agency Brainjuicer, says that market research is looking at more contextual approaches, resulting in a rise in shopper marketing, real-time research and mobile ethnography, all of which offer a better grasp of the behavioural issues at play.
'Brands are looking at creating experiences for customers beyond just advertising,' he adds. 'Nike, for example, is creating large-scale games, such as Nike GRID, and the Old Spice Guy YouTube campaign was successful, largely due to the way it responded to comments from "real" people. By creating experiences such as these, brands are making strong connections with consumers' intuitive, unconscious minds, with no product messages in sight.'
Jane Shirley, group managing director for insight and chief executive of Cello Research Group, says that most brand managers and market research companies are increasingly engaging with the more 'fuzzy' logic that goes with BE.
The intention is to shape market research that delivers findings that get closer to how consumers make purchasing and usage choices.
Brands are also looking to engage consumers on more than one level. More and more data suggests that decisions are often made out of respondents' cognitive awareness and are then post-rationalised,' says Shirley. 'Brands look to appeal at an unconscious level first, and then give purchasers "reasons to believe" post purchase decision, a reversal in many respects of traditional "product marketing" thinking.'
Rationalisation
There are several BE-related challenges facing the sector, however. Sutherland points out that many research firms invest too much in attitudinal research, as opposed to behavioural research. 'The other issue is that deeper forms of engagement may be necessary to disentangle consumers' true decision-making factors from those they present as a rationalisation of their actions,' he says.
Research agency Monkey See carried out a study recently (see opposite) looking at how, although most people claimed their choice of breakfast was not influenced by others, the majority ate the same as someone else near them; more than one would expect by chance. Further investigation showed that different types of breakfast and brands have different levels of 'contagiousness'.
The challenge, therefore, is how to integrate insight into what people are doing with what they say they think and do. This needs to be done in a way that cuts through the tendency to post-rationalise. 'Integration is critical, as simply observing what people do leaves a significant gap in knowledge about why they do it, and what the implication of their actions are on how they might act in the future,' says Justin Sampson, chairman of research agency ICM. 'Not all changes in behaviour lead to long-lasting changes of attitude.'
For researchers, he adds, the challenge of doing this effectively differs according to whether you are observing the online or offline world. The measurability of online journeys offers opportunities to integrate behavioural data with attitudinal research.
'Such single-source panels are increasingly used by clients, although it would be wrong to think that one panel will solve the particular needs of all clients,' adds Sampson. 'Tailored approaches must be considered.'
ICM is working with a brand in the technology sector, where it has established an on-going panel that measures the technical performance of its service. The outputs from this are then combined with satisfaction levels, and brand attitudes that are captured through a traditional questionnaire-based approach.
Ultimately, though, is BE a better approach than previous attempts to understand consumers? According to Brainjuicer's Harrison, the technique offers a more holistic understanding of consumers and decision-making.
'It helps to complete the story that is created by traditional market research methodologies,' he says. 'This is not to say that our standard approaches are wrong, just that they are incomplete. By adopting a behavioural approach to our research, we will be able to create more resonant insights and make more confident and accurate predictions about human behaviour.'
Jeremy Griffiths, director of marketing science at research agency Maritz, argues that behavioural economics usefully supplements the market research industry's traditional approaches.
'BE isn't a single method,' he says. 'As an area of inquiry, the only downside to taking advantage of it is that it requires a bit of time to take in the material, and then funds to conduct some empirical studies to test whether the ideas we get from BE really improve our practice of marketing research.'
Cello Research Group continues to use traditional market research techniques, including segmentation, and contends that a range of quantitative and qualitative approaches remain extremely useful.
'However, project design, data generation and interpretation are informed and influenced by the thinking and approaches we have been developing over the years, which incorporate elements from BE,' says Cello's Shirley.
With the number of brands turning to BE likely to rise, market research agencies are exploring different ways of integrating the approach with traditional research methods. Agency Firefish, for example, is looking into using a mix of people with different perspectives on the world to consider the same set of attitudes and behaviour. With lifelogging output, the agency can combine the perspectives of academics, researchers, marketing professionals and members of the subjects' peer group to create a holistic understanding of their behaviour, and then determine how that might be positively influenced.
While BE is becoming a more useful tool for the market research industry, it still relies on the generation of extensive, reliable qualitative data, and the intelligence of the researcher.
Firefish's Cook concludes: 'As with other approaches that gain traction with the research industry, behavioural economics can easily become something that is used to dress up average research, as opposed to truly offering fresh understanding that can help brands create positive influence.'
CASE STUDY: WEETABIX
Market research agency Monkey See, which specialises in BE, recently carried out a study on the UK cereal market, focusing on Weetabix. The research, which was undertaken as a case study, was not commissioned by Weetabix. The brand was, however, eager to hear about the findings.
'We are interested in behavioural economics and were keen to hear about Monkey See's approach,' says Francesca Davies, marketing manager at Weetabix. 'We were impressed and felt it endorsed findings we have seen in other research, as well as providing new angles.'
The study used a combination of pioneering research tools, question areas and techniques such as qualitative and quantitative research (including observation and questioning) and statistical techniques. Key findings about cereal selection included the following:
Love for Weetabix This is not the driving factor. It is a strong brand; however, just 47% of people cited this 'love' as a reason they choose to eat Weetabix for breakfast. More than half was accounted for by other reasons such as their tendencies, ease and the influence of others.
Laziness - This overrides desire for a 'healthy option'. People may say they want their cereal to be healthy, but actually, the overwhelming tendency in the morning is for something 'quick and easy', resulting in 83% of respondents choosing their cereal by default (without thinking).
That default is often the laziest option - people are more likely to pour Corn Flakes out of an 'easy' pack than fiddle with Weetabix's inner packaging.
The upward trend in hot cereals and oats can, to some extent, be explained by the highly appealing nature of this type of porridge: 85% of those who see it eaten by another person choose it for themselves. At 37%, Weetabix was cited as one of the 'least-contagious' cereals on the market..
METHODOLOGY
Information was collated by Marketing by sending a survey to each agency.
The respondents have been ranked according to their 2010 turnover.
For agencies affected by the US Sarabnes-Oxley Act, which restricts the amount of information firms are allowed to make public, we have used Companies House data provided by Kingston Smith W1.
Marketing takes care to publish accurate company data, but cannot be held responsible for any errors or omissions in the leagues.
Agency Notes:
TNS UK
Founded 1965. Subsidiary WPP. Chief executive Andrew Czarnowski. No work breakdown provided. www.tns-ri.co.uk
GfK
Founded 1957. Subsidiary GfK SE. 38.6% quantitative, 6.9% qualitative, 30% continuous/syndicated, 8.5% mystery shopping, 16% field marketing. www.gfknop.com
Ipsos Mori
Founded 1946. Subsidiary Ipsos SA. Chief executive Ben Page. 68% quantitative, 13% qualitative, 17% continuous/syndicated, 2% other. www.ipsos-mori.com
Mintel
Founded 1972. Privately owned. Chief executive Peter Haigh. 100% continuous/syndicated. www.mintel.com
Cello
Founded 2004. Publicly quoted. Chief executive Jane Shirley. 50% quantitative, 47% qualitative, 3% continuous/syndicated. www.cello-group.co.uk
Symphony IRI
Founded 1979. Subsidiary SymphonyIRI Group. President Nigel Howlett. Breakdown not provided. www.symphonyiri.co.uk
Hall & Partners Europe
Founded 1992. Subsidiary Diversified Agency Services. Chief executive Paul Edwards. 55% quantitative, 13% qualitative, 32% other. www.hallandpartners.co,
Insight Research Group
Founded 1983. Subsidiary Cello Group. Joint group managing directors Jane Shirley, Nicola Cowland. No breakdown provided. www.insightrg.com
ICM Research
Founded 1989. Subsidiary Creston. Chairman Justin Sampson. 31% quantitative, 33.5% qualitative, 34% continuous/syndicated, 0.3% mystery shopping, 1.2% other. www.icmresearch.com
Harris Interactive UK
Founded 1956. Publicly quoted. Managing director Alexander Blayney. 57% quantitative, 7% qualitative,36% other. www.harrisinteractive.com/europe
SPA Future Thinking
Founded 2010. Privately owned. Chief executive Jon Priest. Breakdown not provided. www.spafuturethinking.com
Flamingo Research
Founded 1997. Subsidiary Omnicom Group. Joint managing directors Kirsty Fuller, Maggie Collier. 89% qualitative, 11% other. www.flamingo-international.com
YouGov
Founded 2000. Publicly quoted. Chief executive Tim Britton. 85% quantitative, 5% qualitative, 10% continuous/syndicated. www.yougov.com
2CV
Founded 1989. Subsidiary Cello Group. Managing director Vincent Nolan. No breakdown provided. www.2cv.co.uk
Business Research Group
Founded 1991. Privately owned. Chief executive Don Wildey. 50% quantitative, 20% qualitative, 30% other. www.brg.co.uk
CIE Group
Founded 2007. Publicly quoted. Chief executive Crispin Beale. 65% quantitative, 25% qualitative, 5% mystery shopping, 5% other. www.cie.uk.com
Illuminas
Founded 1988. Subsidiary Media Square. Chief executive John Connaughton. No work breakdown provided. www.illuminas-global.com
Retail Eyes
Founded 2003. Privately owned. Chief executive Tim Ogle. 2% quantitative, 7% qualitative, 6% continuous/syndicated, 84% mystery shopping,1% other. www.retaileyes.co.uk
Maritz
Founded 1973. Subsidiary Maritz Holdings. Managing director Stephan Thun. 4% qualitative, 85% continuous/syndicated, 11% mystery shopping. www.maritzresearch.co.uk
Incite Marketing Planning
Founded 2000. Privately owned. Managing director Roger Banks. 58% quantitative, 22% qualitative, 20% other. www.incite.ws
Brainjuicer
Founded 1999. Publicly quoted. Chief executive John Kearon. 92.41% quantitative, 7.59% qualitative. www.brainjuicer.com
Network Research
Founded 1987. Privately owned. Managing director Virginia Monk. 17% quantitative, 4% qualitative, 79% continuous/syndicated. www.networkresearch.co.uk
RS Consulting
Founded 1984. Subsidiary Cello Group. Joint managing directors Chris Stead, Phil Stubington. No breakdown provided. www.rsconsulting.com
Leapfrog Research & Planning
Founded 1994. Subsidiary Cello Group. Chief executive Judy Taylor. No breakdown provided. www.leapfrogresearch.co.uk
The Futures Company
Founded 1974. Subsidiary WPP. Chief executive Will Galgey. 30% quantitative, 30% qualitative, 10% continuous/syndicated, 30% other. www.thefuturescompany.com
Firefish
Founded 2000. Privately owned. Chief executive Jem Fawcus. 2% quantitative, 98% qualitative. www.firefish.ltd.uk
IFF Research
Founded 1965. Privately owned. Joint managing directors Jan Shury and Mark Speed. 84% quantitative, 15% qualitative, 1% mystery shopping. www.iffresearch.com
RDSI Research
Founded 1985. Privately owned. Managing director Wendy Mitchell. 17% quantitative, 83% qualitative. www.rdsiresearch.com
ABA Market Research
Founded 1994. Privately owned. Managing director Alison Bainbridge. 20% quantiative, 21% qualitative, 44% continuous/syndicated, 15% mystery shopping. www.abaresearch.co.uk
Grass Roots UK
Founded 1980. Subsidiary The Grass Roots Group. Managing director Andy Lister. 26% quantitative, 74% mystery shopping. www.grassrootsmeasurement.com
Kadence International
Founded 1992. Subsidiary Kadence International Business Research. Chairman Simon Everard. 60% quantitative, 40% qualitative. www.kadence.com
eDigital Research
Founded 1999. Privately owned. Director Chris Russell. 50% quantitative, 35% qualitative, 15% mystery shopping. www.edigitalresearch.com