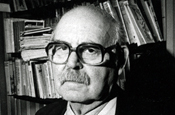 Henry was the last survivor of the 23 founders of the Market Research Society which he helped establish in 1947.

Later, as marketing director of the Thomson Organisation, he played a key role in getting newspapers and magazines to shed their old fashioned ways and embrace marketing.

His most famous promotion was for the newly-launched Sunday Times colour magazine which was slow to build ad revenue.

At the height of the Cold War he chartered an Aeroflot jet to fly British businessmen to Moscow to meet their Russian counterparts.

A London School of Economics graduate, Henry joined Colman Prentice & Varley as a market research specialist in 1937.

From 1947 to 1953 he was responsible for the Hulton Readership Surveys (precursor of the National Readership Surveys).

He later served as McCann Erickson's research director and editor-in-chief of Admap.

In 2004, the Advertising Association awarded him its prestigious Mackintosh Medal for outstanding service to the industry.