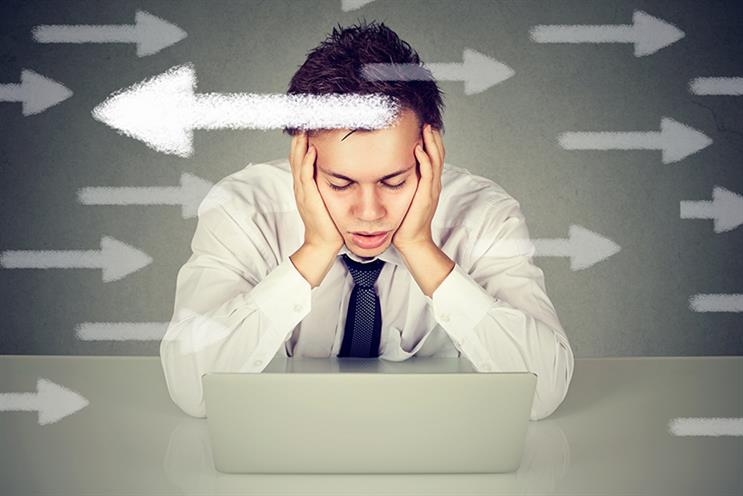 The internet, while a must-have for a marketer's media mix, continues to perplex advertisers. A recent study from the CMO Council and IBM found that many marketers still don't understand digital and are frustrated by the lack of clear returns.
The study, "Connected Interaction to Power Brand Attraction," surveyed 198 senior marketers online during the first six months of the year and found that 38 percent feel digital strategies have mixed results and only 7 percent said they exceeded expectations. Nearly half, 49 percent, said the alignment between physical and digital is selective at best.
Liz Miller, SVP at the CMO Council, summed up the findings of the report in one word: "frustration." Marketers "went whole hog into that digital ecosystem, and we bought into this idea that yes, we need to be omni-channel. We really did think that this was where the payoff was going to come," said Miller. "To now realize that really isn't happening, it's quite frustrating."
Part of the problem is lack of understanding. When asked for their first reaction to the term "cognitive computing," 24 percent of the marketers surveyed said that they weren't sure what it was, much less the value it could bring to their brands. Similar responses were collected when asked about application program interfaces (APIs): 45 percent said they were either not sure if they were using them (11 percent), didn't know what they were (2 percent), were still learning about them (15 percent) or simply not planning to leverage them (18 percent). The "Internet of Things" befuddled advertisers even more, with 49 percent of respondents saying they had yet to try it out.
There's even confusion with marketers thinking that omni-channel, multichannel and cross-channel are the same thing, said Miller. Multi-channel, she said, means that a brand has a presence in a newspaper, on television, via email and on its website. Cross-channel means that the customer experience is the same on the website, in the physical store and on the mobile app. And omni-channel, Miller said, "fundamentally flips the importance of content and customer."
Before omni-channel, marketers threw content at customers, hoping to amaze them with their creativity. Now, brands need to craft better customer experiences based on collected consumer data, said Miller. For example, someone calling a customer service line about a bank app shouldn't be asked numerous times about past issues because data wasn't shared between departments. Marketers should learn consumer history, Miller said. "That's omni-channel," she said. "I think we've kind of lost sight of that."
The study found that marketers aren't connecting their online and offline experiences to create the ultimate customer experience. Twenty-seven percent said they aggregate data but don't do anything with it. And 14 percent admitted to being in a data rut—doing the same thing over and over again with no advancement. But the data is the customer, said Miller, and advertisers are "unintentionally ignoring it."
However, marketers do strive to do better, found the study. Forty-two percent said their top digital experience goal in 2017 was to better connect their campaigns into a comprehensive experience that drives engagement. But marketers are stymied by the internet's infinite possibilities. Thirty-eight percent said the digital landscape has made customer management incredibly complex and difficult to maintain. And nearly half (43 percent) said that the shift to digital experiences has revealed cracks in their systems, as data is difficult to aggregate and centralize for a clear view of the customer.
One solution, according to Miller, is for marketers to go beyond their own departments and communicate with customer service and in-store employees. Gone are the days of sending an email, getting a 5 percent return and "you're doing high kicks," she said.
Marketers need to create a clear, digital strategy that has input from everyone in the organization, said Miller, and they need to stop over-delivering. Advertisers can have the most personalized campaign in the history of marketing, but if it doesn't include a 10 percent off coupon, it's an over-delivery that "failed to actually give something that our customer thought was relevant," she said.
They must go all-in to omni-channel and evangelize a customer-centric approach at their companies. "Marketing really needs to step into that role of being the change agent," said Miller. Ultimately, it's incumbent on marketers to prove digital is a worthy investment, "having the data that proves that it's worth it, that it's actually improving and moving the bottom line," she said.
Until then, they'll continue to be frustrated.