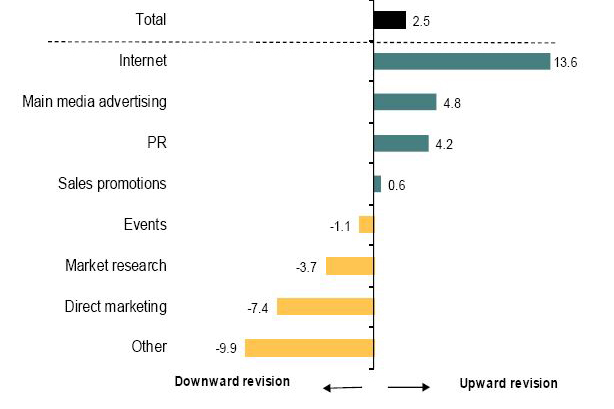 Marketers have delivered their most downbeat assessment of financial prospects for their companies and the wider industry in six years, the IPA's latest Bellwether Report has revealed.
The ad industry trade body's latest state-of-the-nation study, for the third quarter, also reveals marketing budget growth weakening to the slowest rate in three years, with market research and direct marketing spend dropping significantly.
Those surveyed reported that a net balance of +5.7% were optimistic about their own company's outlook compared with three months ago.
Although this signals a general upbeat view, it was notably weaker than that seen in the second quarter (+13.3%) and the most downbeat assessment in six years, the IPA said.
Marketers were even more pessimistic regarding the wider industry and reported a net balance of -21.0%, substantially down from -9.0% in the second quarter, signalling the strongest level of negative sentiment since the fourth quarter of 2011, when it was -44.9%.
The Bellwether Report, published today, said that just over a fifth of marketers (21%) revised their total marketing budgets upwards for the third quarter, while about 18% revised their budget downwards.
The overall net balance of +2.5% is the weakest growth in total marketing budgets since the fourth quarter of 2015. That number is significantly down on the second quarter of 2018, when the net balance was +6.5%.
This quarter's growth was driven by digital budgets being revised upwards to a net balance +13.6%, with search/SEO and mobile marketing budgets having net balances of +5.8% and +1.9% respectively.
Main media advertising, such as TV, radio and cinema, was broadly unchanged from the previous quarter (+4.9% versus +4.8% in the second quarter).
Other categories to record budget growth included PR (+4.2%) and sales promotions (+0.6%).

However, marketing executives noted downward revisions to budgets for events marketing (-1.1%), market research (-3.7%), direct marketing (-7.4%) and "other" marketing (-9.9%).

The Bellwether Report also gives modest adspend forecasts for 2018 and next year, which are unchanged from its previous reports this year: adspend will rise 1.1% in the UK in 2018 and 0.7% next year.
Aside from Brexit-related risks, the IPA said headwinds to adpsend growth are expected to come in the form of slower economic growth and muted consumer spending.
However, the three-year period from 2020 should see UK adspend improve at a quicker rate, the IPA added.

Paul Bainsfair, director-general of the IPA, said: "With ongoing Brexit uncertainty, it is perhaps no wonder that companies are having to be more cautious with their marketing spend and are inevitably increasingly downcast about their financial prospects.

"Despite this, however, we must take some solace in the fact that investment in main media spend is fairly constant quarter on quarter. As the evidence shows, main media is the most effective route to building brands.

"At a time when just under two-thirds are pressing pause on their marketing spend, perhaps this provides an opportunity for others to get cut-through and see whether fortune really does favour the brave."