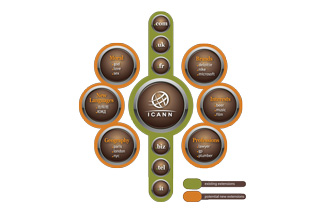 This means .com or .uk will be joined by top-level domains such as .film, .music, .microsoft and .nike. There are currently just 280 top-level domains, so the move will open up a whole new online world to brands and consumers.
A survey by Gandi and The Future Laboratory of 1,000 consumers, together with research with 50 e-commerce managers from large high-street businesses, found that the prospect of a liberalised web doesn't sit easily with internet users.
65% of consumers polled believe the internet will become full of pointless domain names, and 57% said it would be messy and confusing.
Consumers often find what they want by putting .com at the end of a brand name so why confuse matters by opening up the web to .whateveryoulike?
Many brands and agencies are unconvinced by the changes. Tracy Abraham, head of new media marketing and communications at Channel 4, says it is 'hard enough trying to get people to remember the bit that comes before the dot, let alone after it.'
Ross Taylor, managing director of DigitalTMW, agrees: 'People recognise .com, but to get them to shoes.adidas is a big leap. The point of a URL is that it is an easy signpost. I think this is a product innovation that is not addressing a consumer need.'
With the new domain names, consumers will have to rely on search engines even more to find what they are looking for. Currently many people still type in the full URL into a search engine. Internet users will need to learn a new way of navigating the web so that they know they are able to find brands in 'vertical sectors' such as music at .music, or environmental information at .eco.
However, Gandi argues that if the registration process is well managed and embraced by brands, new top-level domains will be neighbourhoods full of attractive properties, inviting shops and appealing businesses that people actually want to visit.
As a result, the liberalisation of the web could lead to massive opportunities for brands with a £116,000 registration fee in their pockets.
Companies will be able to use slogans, product names and advertising phrases in a URL as part of a marketing campaign. Companies will be able to set up sites for individual brands (highlander.toyota) and use targeted sites to focus efforts at serving different markets, such as customers and suppliers. Brands could develop bespoke customer service areas such as joeblogs.nike, one-off marketing campaigns such as gutbustingburger.mcdonalds, or bespoke regional networks (London.versace).
Those that will attract most attention will be .music, .sport or .movie. Tom Savigar, strategy and insight director at The Future Laboratory, says such sites can be 'revenue generators' for brands such as Apple or Ebay, as they would be able to sell their web property like 'URL franchises'.
Savigar says brands such as Apple, Sony and O2 are expected to 'go head to head' over the top-level domain .music, as they will all attempt to 'put a stake in the ground' next year. 'We will see a new language in brands' advertising as they will show off their branded activity.'
Applications are also expected for city top-level domains such as .paris, .london and .nyc as well as regional extensions such as .sco for Scotland.
Already Facebook is letting consumers personalise their URLs. These 'vanity URLs' are also available for Google Profiles. Wendy Tan White, marketing director of Gandi.net says: 'What is already clear is that if consumers like a brand they want to be associated with it.' Next year, small businesses and individuals will also be able to promote themselves through their own domain name, such as jimsmith.plumber.
There is a danger, however, that brands will have to work harder to protect their brands against cybersquatters and domain investors who will cash in on liberalisation by registering the best domain names to sell onto companies, or to drive visitors to advertising sites.
As they try to protect their trademarks and intellectual property online, businesses are likely to have to buy up thousands of domain names. Already Nike.com is just one domain in a massive portfolio of sites such as nikeplus.com, nikebasketball.com, nikestore.com, nikebiz.com. Currently Unilever has 2,500 domains, while Microsoft has over 38,000 different domains in order to protect its brand.
However, White says the liberalisation of the web could actually work in their favour if they manage to effectively tell users that anything which isn't .microsoft is not an official site belonging to the brand.
White says it is important to recognise that, like it or not, the liberalisation of the internet 'is happening so people have to make the most of it and take the opportunities presented to them'.