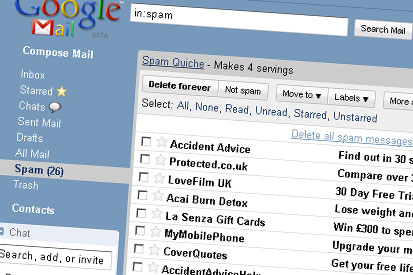 A report from email marketing specialists Return Path found that most marketers fail to appreciate that improving deliverability was in their own power, with 38 per cent saying that reaching the inbox was the sole responsibility of email service providers (ESPs).
The survey found two in five respondents thought that an email that is sent, or that doesn't bounce, counts as being successfully delivered.
What's more, a significant number of respondents were unaware of the impact of spam filters, with 15 per cent stating that it did not matter if emails reach the inbox or not.

Guy Shelton, Return Path's vice president for European operations, urged marketers to demand true deliverability reports from their ESPs, and warned that those who trust unrealistically high metrics are living in a "fool's paradise".
Shelton said: "Most email broadcasting systems say that a message is delivered if it doesn't bounce. This is grossly misleading, and can give marketers the impression that they're achieving a deliverability rate of 95 per cent or more. Yet our research shows that one in five legitimate marketing emails are blocked. It doesn't add up.
"The problem is that ESPs are reporting messages as 'delivered' merely if they've been passed to the internet. If the message gets blocked by an ISP it is not recorded in this incorrect 'delivered' statistic."
The proportion of messages getting into subscribers' inboxes, read and acted upon is much lower than reported, he said, leading to a "wildly optimistic impression" of a campaign's effectiveness and without accurate metrics, "marketers are emailing in the dark".