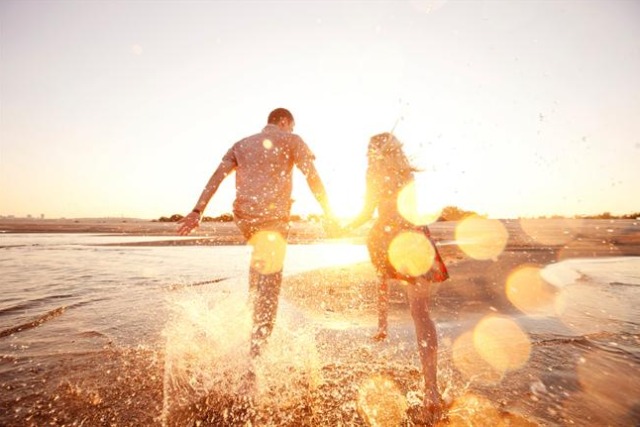 Forecasters are predicting the hottest summer on record, the UK's economy is, it seems, finally on the mend and consumer optimism is returning: it is all shaping up for the best summer season since those hazy, pre-recession days.
Of course, weather forecasting is a notoriously tricky business, and the Met Office warns that it is not strictly possible to predict conditions so many months in advance with any scientific precision. Nevertheless, a group of German scientists is 75% sure the thermostat will hit record levels over the coming months, and it would be thoroughly un-British not to get excited by the prospect of a "scorcher".
It is more straightforward to assess the economic picture. The British Chamber of Commerce has upgraded its forecast and believes that in the second quarter, from April to June, the UK's GDP will grow by 2.8%, exceeding levels last seen in 2008.
With anticipation building ahead of the World Cup in Brazil and Commonwealth Games in Glasgow, not to mention the usual array of Great British summer events such as the Wimbledon tennis championships, Glastonbury and golf's Open, consumer confidence is expected to be lifted further.
Consumer confidence
"If it's a good summer, then it should be good for retailers," says Mintel's retail analyst John Mercer. "We currently have good macroeconomic conditions. GDP forecasts have been raised, the housing market is booming and unemployment is falling, which is all pushing up consumer confidence."
The long and hot summer of 2013 helped food retailers and DIY stores, he adds, which could make for some tough comparisons in 2014. However, the underlying economic context for retailers is already looking good, with retail sales up about 5% year on year in January.
The days when people had to be near a big tv to watch major events have passed. There is no more fear of missing out.
The travel industry is looking forward to its day in the sun, too. Emma Harris, interim marketing director at Virgin Holidays, says the traditional hesitancy of consumers to commit to holiday plans in a World Cup year, in the unlikely event of a successful tournament for the national football team, is long gone.
"There used to be a real panic for travel brands because no one wanted to go on holiday in case England won – they wouldn't want to be on a beach and miss out on it," she says.
The days when consumers "had to be shackled to a pub or BBC One" to watch such tournaments have passed, adds Harris, because global sporting events have become easily accessible via smartphones and tablets. "There's no more fear of missing out."
Feel-good factor
It is not all about sport, however – at least not this year, according to Rupert Pratt, managing partner at sponsorship agency Generate. He agrees that the weather lends a "feel-good factor", but believes 2015 will provide a superior vintage of sporting summer for consumers and brands, with the Rugby World Cup and The Ashes both being staged in England and Wales.
Pratt believes the real hope for brands lies in experiential activity, and those that "want to get in front of consumers in an emotive and entertaining environment" are the ones that will resonate with potential new customers this summer.
British Airways has certainly adopted this approach, teaming up with London's Rooftop Cinema Club to bring its in-flight movie experience to the outdoors, allowing consumers to sit in comfy seats and watch films wearing wireless headphones, all the while served popcorn by flight crew.
The long-awaited combination of a recovering economy and happier consumers presents brands with an opportunity, and the prospect of a good summer offers extra momentum. Marketers just need to ensure they are not so entrenched in their strategies that they get stuck when the traditional British weather reasserts itself and barbecue conditions give way to a washout.