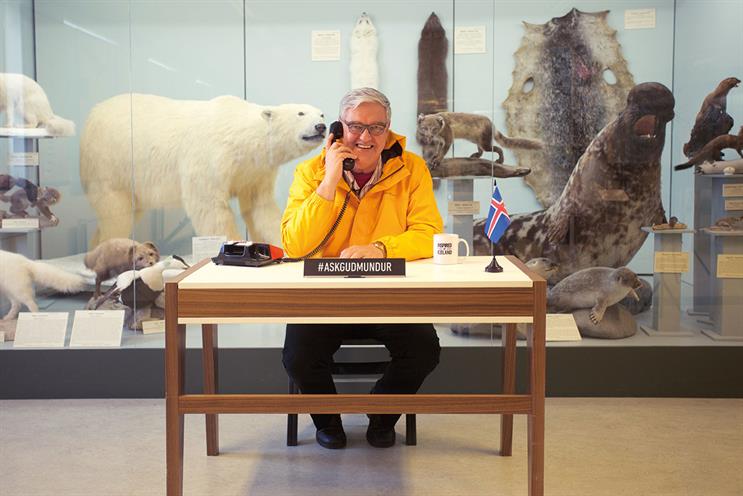 So what have we learned in 20 years of Euro Effies? The reality is that the awards remind us that creativity is a commercial tour de force if unleashed in the right way, but that doing this is hard and getting harder.
Of course, the work honoured in Brussels this week – including The Brooklyn Brothers and Islenska's Grand Prix-winning "Ask Gudmundur" campaign to promote Iceland – demonstrates that some marketers and agencies are collaborating well and reaping the rewards. But there was general agreement among the jury that there is an urgent need to get on top of the complexity engulfing marketing.
The exponential rate at which technology is developing, the vast amounts of data that marketers have to navigate and increasing fragmentation across agencies and client organisations are all topics of major concern. Above all, marketers need to be able to walk into the boardroom with tangible proof that investment in marketing works.
Dan Burdett, jury chairman and head of eBay Labs EMEA, says: "Awards like the Euro Effies recognise the importance of effectiveness when developing campaigns. They not only shine a spotlight on the need to apply more rigour to the measurement of campaigns, but force marketing people away from always buying into 'soft measures' such as engagement, shares, 'likes', impressions and click-throughs.
"It also encourages them to think of more concrete attribution models that show up as sales, turnover, business growth and value generation. This is what fuels business and frees up money to invest back into marketing."
He argues that if marketers stopped buying into these soft metrics, and demanded more from agencies and research companies, then "we would also likely see a reduction in ad fraud, because it's very difficult to fake a sale and much easier to fake a 'like' or a view".
Another juror, Procter & Gamble's director of brand-building and integrated communications, David Grebert, agrees: "Marketers invest behind campaigns that work, so if any agency wants to keep and delight a client, they need to keep giving them work that can be proven to be effective. We can't afford to spend time and money on campaigns that are unproven or, worse, don't work."
From the agency side, Matthew Gladstone, planning partner at Grey London, says that creative effectiveness is advertising's special power: "The miracle of what we do is that we turn one euro into multiples of more euros – purely through the application of great creativity. It's genuinely the creation of value from human imagination. Everyone has imagination, but to make value from it – that's special."
McCann's chief strategy officer EMEA, Harjot Singh, adds that effectiveness is not subjective. It is measurable and undeniable. And it is the strongest – if not the only – way to build trust steadily with clients.
Despite the successful campaigns the Effies highlighted, there are still not enough of these transformational ideas. So how do we encourage them?
Agencies and marketers need to work together as a team, yet too often there is mistrust instead. For marketers who do want those big, business-changing creative campaigns, I offer the following tips:
Trust your agencies.
Don't expect a great strategy or idea unless you are prepared to arm your agency with facts. This means trusting them with your sales data, media strategy and research reports. Without these, the ideas you will get are simply blind strategy that leaves you all fumbling in the dark. Every senior marketer needs a partner and a safety net – let this be your agency.
End the fragmentation.
Only you, as a senior marketer, can ensure that your stakeholder agencies work together on a regular basis to solve an overarching commercial issue. Every idea should then work towards this. Even though there might be several agencies developing creative content for various platforms, they should all work together to solve the macro-level money issue.
Plan for effectiveness.
The practice of thinking about how the communications may work, and in how many different ways, before anything goes live is crucial. This is how you know what to measure and how to evaluate. Everything done afterwards is simply monitoring what happened, rather than assessing the actual effects.
Break the creative ceiling in the boardroom.
Demonstrating effectiveness through the likes of the Effies, Euro Effies, IPA Effectiveness Awards and Cannes Creative Effectiveness Lions on a regular basis can only help you as a marketer. The regime of getting agency professionals and your internal brand teams working together, attempting to demonstrate the commercial success of great creative work, will build up your armoury of collateral for use within the boardroom to justify how you spent the budget and to help make the case for the next one.
Move away from 'luvvie' metrics.
Agencies and marketers often fall into the honey trap of metrics that, on the face of it, seem to show great success but in reality don't show what is happening in the business. Set the agenda to solve a commercial problem so that it's about the money first and always, then the marketing issue and only then the comms metrics – and, crucially, double-check that they join up to make sense. Show how the creative communications actually delivered incremental revenue. Facebook "likes", Twitter followers and impressions will not do this for you. They are merely part of the means to generate it.
Gurdeep Puri was a judge at the 2016 Euro Effies. He is a founding partner at The Effectiveness Partnership, an honorary fellow of the IPA and a Cannes Creative Effectiveness Master