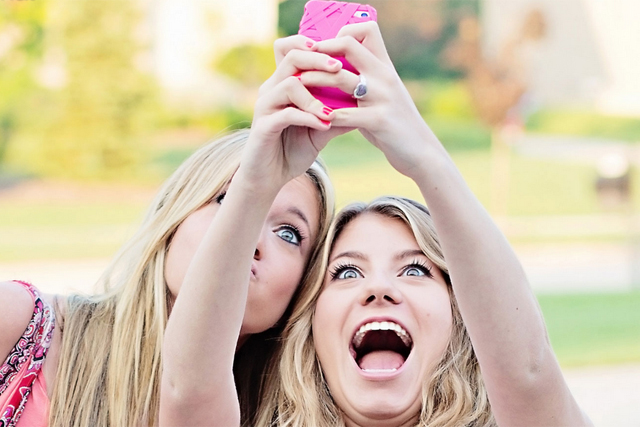 The chances are you have heard of Snapchat, but probably for the wrong reason.
Almost half of UK Snapchat users have received nude or inappropriate pictures while using the app, according to new research. With more than 150m photos shared through the app every day, that's an awful lot of flesh on display.
According to the poll, carried out by VoucherCodesPro, half of all 18 to 30 year-old users (47%) have received nude pictures and a further 67% of respondents said they had received images of "inappropriate poses or gestures". But, of course, every development in social media comes with a corresponding social panic.
In reality, any given media platform could be accused of being awash with sexual content but new platforms somewhat inevitably gain a disproportionate volume of coverage. Could it not be argued that in many ways Snapchat is in fact a more sensible way to distribute such content, rather than having it forever displayed on your Facebook wall?
Snapchat's founders believe the app is changing the very definition of what a photograph is; but the premise is very simple. Users take a photo or video and set an expiration time of one to 10 seconds. Recipients are notified when they receive it and they must maintain physical contact with their smartphone when viewing it.
Scarcity
Tom Ollerton, marketing director at We are Social, says that, in the same way that Chat Roulette was burned by middle-aged men in their pants, Snapchat faces its own penis issues, but this in itself should not put brands off: "The opportunity for brands is mixed but what Snapchat does deliver beautifully is creating a sense of scarcity, which is so difficult online."
I

n the same way that Chat Roulette was burned by middle-aged men in their pants, Snapchat faces its own penis issues

.
Certainly in an era where the competition for consumers' attention is so fierce a message that will disappear in a matter of seconds is one that demands their full attention. The opportunity for brands to provide limited offers and vouchers, that won't be able to go viral of their own accord has potential.
Neil Major, strategy director at Yomego, says the time-limited nature of Snapchat offers brands an interesting new channel: "You can see how it would work for sneak peaks and teasers for films." He also points to the example of Taco Bell which have been experimenting with offers via the platform.
Generation self-destruct
A digital marketer at a leading online fashion retailer recently confided that social anxiety and more specifically "the Facebook effect" is driving volume sales of clothing amongst teenage girls. Put simply, a certain segment of consumers don't want to be tagged in the same outfit twice.
It is important for marketers to recognise the social pressure that teens are facing on social networks. Anne McCreary, digital strategy director at Carat, says that Facebook puts an enormous pressure on teens to look a certain way, whereas Snapchat is free of the baggage of scrutiny. Media research has noted that teenage girls in particular spend a long time going back to their social profiles and reading messages, positive or negative.
With young people displaying ever increasing signs of Facebook fatigue it is important for marketers to recognize new platforms such as Snapchat and the shifting consumer behaviors they reveal. "Snapchat reflects how everything is becoming very real time and ephemeral. Part of the allure of the app is the experience of loss when the image disappears, which builds excitement," adds Carat's McCreary.
While the notion that teenagers don't want to be where their parents are is nothing new, brands have been slow to recognise that Facebook is loosing its cache.
James Kirkham, co-founder of Holler, says that the growth of Snapchat should act as a stark notice that a generation is now consuming disposable or erasable erasable media. "Many compare it to opening a present, as the speed of communication and erasable conclusion means there is no need for pride or embarrassment from the deliverer. As such, it informs a more unexpected message, and you can obviously see how brands might want to take advantage of this, owning the micro-moment."
Life: logged
While Snapchat's security issues have been well documented and critics believe that Snapchat images are not as fleeting as consumers would like to believe, the popularity of the app shows the demand to break free from the elongated scrutiny that comes hand in hand with social media platforms such as Facebook.
Holler's James Kirkham believes that Snapchat is the obvious natural retort to the Facebook generation showing their peers just how pretty they are or amazing their immediate location is.
While much has been written about how teenagers' concept of privacy is more fluid than their parents, the impact of social scrutiny should not be underestimated.
"This is less about the perfectly manicured or orchestrated shot which the many instagram filters or stage-managed social profiles on Facebook encourage. Instead this is about capturing a certain instant purity, a micro-moment to express yourself which no amount of filter fiddling or carefully constructing a scene can truly replicate," he says.
Crucially, users believe this micro-moment will not be embedded in their digital footprint. While much has been written about how teenagers' concept of privacy is more fluid than their parents, the impact of social scrutiny should not be underestimated.
Omaid Hiwazi, planning director at SapientNitro, says that while flirting has existed as long as people have, the trail we leave on digital platforms hasn't: "The challenges which have emerged as a result of posting pictures on social media are just one aspect of a much bigger challenge around big data."
Pointing to the controversy around the PRISM programme allegedly undertaken by the USA National Security Agency, he adds that there is a "paradigm shift that will happen over people's understanding and ownership of their data and the effect its collection and distribution will have on them".
The third wave of social
While social media analysts have waxed lyrical over the shift in social from being based around the social graph to an interest graph, critics argue that this is still a too Facebook-centric view of the ever-evolving social web. The meteoric rise of Snapchat serves as a reminder that the social web will never be the preserve of a single network.
"In many ways the concept of the Timeline is very much the language of old-school social," explains Carat's McCreary. "The third wave of social is based around a constant stream of intense expression of things consumers like the most. It is all about quick hits; whether that's intimate images or not it is all very fleeting."
The question for marketers is whether this platform is deserving of more than just their fleeting attention. Yomego's Major warns brands against jumping in head-first: "As a marketer its important to wait to see what culture establishes on a new network, you can almost wait for year because that's how long it takes for the hype to due down," he explains.
Crucially, in this third age consumers are not tied to a single network, so for the avalanche of brands which have a social media strategy - essentially a Facebook strategy - the time is ripe for a shift in thinking. Just as consumers move effortlessly across a growing range of platforms, brands must learn to do the same.
Ultimately this is a market driven by consumer needs not technology platforms and a flash of flesh shouldn't be enough to put marketers off.