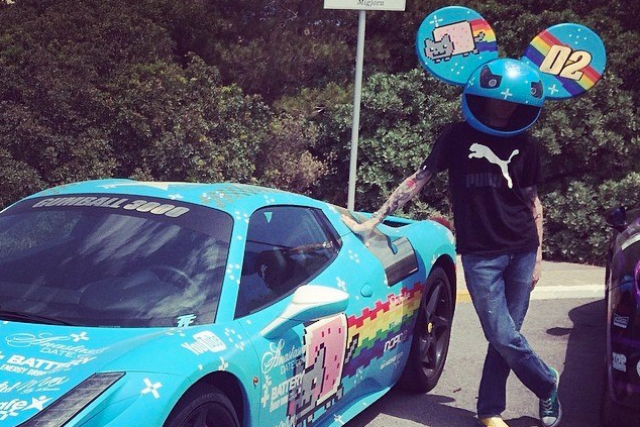 Their attempts to regain control look stuffy – and other brands should take note.
Deadmau5, also known as Joel Zimmerman, has developed a skill for "brandjacking" – taking advantage of a big brand's equity while positioning himself as the underdog. There are fascinating lessons to be learnt here for challenger brands and market-leaders alike.
In August this year, he first caused controversy with his famously modified Ferrari 458 Italia, known to his fans as the "Purrari", due to its famous Nyan Cat graphic wrapping.
Due to the custom mats and badges on the car, Ferrari sent the DJ a cease and desist letter requesting that the wrapping was removed immediately, claiming that the "Purrari's" bespoke nameplates damaged Ferrari's brand.
The Ferrari is now for sale and questions have been raised as to whether or not this prompted the removal, as opposed to the cease and desist letter.
The removal of the "Purrari" wrapping opened an ideal PR opportunity for other car manufacturers, keen to show themselves more dynamic and creative.
Nissan was quick to jump on the chance by tweeting photoshopped images of a custom Nissan GTR featuring the Nyan Cat graphic - though it has since deleted its tweet. This not only led to some good press for Nissan through Deadmau5's publicity, but also showed Ferrari up as a controlling brand.
Deadmau5 vs. Disney
That was not all for Zimmerman, who is also famous for his mouse ears logo and now faces an IP battle against Disney.
Zimmerman has been busy taking ownership of his version of the iconic mouse ears mask by successfully trademarking his distinct look in 30 countries to date – though not the US.
On discovering Zimmerman's attempt to trade mark the logo in the US, Disney USA argued that it was too similar to the Mickey Mouse logo and kicked off a legal case.
While Zimmerman has given a lesson on how to use trade mark law to enter international markets, it's worth noting the law is designed to offer additional protection to established, iconic brands. Disney's ownership of the Mickey Mouse logo, dating back to the 1920s, will no doubt enjoy this additional protection.
While it's possible that Disney will win this trade mark case, Zimmerman has challenged the giant and drawn significant global support from his fan base

While we wait for the result of this landmark case on the 12 October, there is another twist in the tale. Deadmau5 has taken things one step further by issuing his own cease and desist demand against Disney for using one of his songs in a video without permission.
He claims the song "Ghosts 'n' Stuff" was used without his permission in a short remix series of Disney cartoons with new music, called "Disney Re-Micks." In the cease-and-desist letter, Zimmerman's lawyers argue that Disney has been infringing his copyrights.
Disney has publicly refuted his claims, saying the music was appropriately licensed.
Disney recently submitted a 171-page document claiming that if Deadmau5 gets the trademark, the company's business will be harmed. A Disney spokesman told Rolling Stone that the brand "vigorously protects its trade mark rights".
Disney will likely enjoy a level of protection that is more substantial than less well-known brands, like Deadmau5 himself.
But while it's possible that Disney will win this trade mark case, Zimmerman has challenged the giant and drawn significant global support from his fan base, enhancing his personal brand. Brands should learn from this guerrilla marketing masterclass.