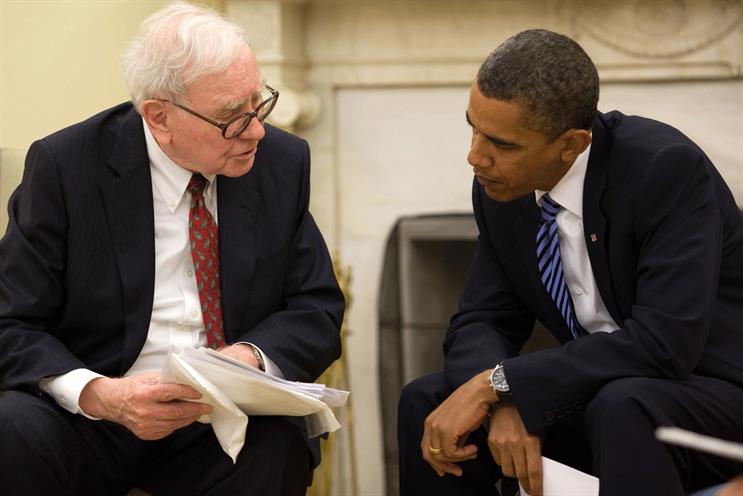 Business – and business communication – doesn't have to be boring. Warren Buffett's annual letter to shareholders points the way.

"When the phone don't ring, you'll know it's me." So ends Warren Buffett's latest annual letter to the shareholders of Berkshire Hathaway, warning off the new ventures and turnarounds that might otherwise come cap in hand to his "lollipops to airplanes" industrial conglomerate and investment vehicle.
Buffett, you see, makes no secret of the fact that he knows what he likes and likes what he knows.
Less often documented than his unchanging philosophy of stockpicking – but no less impressive – is the legendary investor's overall perspective on business, on management, on the power of a brand… and his unparalleled ability to communicate memorably on each of these topics.
Yes, even, in the Berkshire Hathaway annual report. Especially in the Berkshire Hathaway annual report, published last month. The Sage of Omaha's 50th anniversary letter to shareholders (his so-called "partners") is a 23-page primer in business communication, a gem accidentally studded with advice to marketers, advertisers and their agencies.
Why, it even includes an ad, as we shall see…
Styled as a homespun note from "Charlie (Munger, his vice-chairman) and I", the casual reader could be forgiven for thinking they were reading about this year's trading report from their local hardware store rather than the fifth largest public company in the world.
Interspersed with the investment advice for which Buffett is rightly famous – "forget what you know about buying fair businesses at wonderful prices; instead buy wonderful businesses at fair prices" – lie all manner of clues for anyone trying to build a resilient, branded business that wins over the long term (and that, it turns out, is what those "wonderful businesses" most often look like).
Buffett's observations ring out with unusual simplicity, honesty and humanity – a drive-by shooting of the vast majority of business communication, which, swaddled with corporate bluster, ego and jargon, treats the world of business as an alien one rather than merely the sum of collective human endeavour, with all its colour and fallibility.
On business
Buffett believes that businesses, like fish, rot from the head. For him, the ABC of business decay is just that – arrogance, bureaucracy and complacency its prime movers.
These are not things Berkshire Hathaway itself could stand accused of. Humility runs through every page of this wildly successful company's report.
We read of "monumentally stupid decisions" and of mistakes that "deserve a spot in the Guinness Book of World Records", how "Heinz is run better under Alex and Bernado than would be the case if I were in charge", and how "an attentive investor would have sold Tesco shares earlier…you see a cockroach in your kitchen; as the days go by, you meet his relatives." (Berkshire lost almost $1/2 billion by holding Tesco stock for too long).
Buffett walks the talk on bureaucracy too. "The increase in [Berkshire] employees, I am proud to say, included no gain at headquarters (where 25 people work). No sense going crazy". That's right. World's fifth biggest public company, HQ headcount 25.
He and Berkshire are anything but complacent, even if their ambitions are sometimes declared with tongue firmly in cheek. "Berkshire now owns 9 ½ companies that would be listed on the Fortune 500. That leaves 490 ½ fish in the sea. Our lines are out."
On management
Buffett doesn't meddle (with that HQ headcount, how could he?), preferring to let his managers run their operations without interference. "Our trust", he believes, "produces better results than would be achieved by streams of directives, endless reviews and layers of bureaucracy".
There is no department or company that couldn't be improved by adhering to this simple philosophy. My own experience of filing a monthly 100-day plan for the Publicis Groupe as "GB 558" (this as chairman of Fallon London) a permanent personal reminder of how not to do it.
On brands
As evidenced by his company's massive holdings in Heinz, Mars, American Express, Coca-Cola and IBM, Buffett gets them, covets them, in fact, citing Berkshire's acquisition of See's Candy as "a business education about the value of powerful brands".
This thanks to "a huge asset that did not appear on its balance sheet: a broad and durable competitive advantage that gave it significant pricing power". (The cash thrown off by the candy company's enduring consumer franchise then profitably recycled elsewhere. "Envision rabbits breeding" writes Buffett.)
But he's at his most ardent and most marketing literate when he talks about Geico. "No one likes to buy auto insurance. Almost everyone likes to drive. The insurance consequently needed is a major expenditure for most families. Savings matter to them and only a low-cost operation can deliver these. At least 40% of the people reading this letter can save money by insuring with Geico. So stop reading and go to Geico.com or call 800-368-2734". (Yes, this really does sit in the middle of an annual report.)
The company's low costs are a classic "Buffett moat", a line of defence that competitors cannot cross, but Buffett likes his brands to be moats also and so this canny investor reserves maximum affection for the brand's animated advertising mascot. "The gecko, I should add, has one particularly endearing quality: he works without pay. Unlike a human spokesperson, he never gets a swelled head from his fame, nor does he have an agent to constantly remind us how valuable he is. I love the little guy."
Buffett throws off aphorisms aplenty. My personal favourites from this year's crop include, "Don't ask the barber whether you need a haircut" and "Never underestimate the man who overestimates himself".
But this is someone who, for all his folksiness, we should take very seriously indeed as an architect of good business, management and brand best practice.
Anyone who brands their company AGM "Woodstock for capitalists" deserves to be heard.