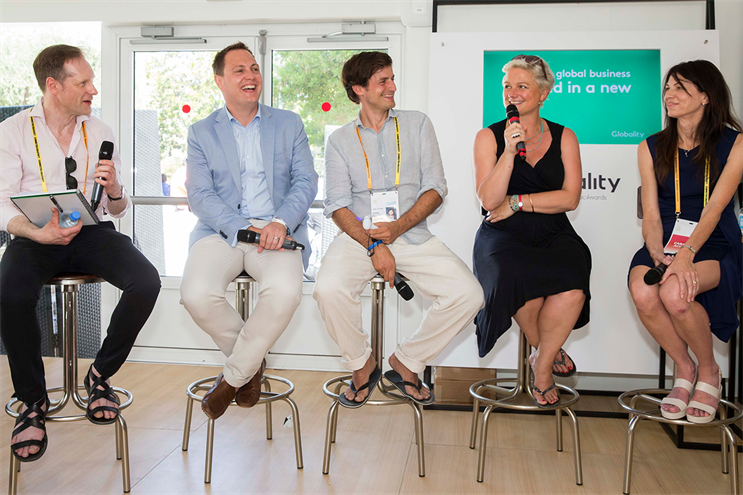 "It's like a dating website: you might have to meet quite a few people and you need a kick to get out there. But once you find someone, there needs to be unmanufactured magic for the relationship to be sustainable. You can't fully manufacturer authenticity but you can help it on its way."
Michele Oliver (picture with mic), VP marketing at Mars UK, was talking on a Campaign panel in Cannes 'Can you manufacture authenticity?', run in association with partners Olapic and Monotype. She explained that brand authenticity often needs a helping hand: "After that there needs to be a real authenticity between the brand and the people, to give the brand-relationship longevity – then the organic relationship takes over."
Jose de Cabo, the co-founder of Olapic, a visual commerce and marketing platform, said that brands don't need to sweat over this – they just need to open their eyes: "There are so many consumers out there where by listening and seeing what they're actually talking about [across social platforms], you can get hints of that authentic position, the idea you're looking for – then you can amplify it. Look at your community, there are so many voices that resonate with your brand. Start the conversation that way."
For Bridget Angear (right), joint CSO at AMV BBDO, authenticity starts with the basics: insight. She pointed to Barbie as an example: "[They said] 'Let's not think about ourselves as a doll to play with, let's think about ourselves as a toy that enables girls to start thinking about what they might want to be in the future. Then we can have something authentic to say about girls' futures.' Was it manufactured? Sort of… But it was true to that brand."
Control the uncontrollables
But we live in a multi-channel world. Digital in particular has, all too often, ceded control of the marketing message to the consumer. Isn't this – by definition – authentic and how do you stay on top of it? Oliver admitted that it helps to work on a brand that's been around for generations: "You have to start with what your core brand stands for and you need to make sure that every person in your organisation and partner agency is clear on what the heart of the brand is.
"Brands are more forgiving to consumer interpretation. If you have a brand that you've invested heavily in, that consumers understand, then sometimes it might go off-piste in a certain channel. As long as you do it with integrity then the brand is protected."
Ed Couchman, director of agency partnerships at Facebook, sees customer service as part of authentic brand building: "Some of the utility companies do it well in the UK across their social channels. Being available and dealing with each comment as it comes in, they can use it to their advantage."
The digital disruptors have this attitude hard-wired, he added: "They start with this attitude and culture in their DNA. Deliveroo, Made.com… they are much more comfortable with authenticity, much more comfortable with an open dialogue, maybe co-created work. That is exciting."
Prepare to fail
When it comes to changing strategy while staying true to brand values, it's all about preparing for what might be. Angear explained: "I look at it as 'tight' and 'loose'. There are bits you have to hold onto and bits you have to let go of."
Oliver has recently run campaigns for Maltesers featuring women with disabilities – and a campaign for Snickers to help gay people feel comfortable with coming out. Such strategies have risk: "We pro-actively prepared for the backlash. In the US, we had some very extreme and vocal minority reaction [to the Snickers campaign]. Because we were ready, the organisation was OK.
"Equally, for the Maltesers work, we worked with charity Scope who advised that we would get extreme activists saying we we're cashing in. You need to manage your senior stakeholders and say: 'We'll get some shit… but that's OK – that's because we're being brave and we know how to manage it.''"
A true change in approach has to come from the very top, Angear said. "The most successful examples are when it comes from the CEO downwards. That's the only time it really works…marketing can lead and tell the uncomfortable truths of what the customers think – usually you have to create a burning platform for change to happen – but then for change to be authentic, it has to run through the whole company."
De Cabo (left) added that your consumers can guide you: "Listen to your customers by analysing all those photos they're taking with your brand – use them to help improve your customer engagement and insights."
Couchman explained that campaigns can now come directly from the consumer. He cited recent KFC work that was made by the brand's community as a parody on healthy eating. "It was very amusing, the media guys boosted and posted it." It was authentic.
For Oliver, this is nothing new: "We're talking like it's rocket science, like we've never listened to our consumers. To some extent it is really exciting, we're getting much more direct access. Nowadays, we launch a campaign, and everyone on the board is looking at the Twitter feed: 'How's that ad doing, what's the commentary on Facebook?' It comes with concerns and worries but fundamentally we get to talk to our consumer. We have technology to enable us."
Identity crisis
But if a brand's identity is built on interaction, is that sustainable? Or is there a risk that you lose who you are? De Cabo said: "That letting go has already happened. The tools we are building are allowing brands to shift the conversation and push it in the right direction. The consumer interprets it how they want. There's a false sense of control from marketers that they do own the brand – the brand is owned by consumers."
Perhaps, but a company culture does have to be real, said Oliver: "You can't say one thing and do another thing. It's a transparent world. Check you've got your ducks in order."
Under the influence

And where do the influencers sit on all this? Aren't they the definition of authenticity? Couchman (left) said be careful: "It's about being rigorous with who you work with. Not just going to someone with 800,000 followers. Does this influencer resonate with my customers, does it reflect the brand and who I want to be?"
Angear agreed: "We use influencers if appropriate. And you have to find the right ones, you have to make it an authentic relationship, you can't just pay them to say what you want them to say. They've got to do it because they believe in it."
Authenticity is about being true to yourself and your brand. And then whatever happens to it, you can survive. Oliver concluded: "What is a brand? It's a consistent promise to your consumer. If you consistently deliver against that, then you should trust you can let your brand out into the world. And it may get bastardised at times – but better that than everyone ignoring it."