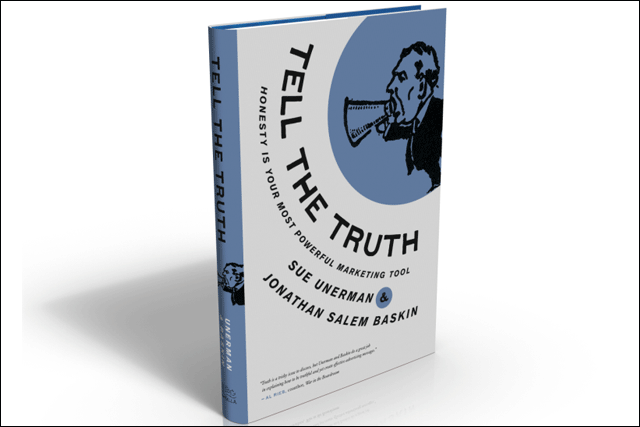 'Tell the Truth', written by MediaCom UK's chief strategist Sue Unerman and acclaimed US marketing consultant Jonathan Salem Baskin, provides a compelling case, with practical information, for brands wanting to succeed in today's marketing environment.
The book's premise is not that truthful marketing needs to necessitate full disclosure about a product's limitations, but rather a play on the more established values long-recognised by the industry, of "authenticity, fair dealing and simple straight talking".
The need for such honesty is highlighted in an update to David Ogilvy's quote, "the consumer is not a moron, she's your wife".
The authors add: "Now, the consumer is the expert who knows everything about your brand. What's missing can be uncovered in 30 seconds on a smartphone from a variety of sources."
Some two years in the making, with research on hundreds of companies and drawing on studies on more than 50 brands, 'Tell the Truth' presents the case for "truth" being the one quality that can differentiate good marketing from bad.
Among the brands to make an appearance in the book are Aquafresh, Asos, BP, Capital Radio, Domino's, Facebook, Manchester United, T-Mobile and Volkswagen.
The book also identifies how individual specific moments can sometimes speak truth, and therefore resonate with people, far better than lengthy arguments or narratives. Such comments are described as "Truth Turning Points", said to have the capacity of cutting through the clutter of competing information and touching people's core beliefs and understanding.
The authors conclude their findings on an upbeat note, optimistic about the opportunities truth presents for brands, their agencies and consumers.
They contend: "Some marketing strategies need a wake-up call. You only have to turn on the TV or glance at a billboard to see the content that some of your competitors think they can get away with, or have been persuaded to run by the architects of spin.
"However, brand truth strategies are more visible, too. More and more marketers are turning away from easily constructed spin and digging deep into the truth of their brands. We believe that in five years we'll look back on the art of spin as an anachronism."

Tell the Truth is due to be released in the coming weeks.
Follow Arif Durrani on Twitter @DurraniMix