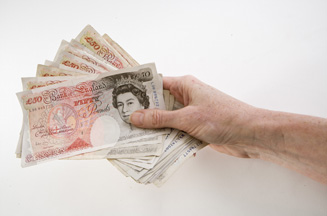 Bonuses are back in the spotlight after analysts recently suggested that bankers' payouts would rocket by 50% this year. The public outrage associated with such rewards made them synonymous with the worst excesses of capitalism.
However, despite being brought into disrepute by greedy City bankers, bonuses have long been part of many marketers' remuneration packages at companies from P&G and Unilever to HSBC, eBay, Audi and O2. For those companies that offer them, bonuses have proved an effective way to motivate their marketing teams.
Yet, in contrast to bankers, many marketers have found their bonuses shrinking over the past year.
Marketers received an average bonus of £2500 this year, down from £3000 in 2008, according to a survey of 1300 companies carried out by the Chartered Institute of Marketing (CIM) and Croner Reward in May and June. The maximum bonus potentially available to marketers also fell, from £4500 to £4000. Nonetheless, while the percentage of basic salary awarded as a bonus fell from 9.4% last year to 8%, the proportion of marketing directors and marketing managers receiving a bonus was up 5% and 2% respectively.
Part of the reason for the slump is obvious. If a company runs a bonus scheme, rewards are generally paid out to all staff across the organisation and are directly linked to company income.
As profits have tumbled in the wake of the economic crisis, so bonus payments have, naturally, followed suit.
As an HSBC spokesman puts it: 'If profitability is down, marketers' bonuses will be too, although there is always a need to reward performance.'
Marketers face an additional challenge: bonuses are often tied to their individual performance, the direct impact of their role on company profits and how far they have met personal objectives.
In the current economic climate, such targets can prove elusive and proof of a marketers' direct impact difficult to quantify.
One senior brand manager at a top FMCG company says: 'While bonus structures have remained the same, the goalposts have shifted. For many marketers, objectives were set before the recession kicked in. With many marketing budgets now slashed, these targets have become impossible to meet. Marketers are therefore falling short and missing out on their full bonuses. These workers will have a much bigger fight on their hands this year to get the bonuses they deserve.'
Meanwhile, companies are treading more carefully as the demands grow from shareholders for justification of rewards.
'They are more keen to identify marketers' impact on company performance,' says David Thorp, director of research and professional development at the CIM.
Nonetheless, while the economic climate has reduced the value of bonuses, they have also become more ubiquitous.
'Employers are keen to get marketers to share the investment of a campaign through bonuses, and place greater accountability on the ROI of a marketing campaign,' says Tim Sternberg, head of client services at specialist marketing recruitment agency MajorPlayers.
This has led to an increase in the number of bonus structures offered within ecommerce and online marketing disciplines, due to the greater ability to monitor performance.
'Bonuses are infiltrating all marketing roles, not just the senior positions or the commercial sector,' adds Sternberg. 'The not-for-profit sector is introducing bonus schemes to attract good candidates from the commercial sector, in order to compete in an increasingly commercial environment.'
Despite the bad press surrounding bonuses in the banking sector, the modest payouts available to marketers remain an effective way to attract and motivate teams.
However, employers must strike the right balance between satisfying shareholders and retaining good staff by ensuring that individual contribution is recognised as fairly as possible, and that targets do not shift impossibly out