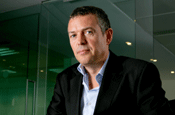 The Bellwether survey, published by the IPA, found that business confidence was at an all time low, in the survey's nine-year history.

The cut was the fourth successive quarterly reduction in spend since the summer.

Only eight per cent of companies surveyed were more optimistic about the future of their industry than three months ago.

Main media advertising, PR, events sponsorship and market research were the key budgets hit by the economic downturn.

The survey found that all marketing categories had seen a drop apart from the Internet, which had remained steady. The only category to see a marginal increase in spend was Internet search.
Moray MacLennan, the IPA president, said: I doubt these gloomy results will come as a surprise to anyone. In light of current headlines the biggest surprise may well be that 12 per cent of companies' budgets were revised upwards.

The industry will be watching the next set of results with great interest hoping that, following four quarters of decline, the downward curve levels off, despite the impending recession.