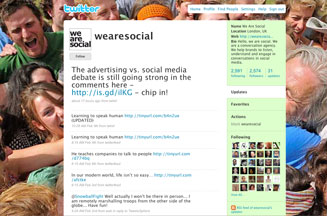 Following Twitter's confirmation in Marketing yesterday that it plans to start charging brands for commercial marketing activities, a debate has emerged over how the service can distinguish between individuals and brand users.
The service has gained ground in the UK thanks to celebrity users including Stephen Fry and Jonathan Ross.
Nathan Williams asks if Twitter would class 'celebrities' as businesses also: 'Lets face it they are only on there to raise and maintain their public profiles, which in turn helps maintain their bankability.'
Some suggest that companies such as Dell and Starbucks, which use the site, would put more emphasis on the individuals tweeting on behalf of the company.
Robin Grant, managing director of agency We Are Social, said: 'The challenge Twitter will face is that there's such a grey line between personal and commercial use. If I spend a lot of my time on Twitter talking about business-related stuff, where does that leave me?
'For brands overtly using Twitter, it's not black and white either. Look at Ford's Scott Monty for example, who uses his personal account to represent Ford. Let's face it, Twitter is popular because it's such an interesting mix of both your personal and your business life - if fact, unlike Facebook or LinkedIn, it lets you be the whole you. Twitter will be risking a lot if they try to change this.'
Jamie Riddell, Cheeze director, said rather than charging brands, Twitter could promote its search tool and introduce revenue from pay per click. He adds: 'An important element for brands will be credibility - at this time there are no checks on brands claiming who they are which [if used badly] could have brand detriment which derails the whole twitter/brand bandwagon.'
Others suggest that, like Facebook, Twitter could sell targeted ads within the stream.
But Brendan Mitchell argues that adding 'an extra layer of services worth paying for is a better approach, as long as it doesn't alienate or lessen the initial free service'.
George Nimeh, managing director of Iris Digital, insists that the real value is not in charging companies for display ads. 'Access to customer information for marketing, on the other hand, is certain to have tremendous appeal.'