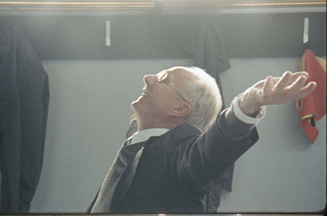 Brand owner Kimberly-Clark said it is the first celebrity-led campaign in Kleenex's history. The activity also features singer Emma Bunton, actor Tom Hardy and Sir Bob Geldof.
The campaign, created by ad agency JWT, aims to build on Kleenex's 2007 'Let it Out' ads, which featured members of the public sitting on a blue sofa, releasing their emotions.
Christof Baer, marketing manager for Kleenex Europe, said: 'We chose celebrities who are well known for displaying certain characteristics and emotions. Kleenex will show audiences a completely different, and surprising, side to these people - a side they release in private, and evidently feel better for doing so.
'Ultimately we would like consumers to let it out and feel better for it with Kleenex, like our celebrities do,' he added.
The work breaks in November.
It is the first campaign for Kleenex to be launched under the leadership of Kim Underhill, who Kimberly-Clark promoted to the role of vice-president, UK & Ireland, in September. She now oversees the company's £60m annual marketing budget.
Underhill replaced Troy Warfield, who has been promoted to the position of vice-president, family care, for Europe. He is now responsible for strategy, insight, communication and innovation across Kimberly-Clark's European Family Care business, but continues to be based in the UK.
Underhill was previously one of the company's top marketers in the US, where she headed Kimberly-Clark's North American Group Brands, responsible for tissue brands including Kleenex, Scott and Viva.