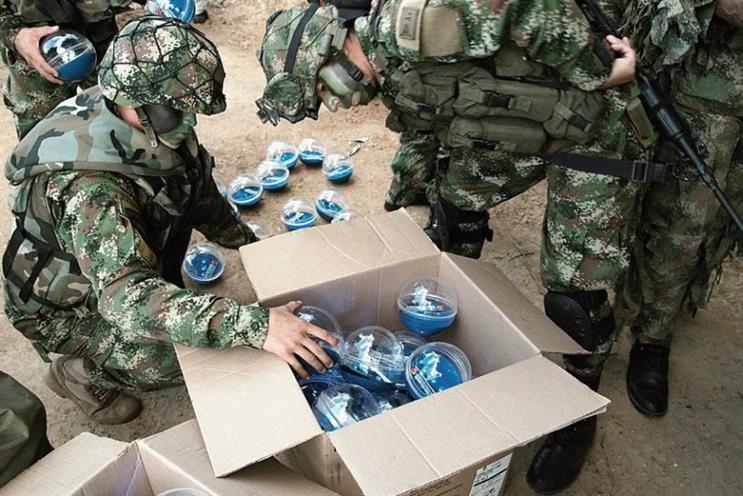 Swathes of the country's rainforest, particularly the Darien Gap, remain inaccessible due to the ongoing presence of extreme left-wing guerrilla forces, known as the FARC. Funded partly by helping drug traffickers, the FARC has been at war with Colombian government for approximately fifty years.
Historically, the government's approach has been to crack down on the guerrillas, partly due to pressure from a US administration anxious to reduce American cocaine consumption.
The bloodshed has resulted in more than 200,000 deaths and millions of Colombians displaced.
In an attempt to reduce the killing, the Colombian government decided to take a different tack to persuade more guerrilla fighters to demobilise.
The administration commissioned Bogota-based ad agency Lowe SSP3 to come up with some new propaganda which would make the exhausted fighters homesick.
Speaking at Wired 2015, then chief creative officer Jose Miguel Sokoloff said his agency spoke to several ex-guerrillas and hit on the guiding principle for the campaign.
He said: "I call it Hotel California. Guerrilla are as much prisoners of their organisation as the ones they hold hostage. Hotel California means you can check out any time you like, but you can never leave.
"Guerrilla is a life commitment."
Initially the agency put 2,000 lights across nine trees in Colombia's jungle, which would light up with a message whenever a guerrilla walked past. It read: "If Christmas can come to the jungle, you can come home. Demobilise at Christmas. Anything is possible."
Some 331 demobilised, or about 5% of the guerrilla forces remaining in the country, said Sokoloff.
One problem though, was that guerrillas tended to use the rivers as navigational guides, rather than travel through the dense forest.
That meant most of the demobilised fighters hadn't actually seen the trees, and only heard about them.
For the next phase of the campaign, Lowe SSP3 collected 6,823 large, clear baubles and filled them with lights and gifts from guerrillas' family members at home.
The agency sent out the spheres to float along the rivers, lighting the fighters' way home.
Since the campaign, some 18,000 fighters have demobilised, though Sokoloff is quick to admit this isn't down to the agency's work alone.
What happened next?
No one has an accurate number on remaining FARC fighters, but it's thought there are fewer than 10,000 currently, from a one-time high of 30,000 in the early 2000s.
Colombia's high commissioner for social and economic reintegration, Frank Pearl, said ex-guerrillas who served their sentences were rehabilitated into society, despite a history of violence.
Also speaking at Wired 2015, he said: "We do this work, because we think of the children of our country. We want them to live in an ambience of warmth, love, and opportunities, especially those in areas in which armed conflict brings tough realities."
He added: "We want them to transcend a history of violence and modernise our country."
It's compulsory for ex-guerrillas to take part in adult education for up to seven years, said Pearl.
More than 22,000 former guerrillas have now completed high school education, more than 7,000 went on to vocational training, and 3,000 have university degrees.
One way to reintegrate some of the most violent members of the community is to offer them opportunities in art, or sports, or other "socially acceptable" ways of expending energy.
Pearl cited the example of one woman who joined the guerrillas during her early teens. After falling pregnant, she decided to quit the FARC and joined the reintegration programme.
He said: "When she came to us, she told us she wanted to be a singer."
With the help of the woman's family, her community and former guerrillas, she eventually progressed far enough with her music studies to tour the world.
Pearl said: "Art allows us to express hard feelings in a socially acceptable way, in a constructive way, and allow us to heal our souls."