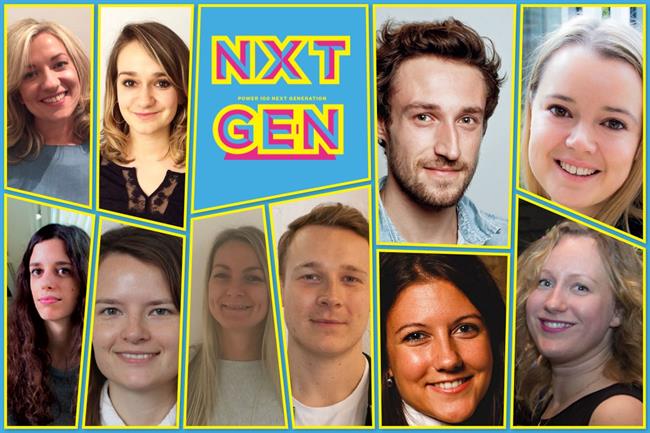 Change maybe the lifeblood of creativity; but when it comes to working practices the advertising industry is inexplicably wedded to the status quo. When Campaign compiled its first list of workplace hacks all too many agencies pointed to that one lady in HR that works a four day week as evidence of their innovative working practices. For the creative industries to be so resolutely uncreative when it comes to how peolpe work increasingly appears an unsustainable position when countless surveys show that flexibility has become increasingly crucial to attracting and retaining the best talent. With this in mind we asked the winners of Campaign's Next Generation how the industry needs to flex in order to attract and retain the next generation of talent.
---
Alexa Saller
Brand director, M&Ms
"We are all experts in communication so we should be the pioneers of flexible working that still enables collaboration"
When I do recruitment drives graduates tell me that they want jobs that are meaningful, flexible and which allow them to make a positive impact. Marketing is at risk of being seen as the icing on the cake, there are exciting elements but it could struggle to hold the attention span of generation Z.
To compete with enticing start ups and the technology industry we need to create meaningful jobs for graduates from day one. I have worked in sales where straight away you have to make money.
Marketing can be too hierarchical. Fundamentally marketing is all about understanding people and how they think. New starters should be immersed in that from the start and given the freedom, even if it's on a small scale initially, to implement those insights and make a difference
Flexibility is key. We are all experts in communication so we should be the pioneers of flexible working that still enables collaboration.. Emphasise that marketers must guide the long-term strategy of the business, embracing change as it comes but also navigating a steady course. In particular how this will have a positive impact on the world by investing in areas like green energy and deprived communities.
---
Louise Maugest
Senior brand manager, Coca-Cola
"The industry needs to rebrand itself"
As marketing becomes more and more digital, we have access to a lot of data which is something that is revolutionizing the way we work and the skills we need to have as marketers. We therefore need more data savvy people, but a lot of them don't even think about applying for marketing jobs and tend to go more towards programming, finance, consulting. I think the industry needs to almost rebrand itself and self-promote more to show the many career opportunities it can offer for people who are more data led.
---
Marie Kretz
European brand manager Krave/Tresor
"Companies need to be more agile in their ways of working"
Young people are looking for ownership, speed of doing business and shared values. Firstly, we've got to do more to ensure that everyone feels like they have a real role to play in the success of your company. People thrive when given responsibility and companies can do better: creating opportunities for young people to run brands, projects, decisions and processes. This builds collaboration and creates an environment where we feel our skills and capabilities are trusted.
We're digital natives who grew up in a world that changes quickly and constantly - we want things to move quickly. Companies need to be more agile in their ways of working. Give us flexible hours, or working from home. Take more risks. Culture and values are now more important than ever. Companies need to stay true to their values and communicate in an open and honest way. We expect to share in the values of a company and even feel passionate about them. Let's also make sure that the one thing that doesn't change between generations is a good pay check.
---
Jenny King
Senior brand manager, Absolut Vodka
"Promote and support diversity in the workplace"
Getting into our industry shouldn't be mandated on achieving a degree or passing an aptitude test. We are a creative industry that relies on a diverse set of minds so we need to ensure we promote and support diversity in the workplace. Everyone should be given equal opportunity to constantly learn and develop through training and cross functional working, and feel empowered to contribute their thoughts and ideas no matter what role or level they are.
---
Richard Bown
Creative and media manager, 02
"Challenge the notion that longer hours automatically equals greater productivity and shake of the stigma of sticking to a more balanced routine."

I'd argue that we need to work 'smarter' and not longer. I think marketing and advertising, like many other service industries, still creates pressure to 'put the hours in'. With smartphones and remote email access we can all be reached or logged in at anytime and the temptation to work an extra hour or two is easy. The burning desire to get an answer to a question, or respond to a colleague is something we all will have faced. Of course, occasionally, needs must. And on occasion that is fine. However, it shouldn't be the accepted culture.
It has taken some time but I feel that society as a whole has finally caught up to the dangers of the digital revolution and the toll that being accessible at any time can have on employee's work-life balance and subsequently their morale. In time I think we will find the right answers but we're definitely still working things out. Focusing on how we create better work environments through enabling smarter working practices I feel will be important to attract and keep the next generation of talent.
We need to continue to challenge the notion that longer hours automatically equals greater productivity and shake of the stigma of sticking to a more balanced routine, embracing a more open and flexible approach to our work lives, so that we can spend more time focusing on what counts.
---
Emma Hackett
Senior brand and campaign manager, Domino's Pizza
"Be willing to listen to and learn from the next generation."
Diversity is key. As marketers the breadth of people, perspectives and cultures that we talk to on a daily basis as consumers need to be represented in the working environment. For me a real motivation is the breadth and depth of my role and the opportunities I have for personal development. Being willing to listen to and learn from the next generation will not only help to retain talent but also to ensure brands engage with the younger market.
---
Susannah Jacques
Senior manager, brand experience, Hyundai Motor, UK
"I have witnessed a glass ceiling at a number of companies"
In terms of attracting the next generation, I think there is still a lack of understanding around marketing and the various roles in our field. The IPA breaks down the specific roles in advertising, but doesn't provide guidance on what skills and aptitudes a candidate might need The CIM's guidance on how to get into marketing does a good job of breaking down the skills that contribute to the marketing industry, but doesn't provide insight into the range of marketing disciplines that exist and where these skills fit in. These insights would have really helped me when I first graduated. Having completed a humanities degree rather than studied marketing,I didn't fully understand the opportunities that were out there and therefore didn't really start my marketing career until I was 26 and had found the right role.
In terms of retention, it's got to be about nurturing and rewarding talent. I have witnessed a glass ceiling at a number of companies and I think that's down to marketing agencies having a very hierarchical structure. It's difficult to see a roadmap to progress on when teams are so inflexible, so there is the temptation to look either to other companies or other fields to feel like you are moving forward. Diversity is also an important issue and perhaps with more diverse representation across senior roles we will attract and retain talent from a broader range of background.
---
Ali Humphrey
Brand manager Europe, Stella Artois
"Nurture those in the early stages of their career"
This is a great question. As Rigoni & Adkins (2016) note in the Harvard Business Review 21% of Millennial workers left their job in the last year to do something else, a number that is more than three times higher than that of non millennials' indicating that retaining talent is becoming increasingly challenging.
To understand why, we need to look at what is important to the younger generation and how this translates to the workplace. According to a survey of 1,700 U.S. workers, the opportunity to learn and grow was the most important consideration of millennials when looking for a job. With quality of manager a close second. Therefore, in order to retain talent, we as an industry must nurture those in the early stages of their marketing career who have a desire to continue learning and growing. If a company can get this right then it is onto a winning formula as we know, people are a company's most competitive advantage
---
Samantha Grayson
Senior marketing manager, Art Fund
"Showcase the dynamic role of the marketer."
In my personal experience marketing has – ironically – been undersold as a career path for 'fickle' millennials. In fact, the craft of marketing seems to fit many of the characteristics millennials look for in a career offering variety, collaboration, and the chance to work within any sector you're passionate about. Marketers need to have solid business acumen and technical knowledge as well as an understanding of psychology and communication – not to mention creativity. I love the multidisciplinary nature of my job. How to help attract and retain the next generation into the industry? The brief is to help talent with diverse expertise and passions see themselves in the dynamic role of marketer.
---
Dillion Petrillo
Airbnb creative lead
"Give talent autonomy and trust"
Everybody needs to take more risks. With the amount of content that is currently being produced, there are opportunities for original voices popping up everywhere. If top talent is desired in the ad industry, they will need to have the autonomy and trust to push the envelope.