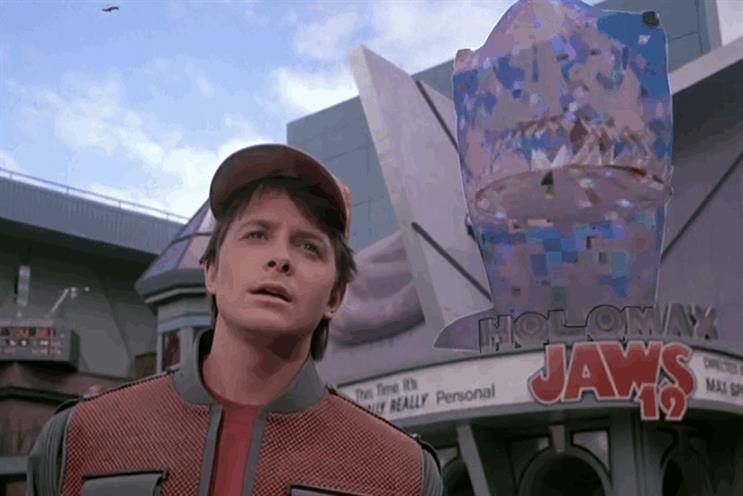 Today marks Back to the Future Day, the day Marty McFly and Doc crashed into 2015. It might have been set 26 years ago but we have yet to see flying cars in our everyday lives and by no means rely on fax machines.
But there are many things it got right regarding the marketing technology we know today, including elements of personalisation, cross-device and interactive advertising displays.
The marketing tech Back to the Future got right
Who doesn't remember when Marty walks past the billboard for Jaws 19 and a giant shark hologram leaps out on him? This may not exactly be the case today, but outdoor 3D displays are more commonplace as are examples such as M&C Saatchi, Clear Channel and Posterscope's first artificial intelligence-led billboard, which reacts to people who are in its close vicinity.
Marketers must not forget to engage audiences through mediums such as this too. Whether it's on TV, a smartwatch, billboard, or even a fridge. Every screen is an opportunity to connect with consumers.
Another thing the film has in abundance is the use of wearable tech, from hi-tech glasses to interactive clothing, such as police hats that can flash messages and Marty's talking jacket.
Today smartwatches are already a consideration for marketers but soon other smart device accessories such as Google Glass, Microsoft's Hololens and Oculus Rift virtual reality headsets will also need to be incorporated into future campaigns, as they will become more commonplace touch-points to reach consumers.
Augmented reality is something marketers cannot ignore. People will soon be able to shop or buy via such experiences and these avenues should be leveraged as they offer greater customer engagement.
Robotics also featured highly in the film, such as high-tech rubbish bins that followed pedestrians, robot car mechanics to attend to hover cars and drones utilised by news stations.
None of this is too far away today, as the field of robotics continues to advance in multiple industries, including marketing.
For example, integrating artificial intelligence-based platforms within your marketing strategy enables automated machine learning to bring as much knowledge as possible about customers' behaviour at any given time, on any given device.
The marketing tech Back to the Future missed
One thing the film didn't hint at was the internet, despite the odd tablet and video call via TV, there was no sign of it.
In fairness, the World Wide Web was only invented the same year the film was released and the term email was not yet in existence, but it is so prevalent now that it's hard to imagine a world without the ease of communication we have today.
Think how far Marty and the Doc could have got with the help Google Maps, 5G and Siri.
There was also no sign of social media. No selfies from Marty and Doc! This is yet another element of our daily lives missing from the film's predictions.
Social media gives marketers a real advantage, as it means marketing is no longer only a one-way channel, brands can now engage directly with their audience on a real-time basis.
Although, at the same time this multiple device usage presents the marketer with the challenge of not knowing which device will be most effective to capture someone's attention.
For example, during a TV show ad-break, consumers way be watching but they may also be on Facebook, or Twitter via their smartphone, or on their tablet blogging on what they've just seen. But marketers must also understand the opportunities this presents and work with artificial intelligence-led marketing campaigns that learn from an individual's behaviour online and offline.
In fact, although the film showcased the use of artificial intelligence (AI) within the field of robotics, it didn't touch on the other capabilities that AI technology now brings us.
Despite the presence of smart glasses and some news tablets, there is a noticeable absence of smartphones, which most of us now can't live without. The continuing rise of mobile is a force to be reckoned with and investing in further marketing intelligence of consumer's multi-device usage will be invaluable for the marketer.
Every device, app, social network and publisher presents another marketing opportunity, and with these new channels comes the capabilities to collect data about the individual consumer, traffic volumes, engagements, and a variety of performance KPIs, and while personalised advertising made an appearance, cross-device usage was missing.
This is where automated machine learning really shines, by collating all of this information to create user profiles that hold all of this intelligence. As AI technology keeps progressing, the right message and creative will be delivered to the right person, over the right channel, at the most opportune moment, and in real-time.
Technological advancements are moving so fast now, it's hard to predict what technologies we'll have to be adapting to in another 30 or so years.
But as Back to the Future teaches us, we must not be afraid to try new things, and ensure we constantly innovate and adapt to a wealth of new devices and consumer touch-points.
Dominic Trigg is the senior vice president, managing director Europe, Rocket Fuel