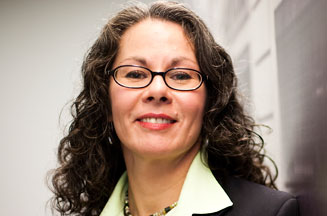 Indeed, when discussing Amex's first major marketing push in the UK for four years, the 48-year-old seems more enthused by the work the brand has done in growing markets, such as Mexico and Australia.

Bain's father served in the British armed forces, and she was brought up in Germany and the Middle East. She recalls the mom-ent when she was 'dumped on the King's Road' to begin her new life in London, and her sense of unfamiliarity with the UK.

Although not exactly mid-Atlantic, her accent carries tell-tale quirks that betray time spent living and working in many countries. Of course this makes her ideal for Amex's 'international' advertising role, which covers most places outside the US.

While Bain's attention has been diverted by pressing concerns on other continents, the UK market has been largely neglected by the brand. Its last significant marketing activity here launched in 2004, with A-listers Robert de Niro and Kate Winslet supporting the tagline 'My life. My card'.

The brand will forever be associated with the ostentatious excess of the Thatcher era, when an Amex card was the ultimate symbol of wealth and status. Today it can still evoke images of double-breasted business-men wielding brick-like mobile phones.

In the past few years, however, payment brands such as MasterCard, Barclaycard and Visa have softened their corporate focus. As Bain herself suggests, people now are less concerned about status than personal development.

'We've identified a new mindset among affluent consumers, exacerbated by the economic situation,' she says. 'People are looking to fulfil their lives in a different way. It's not just about material success - it's about exploring their own creativity, self-fulfilment, and living a more rounded life.'

To connect with a generation yet to yield to the charms of American Express, Bain has spent the past two years creating the brand's biggest integrated global campaign, complete with a fresh visual approach and friendlier tone of voice.

Under the banner 'Realise the potential', the animated ads, created by Ogilvy, target prospective customers aiming to get the most from life, and existing cardholders wanting more out of Amex. The brand is pinning a lot on the activity - so much so that it is scheduled to run for five years.

'The look and feel of the campaign is much more about presenting the brand in a fresh, bold way, to aim at people who perhaps haven't considered the brand before,' says Bain. 'However, while it is very different to look at, the messaging is firmly anchored in very traditional American Express brand truths.'

Nevertheless, the brand remains rooted in impressions of privilege, luxury and ambition - as opposed to the more recessionary trends toward frugality and caution. With consumer habits changing as a result of the economic climate, are they really interested in what Amex has to say?

Bain seems vexed by the question, and argues such stereotypes misrepresent what the brand truly stands for. 'I think we're still of the zeitgeist; we've always been relevant in people's lives,' she says. 'We're just reframing the focus. It is less about privilege now, and more about care and support for our cardholders. That is what we're famous for - helping our cardholders wherever in the world they may be.'

She adds: 'In a way, with the current economic climate, we've never been more relevant. Nowadays people are looking to get more value from the brands that they buy, and particularly looking for brands they can trust. American Express is both of those things, it's a brand of high integrity.'

Bain also denies that Amex's positioning as a lifestyle brand has been dam-aged by the global financial crisis, and the ever more cynical attitude of consumers toward credit services.

Her stern response to the question of Amex's continued relevance reflects Bain's reputation as a marketer known among her agencies for being a hard taskmaster. Yet, she will need every ounce of determination she has if she is to re-engage the brand with emerging types of affluent consumer.

She has her eyes firmly set on the post-dotcom, smoothie-drinking, iPhone-using informal businessmen and women who have been turned off by traditional Amex communications. Professing an admiration for brands such as Innocent and Apple, Bain plans to make Amex more likeable. 'One thing that is different about this campaign is the tone of voice. It is very contemporary, very approachable, and very appropriate for the times,' she says.

'People are much more relaxed with the brands they are engaging with and brands need to speak back in an appropriate way,' she adds. 'We believe the fresh new look will catch people's attention and prospects will look at us in a different way.'

This all-new, friendlier, cuddlier Amex aims to penetrate ever further into consumers' lives. A partnership with event promoter AEG Live has given the brand exclusive access to range of talent, including guitarist Jeff Beck and teenagers' favourite Miley Cyrus.

This prompts a big question: what about the stars? The brand is famous around the world for its use of celebrity endorsements, from the original 70s campaign featuring TV presenter Alan Whicker, to more recent ads starring former Chelsea FC manager José Mourinho and golfer Tiger Woods.

However, despite the absence of famous names in the current campaign, Bain says the brand is likely to call on their glitz and glamour again in the future. 'We will always be associated with iconic people who use our brand, but it was a conscious decision with this campaign not to use celebrities,' she says. 'We wanted to have a direct conversation with our cardholders, and really talk about what it is that goes into American Express.'

The sparkle of this job seems likely to keep Bain - who previously worked for agencies including Ogilvy, Wunderman and Publicis - on the client side for the foreseeable future. 'I've done every job you can up to chief executive on the agency side,' she says. 'I'm absolutely passionate about authentic brands that are able to communicate what they are there to do.'

Her biggest challenge will be convincing consumers that Amex's transformation from corporate leviathan into caring brand is genuine, and not merely a cynical ploy to draw in more customers.