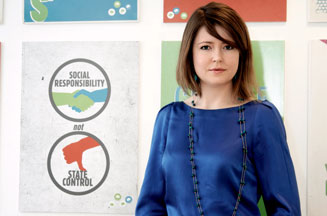 When David Cameron became leader of the Conservative Party in 2005, he was immediately accused of being a political lightweight. But while many commentators mocked the former PR man's apparent obsession with soundbites and photo-ops, the party's current marketing chief was taking the opposite view.
'There was a lot of criticism about a lack of substance, but for me, I'd never come across a politician that had as much substance, because he talked about principles and what he believed in,' says Anna-Maren Ashford, the party's 29-year-old head of brand communications.
'He talked about social responsibility, wellbeing and trusting people, and that had an incredible impact on me,' she adds.
Ashford admits that she previously harboured a deep cynicism toward politicians. Like many of her generation who feel disillusioned by mainstream politics, she preferred to focus her energies on single issues such as the environment and human rights.
She was working at Rainey Kelly Campbell Roalfe/Y&R when she heard about the role at Tory Central Office. The idea of teaming up with Cameron, who had then been leader for six months, was a tantalising prospect, and her appointment by Steve Hilton, the party's director of strategy and the mastermind behind its rejuvenation, was hailed as another sign of the changing face of the Conservatives.
Her first major project was nothing less than changing the party logo. The torch icon, which was brought in during the era of Margaret Thatcher, had previously undergone a tweak, but Ashford jettisoned it in favour of an oak tree that would not look out of place in the branding of smoothie maker Innocent. Before unveiling the logo, Ashford consulted local activists across the country. She says there was no opposition to the change, which is surprising given the old-school party's suspicion of the younger Tories in the early days of Cameron's leadership.
It is hard to imagine Ashford being too bothered if she had come up against acerbic members of the party faithful. Her mannerisms have a touch of the bossy Head Girl who is not to be messed with.
In 2007, Ashford brought in Euro RSCG London to handle the Tories' advertising. Its most recent work, which ran at the start of the year, was a criticism of the extent to which national debt will be deepened by the government's recent financial actions.
A significant amount of work produced by Ashford has been for the party's conferences. Those who attended last year's event will not have missed the Miliband 'banana' badges, which mocked the foreign secretary after he was unflatteringly photographed brandishing the fruit.
Ashford describes her job as 'a combination of long-term planning and quick-fire, fast-turnaround work'.
One former Central Office staffer questions whether Ashford's influence has waned with Hilton's posting to the US and the conclusion of the rebrand and ad pitch. But Ashford, who is also overseen by Andy Coulson, the former News of the World editor and now the party's director of communications, says she gets to spend a significant amount of time with the leader, who personally approves all major projects.
Did this closeness help her escape a recent cull at Central Office in which 24 jobs, including the whole external relations team, were axed? Ashford avoids revealing whether her job was on the line, simply saying: 'Well, I'm still here.' She adds, rather on-message: 'Like many organisations, we are having to cut our budgets.'
The more one learns about Ashford, the more intriguing she becomes. Her parents are Labour voters and she admits she never voted Conservative pre-David Cameron, although she is now a paid-up member. 'My parents were surprised at first, but they are proud and interested in what I do,' she says.
She is also, unlike many women who are now uncomfortable with the term, happy to class herself as a 'proud feminist'. Ashford admits that she was reluctant to get involved in politics earlier on because she felt it was inaccessible to women.
What's more, The Guardian, the voice of the liberal left, is her weekend newspaper of choice. She is, in short, not your typical Tory - but then again, given the apparent change in direction under Cameron, perhaps there no longer is one.
Ashford is not your typical marketer either. She read biological sciences at Oxford, and after graduating had to choose between studying a PHD in evolutionary science and an advertising role at RKCR/Y&R, where she had spent a summer doing work experience.
James Murphy, founding partner at Adam & Eve, worked with Ashford in his previous tenure as RKCR/Y&R chief executive, and lays on the praise with a trowel. Superb, brilliant and intelligent are some of the words he uses to describe his former colleague, who worked at the agency for four years. He admits that Ashford's move to the Tories took everyone at the agency by surprise, and jokes that he was 'horrified' by the appointment. 'She wasn't overbearing about her politics, she didn't shove it in anyone's face,' he says.
'Relentless' is the word that keeps coming up when Murphy describes Ashford's working style. 'She always delivers,' he says. 'There is something relentless and driven about her.' Her dedication was particularly valued by Virgin Mobile, her main account during her time at the agency, he adds.
Perhaps some of Ashford's drive has been inherited from her Icelandic mother, who, she says, 'got a fishing boat over to Scotland with no money and no university place' with the aim of studying architecture, before eventually winning a scholarship to Edinburgh University.
Ashford plays her cards close to her chest when it comes to where her career might take her next, but hints that she would rather be behind the scenes than on the front line of British politics.
The Tories are, of course, riding high in the polls, although commentators are split on whether it is the Conservatives who are winning the argument or the government that is losing it.
However, given Cameron's clampdown on anything that smacks of triumphalism, it comes as no surprise when Ashford declines to predict whether 'Dave' will win the next election. 'All we are doing is focusing on working hard and doing the right thing,' she says.
She adds: 'The Conservative Party is, ironically, a far more creative environment to work in than an advertising agency. I work very hard, but it's not just a job, it's a pleasure.'