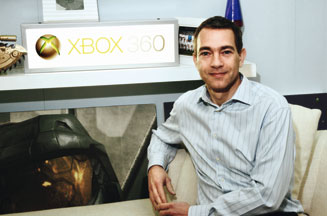 However, this is where the computer giant's marketing team, led by David Gosen, has successfully launched the Xbox 360, a console aimed at reaching a broader audience and placing gaming technology in the heart of the living room.
The brand is gearing up for a sustained pan-European campaign to promote its Xbox Live package of interactive gaming, movie downloads and social networking, at a time when the battle for market share has never been fiercer. Gosen, smartly dressed and precise, is, understandably, in good spirits, as 2008 was the most succes­sful year in Xbox's history, despite the economic downturn.

In an industry immersed in tech-speak, Gosen, 45, is no hardcore games geek. After spending 15 years in the entertainment business, most notably on the team that launched Sky Digital, he is on a mission to bring the Xbox to a wider demographic.

'I joined Microsoft because I believe that joined-up entertainment is the future,' he says. 'There are very few companies that have the ability to invest significantly in a region as large as Europe.'

Something of an entrepreneur, Gosen is anything but a traditionally trained marketer. After studying hotel and catering management, he spent a year working for Holiday Inn before running a successful restaurant business. However, he soon decided that his future lay elsewhere.

Having joined Coca-Cola's trade marketing department, Gosen moved to Pizza Hut, where he launched the brand in Poland and Russia.

With this disparate CV, Gosen gives the impression that he would be successful at any task he chooses to turn his hand to, a perception that is not dispelled when he goes on to enumerate his Guitar Hero exploits against his teenage daughters.

His first professional foray into the technology sector was at Mercury One2One, the brand that brought mobile phones to the masses in the 90s with a free evening and weekend calls bundle. He then joined the Sky Digital team as distribution and marketing director.

Gosen's first taste of the gaming world came at Microsoft's gaming rival, Nintendo. While based at its German headquarters, he worked on hardware launches, such as the Gameboy Advance. He was also involved in planning the roll-out of the Nintendo Wii. With this in-depth knowledge of the competition, Gosen's appointment was therefore somewhat of a coup for Microsoft.
There is no doubt that Microsoft is a far cry from Nintendo. Gosen says that, while the latter has done a great job of growing the market, it offers only 'a fairly basic gaming experience'. In contrast, he claims Xbox has a wider appeal, predicated on its on social networking focus.
The Xbox Live experience not only allows gamers across the globe to play each other, but also to create avatars and connect with their friends. Microsoft's Xbox market­ing team has its own network, although Gosen declines to reveal his user name.

Live members can also download films and access exclusive gaming content. Xbox Live controls 80% of the downloadable game music market and averages 3.8m music downloads a month. Meanwhile, the game Halo Wars broke the download record, hitting a figure of 2m in the first week after its launch on 27 February.

This ability to add content à la carte is what makes Xbox Live so attractive, parti­cularly as families look to cut back on discretionary spend. 'I don't believe that anyone is recession-proof, but you can be recession-resistant,' says Gosen. 'People are spending more time at home, and we are in a great position to capitalise on that.'

However, he is well aware of the challenges the brand faces, such as vocal opposition to violent video games and negative stereotypes of overweight children parked in front of consoles. Historically, the computer games industry has never been seen as the heart of family entertainment. Gosen gets to the crux of the matter swiftly. 'The challenge for the games industry as a whole is to tackle a message with a consistent and loud voice that the majority of games are not adult games,' he says. 'There is a huge variety on offer. As an industry, we haven't been very outspoken on the variety of our offer.'
Tom Rothenberg, managing partner of Xbox EMEA at the brand's ad agency, McCann Erickson, credits Gosen with having a massive impact on the Microsoft business in a relatively short period of time.
'He has completely changed the energy of the organisation. He brought new people in, and made Europe's voice stronger at the top table,' he says. Descri­bing his client as 'focused' and 'incredibly driven', Rothenberg adds that Gosen understands the forward momentum of gaming, and is focused on consumers who will buy into the category in the future.

Nonetheless, Gosen has a big task on his hands. It is his responsibility to expand the Xbox Live business across Europe as a mass-market entertainment hub. Hoping to appeal to a wide range of consumers, Gosen intends to focus its marketing investment on advertising the brand's music and entertainment offers.

In many ways, consoles and games are the unsung heroes of the beleaguered UK retail market, becoming a bigger sector than DVDs and other home enter­tainment. Xbox is basking in the glow of the role of a 'profit hero' for Microsoft, which is facing up to declining PC sales.

Gosen is, however, unequivocal about the challenges ahead. 'We are building a 360-degree entertain­ment experience,' he says. 'Obviously, we are competing with PlayStation and Nintendo, but we're really competing with any company that brings entertainment into the house.'

In the notoriously fickle and fast-moving entertainment market, making fast strategic decisions is vital to success, especially in an organisation as vast as Microsoft. 'The most important thing for me is to stay focu­sed on the vision,' says Gosen.

Far from seeing the scale of Microsoft as a hindrance, he views the vast resources available to him to devote to consumer research as a boon.

While headlines may focus on the on­going gaming battle between PlayStation and Xbox, Gosen has his eyes on a bigger prize. If Xbox can take control of the living room and become an entertain­ment hub via which consumers can connect with friends, or watch a movie, its possibilities seem virtually endless.