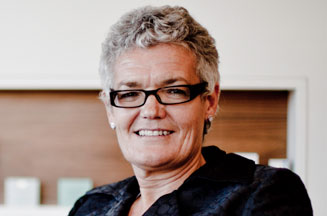 After three years teaching chemistry in her native Scotland, Fagan gave up the classroom for a career in retail. She joined Boots as a buyer in 1983 and stayed for eight years before leaving for senior roles at high-street chain Supasnaps, then dry-cleaning firm Sketchley, before a 10-year stint at DSGi. It was the reawakening of a dormant passion for the Boots brand that brought her back to the company in 2006 as managing director of its opticians operation.

Fagan was promoted to the board to over-see Boots' marketing in July 2007, and immediately set about reviewing its marketing strategy. With a focus on how Boots could become more relevant to its customers, she introduced its 'feel good' strategy, which is creatively executed with ads by Mother. 'I'm delighted with it,' says Fagan. 'While the music Here Come the Girls is well known, what is more exciting and pleasing for me is the brand positioning that it supports.'

There was industry speculation that Fagan would make sweeping changes to Boots' agency roster, but her most significant appointments have been to hire LIDA to run the enhanced CRM business around its Advantage Card loyalty scheme, and OMD to handle media planning and buying.

'Our "feel-good" communications has to go through-the- line, so I wanted to ensure we had the right partners for that,' explains Fagan. 'We've been looking at new systems to help us use the Advantage Card data to target it better and more effectively, and we're able to do much more targeted activity, such as joint mailings with partners, to ensure customers get the right offers.'

Accessibility is a word Fagan likes to reiterate - not in reference to the number or layout of stores, but price points. 'Every kind of person - office worker, shop worker, film star - will shop at Boots. We cater for those who want to spend £1.50 or £25 on a lipstick. We look to have a range to suit everyone's needs,' she says.

Perhaps it is this desire to cater for all that has led Boots to stock brands that have not agreed to be on the chain's shelves. One recent example is its spat with skincare firm Dermalogica and earlier this year it also fell foul of Paul Mitchell haircare. To the fury of both luxury brands, Boots has been buying their goods on the grey market and selling them without permission. However, Fagan declines to explain this strategy, referring only to Boots' official statement on the matter, which gives away very little.

Having found herself in the top marketing role, Fagan, who is well-versed in the history of the brand, asked herself one key question: what do customers want from Boots in the 21st century? With shades of the teacher she once was, Fagan relates Boots' 160-year history with zeal - how and why it was founded by John Boot, how the brand evolved in the 1950s, when the cosmetics category took off, and what the brand stands for today. 'Boots' core purpose is to champion everyone's right to feel good, and the creative we've come up with is based on insights on women and bringing "feel good" to life for them.'

In another part of this strategy, the group is rebranding its Alliance Pharmacy stores as Your Local Boots Pharmacy. Fagan wants to encourage customers to discuss health problems with Boots' staff, instead of going to the GP for minor ailments. 'What sets Boots apart is that you can feel confident going into a store and engaging with a healthcare assistant about your problems,' she says. 'Ten to 15 years ago, people didn't want to go in and talk about [these] issues. We want to be very open and welcoming.'

Pushing the CSR line, Fagan adds that many of these pharmacies are vital to Boots' efforts in smaller towns. 'It's very much about pharmacy in the community, with a range of healthcare and other products designed to suit that community.'

Fagan manages the tricky task of pushing Boots' own new products in tandem with keeping other brands on its shelves happy. Most noteworthy has been its No7 Protect & Perfect Serum, which won a devoted following after research in a BBC documentary proved it reduces wrinkles. However, far from distracting customers from other brands it stocks, Fagan claims Boots' success in own-label helps them. 'By bringing out our own new products, we grow the market and other brands will be beneficiaries of that as well. [They] have brought out new products because we've demonstrated a success in that area, and they work with us to get the same success with theirs.'

Boots is, arguably, in better shape than it was during Fagan's first spell there in the 80s. Its merger with Alliance UniChem in 2006 added 800 stores to the portfolio, bringing it up to 2500. With its greater financial clout (the retailer posted a healthy 11% increase in profit in the year to the end of March) Fagan is looking to drive the brand forward despite the recession.
Under a reciprocal trial partner-ship with supermarket chain Waitrose, Boots will supply healthcare and wellbeing products to the supermarket. In return, Waitrose will supply Boots with a range of foods. Fagan says the deal will increase Boots' accessibility to consumers.

Fagan, who grins like a Cheshire cat but guards her private life doggedly, is a tough operator. During her decade at DSGi she held senior marketing roles across the group, eventually becoming group media director. At one point, she was tipped for the top job. One reason for her exit from the electrical retail group could have been the speculation that her close friend John Clare, then DSGi's chief executive, was planning to step down after 22 years with the company. He retired the year after her departure.

One of 11 children, Fagan is well practised at getting her voice heard, and effective at delegating. Often described as intimidating on a work footing - and even said to be capable of making men weep - she is said to be 'terrific' on a personal level.

She also works hard for the marketing industry. As well as her day job, Fagan is a council member of the Advertising Standards Authority and sits on the government's Strategic Marketing Advisory Board. Her standing was further bolstered when she took up the high-profile presidency of WACL, the industry's women's networking club in London, earlier this year.

Fagan's uncompromising approach might make her a challenging colleague, but her drive to make the brand more accessible should serve Boots equally well in the post-recession market.