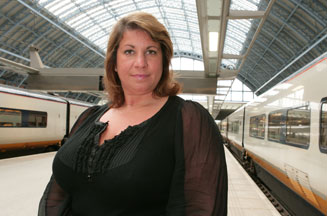 On 11 September last year, a Calais-bound train carrying heavy-goods vehicles burst into flames, causing a 16-hour blaze in the Channel Tunnel. Although a skeleton service resumed 24 hours later, Eurostar was not able to resume a full service until February. Harris decided to suspend all marketing for six months, fearing any product-led communications would appear crass and inappropriate.

It was a difficult start for the personable 36-year-old, who was on the verge of taking over the top marketing post from Greg Nugent. Harris now acknowledges that the decision to remain silent may not have been the right one.

'The incident was fairly traumatic for us as a business, but we have learned a huge amount,' she says. 'With hindsight, we probably should have tried to find a way to stay out there, especially with the loss of share of voice during the onset of recession.'

However, the break did have one advantage, claims Harris - Eurostar was able to complete a brand-repositioning project and plot its strategy with consultancy Hall & Partners. It also gave Harris the opportunity to establish herself as the successor to the influential Nugent.

Harris comes across as good-humoured. She talks with conviction about crisis management in the wake of the fire, before joking about feeling the worse for wear after the previous night's Tottenham Hotspur reunion dinner, and makes fun of her palpable ambition by reminding herself that she ought to 'get round to having a baby' at some stage.

Harris gained the attention of Eurostar bosses by leading the company's move from its previous hub at London Waterloo to its current home at the refurbished St Pancras. The 18-month project encompassed all parts of the business, and Harris is said to have impressed with the internal communications programme she launched to win over cynical employees.

Although she describes with enthusiasm Eurostar's wide-ranging plans to revamp its trains and enhance its customer service, the former Bass marketer clearly retains a hard-nosed sales instinct. She spent eight years working in Eurostar's sales divisions, and an understanding of the urgencies of sales is likely to permeate future marketing.

Centred on the concept of 'Little break, big difference', Eurostar's comeback campaign is intended to remind consumers that it now sells a fifth of its tickets at the base price of £59, while also attempting to stir the desire for a short holiday. The press, radio and outdoor ads, created by Fallon, show British couples and groups of friends laughing about their trips to Paris.

'People protect their holidays by not going out for dinner or going shopping. It is creating a culture of "Top-up Britain",' says Harris. 'People feel they need to do more of those breaks, and get more recharges across the year.'

She denies there is a danger that by focusing on its lowest price, Eurostar may compromise its traditional positioning as a premium brand. 'People want to know they are getting a good deal, so value messages are absolutely right for now,' says Harris. 'You can retain your brand values in other ways, and we are trying to lead the battle for price transparency.'

Whatever the potential pitfalls, the campaign is undoubtedly based on a more rational call to action than the brand's more flamboyant marketing projects of recent years, including its co-funding of the Shane Meadows film Somers Town.
The imperative for Eurostar to engage in brand-led activity has become more acute with the EU decision to liberalise rail lines from January. Deutsche Bahn, Air France and Virgin have all expressed an interest in running services from London to European cities, with Air France particularly vocal about how it can cut Eurostar's two hour and 15 minute journey time.

Harris admits Eurostar will need to better define why consumers should continue to choose it over any new rival. 'We are expecting at least one competitor, which we welcome, because having more high-speed rail companies boosts the category,' she says. 'But it does mean a lot of our brand benefits get taken away, because you are comparing apples with apples.'

She is confident that the arrival of its first direct rival will spur her brand on, but also believes Eurostar will have three years to prepare for competition, given the length of time it takes to buy and customise trains for the high-speed route.

'Having competition will be fantastic for the brand, as you can get complacent,' she says. 'Knowing competition is coming means we are focusing on our brand differentiation. If you are Paula Radcliffe and you've been winning marathons for years, and then someone comes along who is faster, it gives you extra motivation.'

Harris also believes Eurostar should continue to target the corporate market, despite a widespread fall in business travel, and is looking at whether to roll out a business-centric campaign. 'While our focus on business is less visible, most of our sales team is still directly targeting corporate travellers' she says.

Having negotiated her first big campaign, Harris' attention will now turn to a host of immediate challenges, including how best to capitalise on the London 2012 Olympics. In May it was reported that Eurostar is considering a £20m, tier-two deal to become the official rail company of the Games, although no announcement has been made.

The brand's 'Tread lightly' ethical marketing strategy is arguably also in need of review at a time when consumers are less focused on green issues. Although Eurostar will continue to make decisions based on environmental concerns, Harris admits that investment will be cut back.

Furthermore, in a year when brands from Hovis to Virgin Atlantic have played on their corporate anniversaries, Harris is considering whether to mark Eurostar's 15th. 'Eurostar has changed Europe, but we want to have an anniversary that will be real for consumers,' she says.

Each new marketing initiative will need to create a greater sense of identity. It falls to Harris to reinvent Eurostar for a new competitive era, and ensure the brand will still be heard by consumers once noisy rivals enter the market.