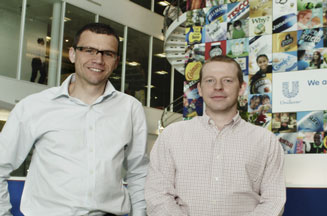 Nevett has been treated to this sight every working day since November, when the FMCG company moved its UK operations under one roof in Leatherhead, resulting in its most senior UK marketers sitting opposite one another.

'Being together has been a real catalyst for the way we work,' says Close. In the past, he explains, the relationship across the home, personal care and food divisions had been based on 'formal but infrequent com-munication'. Now, however, they are able to lean over their desks and exchange views on their brands, which range from Flora, Colman's and Marmite to Lynx and Dove.

The move to a single office is the latest step in the One Unilever programme. This aims to cut costs and streamline businesses within each country of operation and includes running ad campaigns and NPD on a global basis. Unilever's UK operation has been leading the way.

The components, which were once Lever Fabergé, Birds Eye Wall's, Unilever Bestfoods and its food solutions business have, over the past 18 months, moved closer together. At times it has been bloody. In summer 2007, Unilever scrapped its five top UK marketing jobs to replace them with only two positions. Nevett, 44, and Close, 39, scooped the plum roles. Since then, Unilever has as many as 350 marketing and sales posts.

Close, a Unilever lifer who worked on ice-cream brands including Magnum, Cornetto and Solero, before moving to personal care, admits that he was nervous when the first winds of One Unilever began to sweep through the business five years ago.

'I did have a slight worry that everything would get a bit "vanilla" by putting the whole company together, but now we have a much more distinctive view on what we want to achieve and our values,' he says.

The programme has been a measurable success. Unilever's fourth-quarter and full-year results, released in February, showed that its UK sales grew by 4% for the year and 7% for the final quarter, outpacing the rest of Western Europe as a whole, which grew by only 2%, having been hit by rising numbers of consumers turning away from brands in favour of own-label products.

What made the headlines when the figures were unveiled, however, was chief executive Paul Polman's refusal to give financial guidance for this year or re-affirm Unilever's 2010 targets. Polman, formerly of Nestlé and Unilever's arch-rival Procter & Gamble, joined the company last year. Unilever's UK marketers have yet to meet him, but Close is sure that Polman will ring the changes. He points out, however, that it will be difficult to tell which changes are initiated by Polman and which are caused by the recession.

Talk of the recession is unavoidable, but some categories, says Nevett, are benefiting from it. Stocks, for example, are flourishing as more people turn to cooking from scratch, with sales in the market growing 10% year on year by volume. Unilever's spreads and Hellmann's Mayonnaise have also returned to volume growth over the past few months as the packed lunch makes a return among office workers.

Nevett also points to the roll-out of Knorr Stock Pots as an example of the difference One Unilever is making. Before its implementation, the company operated under different executives for each country who had the power to act autonomously in terms of innovation. This system was not only less cost-effective but a slower and more haphazard way of rolling out NPD.

The Knorr Stock Pots range, however, launched in the UK in October, was conceived by the global brand team for stocks, while the teams for individual countries were charged with the launch planning. In the UK, a tie-up was sealed with celebrity chef Marco Pierre White. Stock Pots premiered in China before rolling out in the UK and France. It will launch in other European markets this year.

Nonetheless, there continue to be exceptions to the rule. Sitting outside the arrangement, in a business unit called Chrysalis, are the so-called 'local jewels', brands that have a strong presence in only one country, such as Pot Noodle and Marmite in the UK.

Close and Nevett, who report to UK chairman Dave Lewis, manage a £148m media budget and a combined team of 120 people. They say their closest agency relationship is with Unilever's media buyer MindShare. However, they both insist that they feel connected to the brands they manage. Both men can sometimes be found giving 'special attention' to brand teams where 'we are not winning', according to Close.

'The only thing I tend not to do is to make a judgement on Lynx advertising,' he says. 'Sometimes I see stuff and I raise an eyebrow, but I trust the team. If the marketing director starts to dabble, he's going to make the wrong call.'

Unilever's Leatherhead office, which sports a glass front, could act as a physical metaphor for the company's transparent approach to its corporate brand and executives. Last month, Close made his debut on Radio 4's influential Today programme to air his thoughts on recessionary consumer trends. He even managed to slip in a cheeky mention of Dove, for which he was reprimanded by presenter Evan Davis.

More significant, however, is Unilever's decision to highlight its corporate brand in consumer ads. Since last month, these have featured the iconic Unilever 'U' logo unfurling from a scroll at the end of television spots. The first brand to receive the treatment was Flora, with PG Tips, Magnum, Sure and Dove following.

Nevett explains that the choice to start including the logo in ads was 'born out of internal pride' in the company.

'It very much comes out of bringing the businesses together,' he says. 'It's a compelling story and we thought it would be great if we could say that to the consumer.'

Although recent comments by UK chairman Dave Lewis suggest the initiative was launched because no one had heard of Unilever when he mentioned it at dinner parties, Nevett claims the appearance of the logo is grounded in research. This, he says, showed that consumers who bought one Unilever product on the whole, would buy others if they knew they came from the same company.

As the icy wind of recession hits consumer spending over 2009, Close and Nevett hope this research proves to be right.