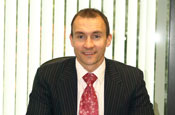 In an attempt to achieve a step-change in the company's marketing, however, Geary has for the first time appointed a London ad agency, WCRS, having previously used only Northern outfits.
The result of this move out of Geary's comfort zone is the comedy duo Mr Holland and Mr Barrett. The £7m campaign, which breaks later this week on TV, will introduce the price-obsessed Mr Barrett and the Bohemian Mr Holland, whose aim is to furnish customers with the best advice on the company's range of vitamins, supplements, dried fruit and alternative remedies.
The strapline is 'They come for the price but they stay for the advice', and the company hopes the double-act will impart some personality to the brand.
Holland & Barrett's ads have always focused on its prices, and this is the first time a campaign has highlighted the advisory service offered by its staff. Eighteen months ago, the company launched an internal training academy, which all members of staff have to attend before they can assist customers on the shop floor. The general public, explains Geary, has become far more educated on alternative remedies, 'so we had to get smart'.
Using the example of PMT - although admitting that it is a 'terrible choice' - he says there are steps that each 'associate' will go through before recommending a product. 'Once we have the customers talking to the staff, they become loyal,' says Geary.
Since May, Holland & Barrett has moved away from its strategy of big product discounts - sometimes by as much as 75% - to attract customers. Instead it has made a more modest reduction in the price of 800 products and is pushing a 'low price guarantee' message. Geary says this strategy means it is more important to highlight the knowledge of staff in ads, while retaining the pricing element.
It is clearly a leap of faith, and talking about whether the approach will resonate with consumers is one of the few times during this interview when the usually confident Geary displays a hint of doubt. However, he says that at Holland & Barrett's recent annual store managers' conference, the ads went down well.
'Personally, I think they are funny, but humour is a funny thing,' he says. 'I'm very conscious that I am on the inside. We have had to change our thinking. There is no point appointing an agency like WCRS and then dictating what you want to do.'
Geary envisages the creative theme running for a number of years, but adds that in 12 months' time, he will be in a position to evaluate the campaign to see whether it has 'pushed the right buttons'.
He also states that the product, price and shop formula used in the company's previous ads was not 'giving us the highs'.
Geary, who began his second stint at Holland & Barrett when it started running above-the-line advertising in 2001, signed off the company's subsequent Kim Wilde campaign - images of the 80s pop star turned celebrity gardener still adorn the reception area. Wilde looks slightly bemused, almost as if wondering why she is the face of Holland & Barrett.
The plain-speaking Geary pre-empts any quip on the peculiar choice of celebrity with a robust but entertaining defence. 'Park everything that you think was wrong with Kim Wilde and don't ask why her tops were too tight for her,' he says with a wry smile. 'Park all that because she was a fantastic ambassador for Holland & Barrett.'
What is more, he continues, Wilde has a genuine interest in natural remedies, acquired after she appeared on a TV show about detoxing, so she was a good fit. So that settles that, then.
Retailers have been hit hard by the worsening economic conditions, and many high-street names, such as JJB Sports and MFI, are either shedding staff and closing outlets or facing difficulty. Geary says that in common with Boots, Holland & Barrett is experiencing a stagnant market, and insists that despite the encroachment of supermarkets in the vitamins and supplements space, the company is more than comfortable.
Holland & Barrett is owned by US group Nature's Bounty, the world's biggest manufacturer of vitamins, minerals and supplements and, inevitably, the chain's biggest supplier. It is an arrangement that cuts out the middle man and brings a host of associated supply-chain savings.
While other businesses are scaling back their expansion plans, Holland & Barrett is steadily opening one or two
stores a week. The company plans a further 26 openings between now and the end of March 2009, bringing its UK and Ireland store count to a sizeable 600.
Despite his company being at a distinct advantage because of its ownership structure, Geary has little sympathy with the plight of fellow retailers. 'One thing a poor economy does is sort the wheat from the chaff,' he says. 'Holland & Barrett can gain from the people on the high street who haven't got their business model right, because it means more units will become available and we can open more stores.'
Last month Holland & Barrett swallowed up its closest UK rival, Julian Graves, making it the country's undisputed leader in the health food market. However, Geary says there are no plans to rebrand the stores as Holland & Barrett; the company has decided that the best strategy will be to keep the individual brands it acquires unchanged in order to increase its purchasing power.
Geary had never heard of his employer before his first spell there in the late 90s - '[the stores] were all south of Birmingham then' - but now uses its vitamin C and zinc products every day, and echinacea in the winter. Apparently, he 'hasn't had a cold for years'.
'I think the NHS and the government have to start to realise the benefits of alternative remedies,' Geary says. 'The more illness we can prevent, the less burden on the NHS.'
But Geary's main focus at the moment is the ad campaign. 'For me, it's about bringing this to the nation,' he says, pointing at a cardboard cutout of Mr Holland and Mr Barrett. 'This is everything we have always been about, but it's now in a format that will hopefully engage with the customer.'