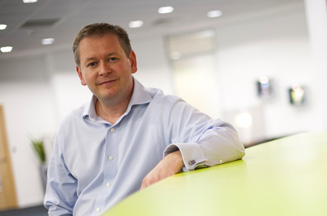 Fortunately, he bears little resemblance to David Brent and displays a genuine enthusiasm for a sector that could easily be mistaken as tedious; he is keen to motivate staff and seems unfazed by the problems faced by the wider industry.
Thomas, who has more than 15 years' experience in the household goods sector, has formed an effectively structured marketing team that has consistently delivered impressive figures. At the end of last month, Reckitt Benckiser announced a substantial increase in revenue. The company, whose brands include Dettol, Finish, Air Wick and Vanish, reported a 40% rise in gross profit for the first half of the year to £816m.
Thomas, who joined Reckitt Benckiser in 2007, previously worked for rival Procter & Gamble, where he spent more than a decade in brand and marketing roles spanning fabric softeners and oral care.
It is clear he feels liberated by his change of corporate scenery. He says he joined Reckitt Benckiser because he wanted a leading role at a large organisation that afforded him a significant level of autonomy and responsibility. 'This isn't necessarily true for a lot of my friends in competitor companies,' he observes. 'A key factor in Reckitt Benckiser's success is its leanness. The amount of responsibility people have, at all levels in the marketing department, is incredible. It is definitely at the high end of what people feel comfortable with.'
Thomas claims the fundamental difference between Reckitt Benckiser and its competitors is the speed at which it operates. 'We do everything faster than our competition,' he says. How the firm achieves this is no secret - it is remarkably lean for a global corporation. In the management structure, Thomas has just one person between him and chief executive Bart Becht; he says that by avoiding a 'matrix structure', decisions are made quickly. 'In other FMCG companies there is a massive amount of internal debate and confusion over who has the decision rights,' he explains.
Reckitt Benckiser is a notoriously challenging company to work for. The marketing team is judged on the number of products it gets on the shelves, and each employee carries the weight of responsibility on their shoulders. In a recent interview, Becht likened the company's working culture to Marmite. Thomas agrees. 'You either love Reckitt Benckiser and consider it exactly what you always wanted in corporate life but could never get, or you don't like it,' he says. And employees soon find out which category they fall into. 'You either enjoy it or you choose to step back. Our lean structure means there is nowhere to hide.'
Thomas' pet hate is indecisiveness. 'We always make a decision,' he says. 'I would rather any decision than no decision. And we aren't going to have five meetings to make it. The team will argue it out and then a decision will be made.'
He says this approach motivates staff, because they are rewarded when they get it right. However, if an idea does not go to plan, then the individual responsible must face the music. 'There is no point blaming a problem on someone in the European or global headquarters when it is clear that you made the decision,' says Thomas. 'Taking the responsibility for decisions is invigorating.'
However, he does not expect staff to get it right every time. 'When you are making decisions at high speed, you will get things wrong - and that is OK, as long as we work quickly to fix the problem,' he says. 'I prefer this method than having endless meetings about the same thing. I prefer to monitor consequences as we go along.'
He claims that the marketing team gets things right 80% of the time and soon realises when something has gone wrong.
Thomas is the master of quick turnarounds. After joining Reckitt Benckiser two years ago, he relaunched its recently acquired skincare brand E45, oversaw its first TV advertising campaign and announced a string of extensions to the group's cosmetics range - all within 12 months. Meanwhile, he also revamped dishwashing brand Finish; bringing in £120m of business, it is one of Reckitt Benckiser's most valued properties.
In terms of sales, the UK is the company's second-biggest market after North America. However, it is the biggest market in terms of advertising. 'We are a power-house for advertising development,' says Thomas. Earlier this year, Reckitt Benckiser was ranked as the UK's fourth-biggest advertiser after P&G, the COI and Unilever in research conducted exclusively for Marketing by Nielsen.
Thomas says the company protects its brands from the threat of own-label rivals by pumping cash into advertising - it spent £91.7m in 2008 - and focusing on product innovation. His confidence reflects that of Becht, who, in an interview earlier this month, identified a consumer backlash against own-label products; he also claimed that own-label lines had not increased their market share at the expense of Reckitt Benckiser, and that retailers across Europe were reintroducing more branded products.
Thomas adds that the company's line-up of established and strong brands are trusted by consumers, who are still happy to pay full price for them. This year's profits, though, were perhaps in part boosted by fears surrounding swine flu. Cold and flu-remedy brand Lemsip, for example, is currently selling in similar quantities to last winter.
Last month, the company refreshed its corporate branding in a bid to become known by the abbreviation 'RB'. Thomas says the primary purpose of this was to make the company more appealing to prospective recruits. 'RB is memorable, short, snappy and direct, just like our culture,' he explains. 'One of the reasons I was pleased to move closer to London was the access to more great talent.'
Reckitt Benckiser has not only edged closer to the capital, it has pushed its way into the corporate limelight. After another set of strong financial figures, at a time when many of the biggest companies are counting their losses, Thomas and his team undoubtedly have something to shout about.
His straightforward, decisive and direct approach are clearly reaping rewards - something which has eluded many in the marketing industry.
Inside work
1992-2007: Various sales and trade marketing roles, Procter & Gamble UK, rising to European marketing director, oral care, Procter & Gamble
2007-present: UK marketing director, household and personal care, Reckitt Benckiser
Outside work
Family: Married with two children
Hobbies: Reading, Cotswolds dinner parties
Last books: The Power of Full Engagement by Jim Loehr, and Everything You Need by AL Kennedy
And another thing: He drives a (slightly) pink Porsche