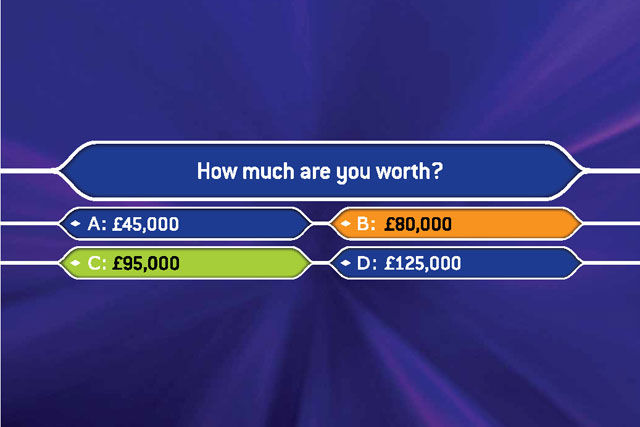 Annual basic marketer pay by role
Annual basic marketer pay by sector
It's a subject we all want to know about, yet few will talk about. How much are you paid compared with your colleagues or contemporaries in another business?
This year's Marketing Rewards salary survey paints a more optimistic picture than many would expect. Salaries and job satisfaction are rising, and the gap between men and women's pay has narrowed.
According to Vivienne Copeland, head of Croner Reward, which carried out the annual survey in May and June, in collaboration with The Chartered Institute of Marketing, these findings suggest that the worst of the recession could be over. 'The survey points to higher confidence in company performance and the economy as a whole,' she adds.
Grounds for optimism
From the total data on 4932 jobs, which included 2776 marketers responding directly to the CIM survey, the average salary rise was 2.5%, as in 2011. However, the number of respondents with pay freezes fell from 26% to 22%. What's more, the average pay for a head of marketing outstrips that of the heads of IT and HR.
Click to enlarge
When it comes to the gender pay gap, the difference is now noticeable only at director level, but even there it has shrunk from 16.3% last year to 2.7%. In other levels of seniority, women now earn the same or even more than men.
While the headline results mask variations by rank, region, discipline and company size, Copeland believes the survey findings reflect a new mood of optimism. 'Organisations seem to have recognised that the uncertain economic climate is here for the foreseeable future, and now that they have cut back as far as they can, they need to start trading their way out of recession,' she says. 'Marketing budgets may have shrunk, but that makes marketers more essential than ever, and creative marketers who augment their traditional skills with the kind of digital skills that can stretch marketing budgets further are in demand.'
Skills development
However Breffni Walsh, interim marketing director of Musgrave Retail Partners GB and former Pets at Home marketing boss, warns that these rare hybrids, who command premium salaries, may not be all they seem.
'When you've hired "digital specialists" you often realise they learned their skills from textbooks,' she says. 'My advice would be to hire on attitude and intelligence; the rest can be taught. The marketers who were great in the 80s are still great because they know the "answer" isn't digital; it's understanding consumers.'
Marketers are stepping up to the plate and developing new skills, not least in the digital sphere. Such development and job satisfaction are linked, says Copeland.
Nine out of 10 marketers surveyed said they have 'fair' or 'excellent' job satisfaction, compared with eight out of 10 last year; 85% feel their pay is in line with or above the market, up from 83% last year, despite 22% having suffered pay freezes.
The reason for this level of satisfaction, Copeland believes, is the opportunities the recession has afforded to take on additional responsibility. 'That also, of course, makes them more marketable,' she adds.
For similar reasons, perhaps, 58% of respondents believed training and development were just as valuable as a pay rise.
Click to enlarge
Helen Moss, senior manager at recruitment firm Hays Marketing, has witnessed a rise in internal promotions. 'Companies are re-evaluating marketing jobs and adjusting salaries to keep good people. They are also "adding value" to jobs, with more focus on aspects like flexible working, career paths, training and development. Personal development is increasingly important to individuals, and that benefits their employers.'
Not all marketers are satisfied with their lot, however. Those in the public and voluntary sectors are twice as likely to feel insecure in their jobs as marketers in other sectors, and job insecurity in the public sector has risen over the past year. Yet pay in the public sector has kept pace with the private sector.
As Sheila Mitchell, marketing director at the Department of Health, points out, the public sector has been attracting more people from the private sector. It is two- way traffic, however. 'I know a lot of good people in the public sector who are now moving back into the commercial world,' she adds.
Stability benefits
Overall, it seems, a silver lining of the recession is now becoming apparent. 'Businesses are looking to marketers to help them find ways to grow in a different economic climate from the one many are used to, and the resulting debate, innovation and skills development are stimulating the profession,' says Daryl Fielding, former vice-president of marketing at Kraft Europe.
In addition, as people are less inclined to seek new jobs at the moment, relationships within the company are more stable. 'That fosters trust and teamwork, which have a very positive effect in a recession,' she adds.
Pete Markey, chief marketing officer at RSA Group, believes this stability will do much to enhance the reputation and credibility of marketing. 'If marketing directors stick around long enough to see the results of what they do, that's good for everyone.'
In fact, the report gives plenty of reasons for cheer. The demand for customer-focused marketers who can offer potentially transformational insights is not only helping them to command higher salaries and a voice in the boardroom, but, as Markey says, is also 'putting marketing back in the driving seat'.
REGIONAL VARIATIONS
Long-distance rewards
The survey revealed surprising regional variations in pay. Senior marketing managers in the North West, South West, Scotland and North East are paid 4.1%-5.6% more than those in the South East, London, West Midlands and Eastern Counties. Senior marketing managers in the first four regions command salaries up to 4.2% higher than the average for their band, while those in the last four earn 1.4% less. At general marketing manager level, the disparity is higher still: a 16% gap between those in the North East and those in the Eastern Counties.
Click to enlarge
The CIM's David Thorp says: 'The traditional mindset has been to go to London to further your career. Depending on what the research tells us next year, whether this is a blip or a trend, we might need to rethink that.'
Breffni Walsh, marketing director of Cheshire-based Pets at Home for two-and-a-half years to February 2011, offers a more prosaic explanation.
'I loved the place, but the reality is that the best creative talent is in London, and organisations have to woo marketers with high salaries to work elsewhere, because they find themselves, as I did, shuttling up and down constantly. You want the best talent on your doorstep, and as yet there is no critical mass outside London. The arrival of the BBC in Salford might help create a hub of talent, but it will take a few years.'
Closing the gender gap: cautious optimism on pay equality
Click to enlarge

At head of marketing and senior manager level, women earn slightly more than men, while at middle and junior manager level and graduate/supervisor level, pay is equal. Male marketing directors earn 2.7% more than their female equivalents, but the gap has narrowed from 16.3% in 2011. According to the Office for National Statistics, the gender pay gap nationally is 17%.
The dramatic improvement might be partly explained by the fact that this year's survey had twice as many female respondents as males.
Natalie Cowen, head of brand and communications at First Direct, says: 'I can see why discrepancy creeps in at director level. Pay reviews are tied to performance management. If you are on maternity leave, you are given an "average rating": this determines your maximum salary, with bonus awarded pro rata. You fall behind men who have not interrupted their careers.'
Cowen suggests that parity lower down might be linked to frequent job moves: marketers are well aware of their worth. She believes parity will eventually infect the very top level, too.
David Thorp, director of research and professional development at the CIM, agrees, but warns: 'What is of more concern is the dearth of female chief marketing officers.'
The split of marketing director respondents to the CIM survey was 51% women, 49% men – but that doesn't reflect reality, adds Thorp. 'CIM membership comprises 50% men and 50% women, but at marketing director level men outnumber women four to one.'
Methodology
To collect the data for this year's Marketing Rewards, invitations to participate in the survey were emailed by The Chartered Institute of Marketing to a base of 46,437 contacts comprising members and non-members working in marketing in the UK; 2776 responded. Their data was checked and used in the survey.
To this body of data was added appropriate and matching data from the Croner Reward pay databank, taken from Croner Reward's other surveys. The total data analysed in the survey was 4932 jobs from about 2000 organisations. The data was collected in May and June 2012 and the survey published in September 2012.