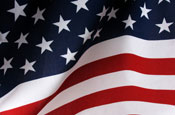 Until the economy was once again brought into sharp focus following the collapse of Lehman Brothers and Merrill Lynch over the past fortnight, image and marketing of candidates Barack Obama and John McCain have played as much of a role as policy in the race for the White House.
Below is a roundup of how the presidential campaigns have been using a variety of marketing channels this year's election.
TV ads
TV advertising is the staple of the US presidential campaigns. And 2008 has been no exception.
Research by Fox 5 and the Washington Post has revealed that American voters are getting fed up with negative ads and 44% said the ads had made them more likely to vote for Obama.
Despite this, McCain has hit Obama hard and often through TV ads which have been widely circulated on YouTube.
His ads have typically centred on the Democratic candidate's lack of experience and turn his strength as a charismatic public speaker on its head, claiming he lacks substance and is no more than a political showman.
McCain's most infamous jibe that called Obama 'the world's biggest celebrity' and compared him to Britney Spears and Paris Hilton has received more than two million hits on YouTube alone.
When Obama returned from his well-received Europe tour he was eight points ahead of McCain in one major poll. But within a few days of the ad being released the gap had all but closed.
Team Obama countered with an ad featuring McCain's appearance on Saturday Night Live, claiming McCain is 'Washington's biggest celebrity'. However the ad was deemed a rather feeble and unimaginative response to what had undoubtedly been a telling blow. Paris Hilton's own spoof ad, in which she responds to the 'white-haired dude' John McCain, packed a far stronger punch.
In his acceptance speech in Denver Obama urged America not to 'make a big election about small things', by which he meant politics as a personality contest in which cheap asides about your opponent are one the main tools.
His campaign has largely avoided personal attacks at McCain and has gone on record as saying family is out of bounds. He would do well to stick to his strategy, not least because his rival is better at mudslingling than he.
Campaign slogans & logos
While Obama's mock presidential seal may have been laughed out of town, the candidates' campaign slogans provide a neat summary of their strategies and have been a valuable tool in connecting with voters.
Clinton tried out a number of slogans, but failed to find a catchy one. She tested nine in total, all of which ended up going the same way as her bid for presidency.
Obama's campaign mantra, 'Yes, we can', offers a simple motivational call to action for Americans. In the last few weeks he has adopted a variety of mottos on the theme of change to suggest that he is the man to lead America out of its economic problems and end the war in Iraq. This underlines one of his main tactics, which is to link McCain with Bush, casting him as a mere continuation of one of the most unpopular presidents in US history.
In June McCain co-opted this message, changing Obama's 'change you can believe in' to 'a leader you can believe in'. When he addressed supporters in Louisiana he used the word 'change' over 30 times. By mimicking Illinois Democratic senator McCain succeeds in diluting the impact of the slogan.
While McCain has dismissed Obama's slogans as fluffy and insubstantial there is no doubt they have resonated with the electorate and has unsuccessfully scrambled for a slogan with similar impact.
The Republican team's main slogan is 'country first'. It is designed to appeal to American patriotism and emphasise the fact that McCain put 'country first' as a Vietnamese POW and in his 22 years in the senate. His ads have portrayed Obama as an American-hating, left-wing pacifist for opposing the war in Iraq, so his slogan could also be seen to imply that Obama would fail to put America first.
News cycles vs. field marketing
For all the polling the world, the outcome of the election will be far from clear until the last votes are counted on November 4. And this is especially true due to the different ways in which the candidates are attempting to win support.
McCain's campaign is built around the television, through not only TV ads but also by his attempts to dominate the news-cycles. The idea is to come out of any given day's news agenda more positively than your opponent. The theory is if you win more than you lose, it translates to votes and you win the election. Simple.
The Republicans have been far sharper at the game than the Democrats. When Obama returned from his well-received trip to Europe, he released the Britney Spears/Paris Hilton ad, which considerably shortened Obama's lead.
Within hours of Obama announcing Biden as his running mate, McCain rolled out ads on national security, which tapped into fears of new Cold War, following Russia's attacks on Georgia.
McCain's top trump however was announcing Sarah Palin as his VP the day after Obama gave what had been touted as 'the most important speech of his life' before 84,000 fans at the Democratic convention. For the next few days journalists were so busy digging up stories on her and trying to figure out who she was about her that they largely overlooked his speech - which in case you missed it wasn't bad.
The Obama camp has adopted a less tried and tested tack. His campaign manager David Plouffe has said that they aren't worried about the news-cycles, because they believe direct contact with American voters is more effective.
Instead, the Democrats have invested vast sums of money in field offices, stationing more than three times as many as the Republicans in swing states across the country. They believe word of mouth is a more powerful than TV and that on election day, people are more likely to be influenced by their friends, neighbours and co-workers.
The power of celebrity
Although opinions are mixed on the value of celebrity support, it has been a shrewd, albeit hypocritical, tactic adopted by McCain to accuse Obama of being celebrity-obsessed.
Obama's large number of Hollywood supporters, which include A-listers Robert DeNiro, Ed Norton, Oprah Winfey and George Clooney. But McCain's own list of supporters is none too shabby. High profile supporters include producer Jerry Bruckheimer, Sylvestor Stallone, Arnold Schwarzeneger, Donny Osmond and Jon Voight.
The controversial movie-maker Oliver Stone is releasing his film about George W. Bush, just before the elections in October. Its trailer, which features the song What a Wonderful World, is rumoured to be surprisingly sympathetic. This idea is supported by the fact that its producers are buying space for it to sit alongside McCain's ads.
It will be interesting to see how its release affects McCain's popularity, given that Obama's strategy has been to align the Republican candidate with the US President in the hope that Bush's bad publicity will rub off on him.
New media
Democrat Barack Obama, 47, appears to be trouncing McCain, 72, in what has become known as the 'YouTube elections'. He is almost 25 years younger than McCain, whose failure to utilise new media has been seen by some as evidence that he is out of touch with younger voters.
Obama has used mobile and digital platforms to keep in touch with his supporters and to raise substantially more funds than his rival. His mobile page, designed for the Facebook generation, allows people to download ringtones and wallpaper and sign up to receive campaign updates from social networking site Twitter or SMS messages.
The Illinois Senator announced with a text to 2.9m of his supporters that Joe Biden would be his running mate in what was the largest mobile marketing event in the US to date. Although the news was quickly picked up and spread by the press, the stunt earned him the reputation of being cutting edge, garnered widespread coverage and built up his supporter database.
Researchers from Princetown and Michigan Universities have found that text message reminders increase the likelihood of a person voting by 5%. The same amount as a 'quality phone call' but at less than a tenth the cost.
Team Obama also launched a website called fightthesmears.com to spurn rumours about the him. It addresses the most common myths about him, which predominantly surround his faith, his wife and his background.
For example, one in ten Americans believes Obama is Muslim, the website denies this, it states: 'Senator Obama has never been Muslin, was not raised Muslin, and is a committed Christian.'
His spokesman said: 'The Obama campaign isn't going to let dishonest smears spread across the internet unanswered. We will aggressively push back with the truth and help our supporters debunk the false rumours floating around the internet.'
Obama has not only utilised social media to his advantage but is the most followed person on Twitter in the world. He has more than 1.3m Facebook fans, while McCain by comparison has only 200,000.