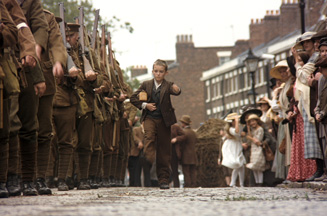 The shortlist for the Marketing Society Awards for Excellence 2009 reads like a Who's Who of famous companies and brands, but only the very best will walk away with one of the coveted trophies on the night.
The marketing community's annual big night out, which takes place on 8 June at the London Hilton on Park Lane, has an extra dimension this year as it falls amid The Marketing Society's Golden Jubilee celebrations.
The original sackfuls of entries have been whittled down to a shortlist by an elite panel of independent marketing experts, who came together to form this year's judging panel under the chairmanship of Dianne Thompson, chief executive of Camelot and a fellow of The Marketing Society.
The judges were looking for marketing excellence and leading-edge thinking that had a demonstrable impact on the brands in question; they were not disappointed by the entries that flooded in.
There are three shortlisted entries for Cadbury, Hovis and Kimberly-Clark and two apiece for British Gas, the British Heart Foundation, BT, Business Stream, the Home Office, McDonald's, More Than, O2, RSA and Unilever.
Awards up for grabs include new brand, brand revitalisation and marketing achievement. This year's awards also feature a new category dedicated to rewarding marketing teamwork, where multi-disciplinary teams have worked together toward a common goal.
The top prize of the evening will be the coveted Grand Prix, which was last year won by AkzoNobel (formerly ICI Paints) for the transformation of its marketing function.
The shortlist for the prestigious Marketer of the Year award - last year won by Jill McDonald, senior vice-president and chief marketing officer, UK and Northern Europe, for McDonald's - will be announced in Marketing in early May, along with voting details.
The Marketing Society Awards for Excellence is one of the must-attend evenings of the marketing calendar. Judging by the standard of the short­listed entries, it will certainly be a night to remember.
Awards 2009
Venue London Hilton, Park Lane, London
Date Monday 8 June
Table bookings Tables are still available for the Marketing Society Golden Jubilee Awards ceremony.
To make a booking, contact Adele Durham on 020 8267 4344 or email adele.durham@haymarket.com. A booking form can be downloaded from www.marketingsocietyawards.com.
Shortlist
Act on CO2 - Save money, save energy
AkzoNobel - Ecosure and Step towards greener
Arla Foods - Lactofree - From niche to normal
Barclays - Life's Rewards
BBC - BBC iPlayer: Off to a flying start
Best Western - Customer relationship marketing
Birds Eye - Putting the good mood back into Birds Eye
British Gas - Generation Green
British Gas Services - Engineers' Good News
British Heart Foundation - Learning through play
British Heart Foundation - Watch your own heart attack
BT - Bridging the divide
BT Business - Do what you do best
Business Stream - Getting from good to great
Business Stream - Making water work for you
Cadbury - Dairy Milk: A new communications model
Cadbury - Creme Egg campaign 2008
Cadbury - For the love of Wispa
Capital One Bank - Capital One and Scope
Channel 4 - The Big Food Fight
Cobra Beer - From niche to mainstream
Coors - Immortalising Grolsch
Corsodyl - More than just a pretty smile
Dylon - Dylon brand relaunch
Ebookers - Brand revitalisation
Fever-Tree - Launching Fever-Tree
Freesat - Brilliant for Everyone
Grey London - The philosophy that transformed Grey London
Home Office - How research broke the brick wall of denial
Home Office - How research helped to solve knife crime
Hovis - As good today as it has ever been (3 entries)
Innocent Drinks - This Water
Institute of Chartered Accountants - Modernising the ICAEW
Johnson & Johnson -The Nicorette Inhalator - A hidden gem
Kimberly-Clark - Huggies Pull-Ups Night-Time brand extension
Kimberly-Clark - Revitalising the Kleenex brand
Kimberly-Clark - Andrex's limited-edition Comic Relief Puppy
LOCOG - Sponsorship strategy for London 2012
Littlewoods Direct - Out-of-this-world results in a retail downturn
Learning and Skills Council - Our future. It's in our hands
Company - Name of entry
Mars - Snickers: Sell some nuts!
Marshalls - Marshalls for sustainable landscapes
McDonald's - McJob
McDonald's - That's what makes McDonald's
More Th>n - More 4Me
More Th>n - Personal customer manager
Morrisons - Fresh Growth for Morrisons
Muller -How we licked the lid of life
NCP - Full On! NCP internal marketing
Nissan - How Nissan launched Qashqai
O2 - The O2 - Extending the brand
O2 - The O2 marketing academy
Orange - Geography textbooks and piste maps
Oxfam and Marks & Spencer - The M&S and Oxfam clothing exchange
Pedigree - How Pedigree helped homeless dogs
Recycle for London - Getting Londoners to recycle more
RSA - Internal marketing
RSA - International brand development
Royal Mail - Partner for growth
Sainsbury's - Trying something new in a downturn
SCA - Velvet, WWF and 45,000 pandas
Shell - Recruiting more for less
Sky - Accelerating advocacy
Sony - Rolly
Stanley - Reinvigorating the Stanley brand
Texaco - Growing loyalty in a disloyal category
The Co-operative Food - Being good with food again
The Famous Grouse - Also available in black
The Times - Marketing teamwork
Thomson Reuters - Introducing intelligent information
Transport for London - Using our brains to save cyclists' lives
Unilever - Marmite: Delivering sustained topline growth
Unilever - PG Tips: A tale of two continents
UPS - The UPS Widget
Walkers - Do us a flavour
Visa Europe - Life flows better with Visa
Whitbread - A clean sheet for Premier Inn
Yamaha Music UK - Yamaha pioneers the Virtual EXPO experience
Zurich - Zurich Help-Point