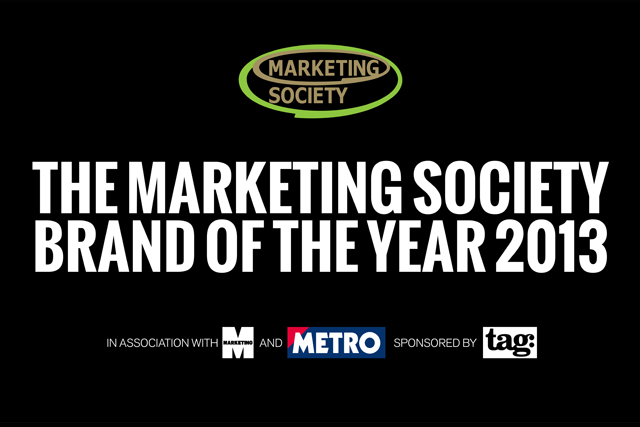 The Marketing Society Brand of the Year award, in association with Marketing and Metro and sponsored by Tag, recognises excellence in innovation, marketing and advertising effectiveness, financial performance and winning over cynical, overloaded and price-conscious consumers.
The full list of 20 brands needs to be whittled down to the top five ahead of live voting at The Marketing Society's Annual Dinner on 21 November. Which brand gets your vote?
Marketing Society Brand of the Year shortlist 2013
Everything Everywhere rebranded as EE last autumn, when it launched the UK's first 4G mobile services via an ad campaign starring actor Kevin Bacon. EE's early launch of 4G, nearly a year ahead of rivals, helped it establish a reputation for internet connection speed (which it recently doubled) and value for money.
The department store's marketers may struggle to find room for more awards. This year, it created an ad to boost awareness of its insurance products and expanded its loyalty scheme. Online sales for the first six months of 2013 soared almost 20% to £440m; overall like-for-like sales rose a more modest 5% to £1.7bn.
The online travel agency launched its "Travel yourself interesting" campaign this year, while its ad agency, O&M, won eight awards for outdoor work for Expedia at the Cannes Lions. With 12 Lions overall, Expedia was the most awarded British brand. In 2013, it has also picked up an app of the year award from Google, as well as being voted into this year's The Sunday Times 100 Best Companies list. The brand's latest results for the second quarter of this year revealed that global revenues were up 16% year on year, with room night booking up 19%.
The Swedish furniture retailer has continued its theme of helping people make the most of their, often cramped, homes. Creative highlights this year include TV ads such as "Playin' with my friends" and "Make more of your garden". It has created a microsite offering a 360 degs tour of a perfect Ikea home.