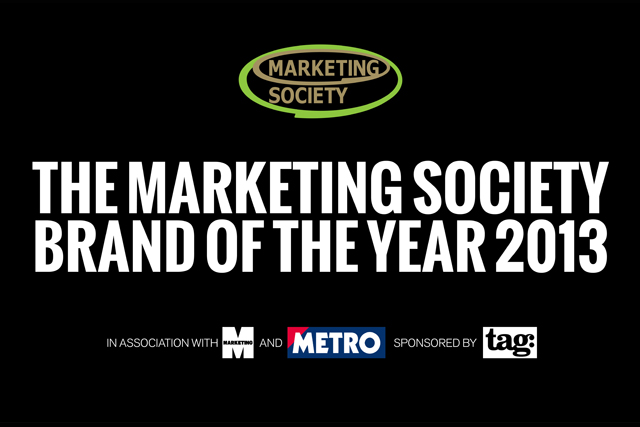 The Marketing Society Brand of the Year award, in association with Marketing and Metro and sponsored by Tag, recognises excellence in innovation, marketing and advertising effectiveness, financial performance and winning over cynical, overloaded and price-conscious consumers.
The full list of 20 brands needs to be whittled down to the top five ahead of live voting at The Marketing Society's Annual Dinner on 21 November. Which brand gets your vote?
Marketing Society Brand of the Year shortlist 2013
Jaguar launched its F-Type sports car in May. It has sold 1000 a month, helping boost overall Jaguar sales by 30% in the first half of this year. Marketing for the F-Type included the "Your turn" campaign, developed in-house, and Desire, a star-studded 13-minute film created in collaboration with Ridley Scott Associates.
The boutique hotel-booking brand this year launched a family-friendly hotel collection called Smith & Family and has created a brand extension, Smith Paint. It has expanded into Canada and Asia, opening an office in Hong Kong. The company's customers book £36m of hotel stays - 10,000 room nights - a year.
The mobile phone operator pushed the boat out creatively with its "Be more dog" ad campaign, encouraging people to embrace new technologies. It has continued promoting its technical advice staff O2 Gurus and boosted its Priority early ticket-booking service with a powerful ad campaign featuring singer Beyonce.
Earlier this year Paddy Power opened a book on the Papal candidacy and offended Celtic fans with a misjudged jibe about the club's former player and manager Billy McNeill. Nonetheless, the betting chain's revenues rose 22% to EUR380m in the first half of the year, suggesting that its irreverent campaigns are doing the trick.