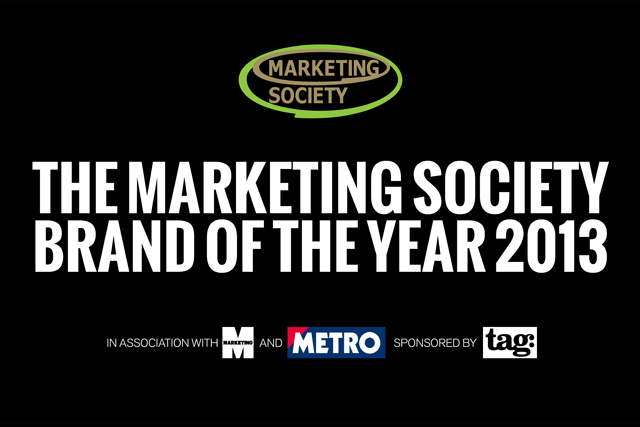 Early signs of economic recovery are compounding into a picture of optimism and growth. Finally. Yet austerity has reshaped consumers' spending habits, while technology continues to enrich marketing's creative potential. Challenge and opportunity combine.
Against this backdrop, this shortlist has been drawn up of contenders for the prestigious Marketing Society Brand of the Year award, in association with Marketing and Metro and sponsored by Tag.
The award recognises excellence in innovation, marketing and advertising effectiveness, financial performance and winning over cynical, overloaded and price-conscious consumers.
Now we need to whittle this list down to the top five, ahead of live voting at The Marketing Society's Annual Dinner on 21 November. Which brand gets your vote?
Marketing Society Brand of the Year shortlist 2013
Adidas followed up London 2012 and Euro 2012 with another strong year. Its Nitrocharge 1.0 football boot, launched with its biggest-ever (non-World Cup) integrated campaign, and its jump challenge (people who could leap to grab them from a shelf 10ft up took them for free) proved it still has the power to surprise and delight.
Amazon rolled out the Kindle Fire in the UK last autumn and is pushing into new areas. It launched Premium Store, a women's fashion shop, on its UK site, created original TV series via its LoveFilm service, and is testing Amazon Fresh online grocery in the US.
Powerful branding, strong use of social media and keen pricing ensure online fashion retailer Asos keeps growing. In the three months to the end of May, sales rose 45% on the year to £193m, with UK sales leaping 39%. Its #BestNightEver online Christmas campaign and tie-up with Primark show it is a creative leader.
BT promoted former Procter & Gamble marketer Gavin Patterson to group chief executive this year. It also ramped up its battle for broadband subscribers, and challenged Sky's dominance, with the launch of BT Sport. The TV channel, which shows 39 Premiership football games a year, has attracted 1m subscribers.
Burberry reported an "exceptional" response to its Spring and Summer collection, backed by ads starring Romeo Beckham. Like-for-like sales for the three months to June jumped 13% to £339m. It hired actors Sienna Miller and Tom Sturridge for its latest "Trench kiss" campaign from chief creative officer Christopher Bailey.
The credit-card brand has continued to promote its mobile and contactless payment technology, launching its biggest TV campaign in three years last autumn with the spectacular "Making Christmas easier" ad. The brand has also launched a digital rewards and offers scheme called Barclaycard Bespoke Offers.
Coke has had an award-laden 2013, scooping the Cannes Lions Creative Marketer of the Year prize for notable campaigns such as "Small world machines", which provides a platform aimed at bringing together people from Pakistan and India. The brand also surprised the world with the launch of its anti-obesity drive.
The budget airline is two years into a brand revamp and recently launched its "Generation easyJet" brand-building campaign. It has embraced mobile, while its introduction of allocated seating has boosted its appeal among business customers, who accounted for 10m of its record 60m passengers this year.
Everything Everywhere rebranded as EE last autumn, when it launched the UK's first 4G mobile services via an ad campaign starring actor Kevin Bacon. EE's early launch of 4G, nearly a year ahead of rivals, helped it establish a reputation for internet connection speed (which it recently doubled) and value for money.
The department store's marketers may struggle to find room for more awards. This year, it created an ad to boost awareness of its insurance products and expanded its loyalty scheme. Online sales for the first six months of 2013 soared almost 20% to £440m; overall like-for-like sales rose a more modest 5% to £1.7bn.
The online travel agency launched its "Travel yourself interesting" campaign this year, while its ad agency, O&M, won eight awards for outdoor work for Expedia at the Cannes Lions. With 12 Lions overall, Expedia was the most awarded British brand. In 2013, it has also picked up an app of the year award from Google, as well as being voted into this year's The Sunday Times 100 Best Companies list. The brand's latest results for the second quarter of this year revealed that global revenues were up 16% year on year, with room night booking up 19%.
The Swedish furniture retailer has continued its theme of helping people make the most of their, often cramped, homes. Creative highlights this year include TV ads such as "Playin' with my friends" and "Make more of your garden". It has created a microsite offering a 360 degs tour of a perfect Ikea home.
Jaguar launched its F-Type sports car in May. It has sold 1000 a month, helping boost overall Jaguar sales by 30% in the first half of this year. Marketing for the F-Type included the "Your turn" campaign, developed in-house, and Desire, a star-studded 13-minute film created in collaboration with Ridley Scott Associates.
The boutique hotel-booking brand this year launched a family-friendly hotel collection called Smith & Family and has created a brand extension, Smith Paint. It has expanded into Canada and Asia, opening an office in Hong Kong. The company's customers book £36m of hotel stays - 10,000 room nights - a year.
The mobile phone operator pushed the boat out creatively with its "Be more dog" ad campaign, encouraging people to embrace new technologies. It has continued promoting its technical advice staff O2 Gurus and boosted its Priority early ticket-booking service with a powerful ad campaign featuring singer Beyonce.
Earlier this year Paddy Power opened a book on the Papal candidacy and offended Celtic fans with a misjudged jibe about the club's former player and manager Billy McNeill. Nonetheless, the betting chain's revenues rose 22% to EUR380m in the first half of the year, suggesting that its irreverent campaigns are doing the trick.
Sainsbury's was the only one of the big four supermarkets to grow in the three months to the end of August, its 33rd consecutive quarter of growth. This year it brought back its Active Kids programme with ads featuring David Beckham. It overhauled the By Sainsbury's range and continues with its "Live well for less" campaign.
Samsung is determined to teach Apple a thing or two about innovation and marketing. Over the past year it has run huge ad campaigns for its Note phablets and the recently launched Galaxy S4 smartphone. It also rolled out the Galaxy S3 and Galaxy Camera, and beat rivals to unveil the first smartwatch.
The music-streaming service ramped up its marketing partnerships this year, striking a deal with Coca-Cola to create social music app Placelists, Ford for Spotify in cars, partnering Vodafone on 4G and running campaigns with Reebok, Philips, Jose Cuervo and Sky. The service reaches 24m people in 28 countries.
The microblogging site announced plans for an IPO as ad revenues for 2013 doubled to an estimated $582m (eMarketer). In January it launched Vine, the six-second video-clip service. The number of active UK users reached 15m.