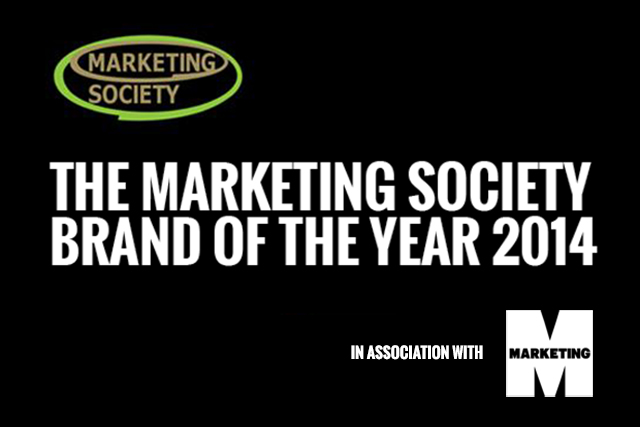 During difficult times, strong, robust brands are more important than ever. But will fortune favour the brave in 2014?
The prestigious Marketing Society Brand of the Year award, in association with Marketing, recognises marketing excellence. Sainsbury's was named Brand of the Year 2013. Who will it be this year?
From established retailers like John Lewis, which has celebrated its 150th anniversary this year, to the bold, industry-disrupting taxi app Uber, here's a shortlist of 20 brands. Now it's time to whittle them down to five.
These five finalists will then be put to a live vote at The Marketing Society's Annual Dinner on 26 November.
Which brand gets your vote? Make your voice heard (see voting details below).
Marketing Society Brand of the Year shortlist 2014
Daily deliveries, 100% British fresh meat and low prices have helped German discounter Aldi capture the second biggest basket size in the UK, second only to Asda. The super­market announced pre-tax profits of £260.9m, a 65% surge, and was named favourite supermarket by the public in the YouGov's Brand Index.
Three years ago, Baileys was struggl­ing. Yet, in Diageo's latest half-year results, the cream liqueur achieved 8% top-line growth following brand renovations such as the launch of Baileys Chocolat Luxe. Meanwhile, Baileys' new sponsorship of the Women's Prize for Fiction has been well received and will create publicity.
The launch of BT Sport was a gamble that paid off, moving BT from broad­band provider to broadcaster. By giving free Premier League football to its 7.4m broadband customers, BT attracted 580,000 new subscriptions in the year to June alongside Market­ing Society Excell­ence Awards for Brand Extension and Revitalisation.
Burberry offers a masterclass in combining creativity and technology. During London Fashion Week, fans bought its products instantly via tweets; consumers watching ads for personalised fragrance My Burberry created their own virtual bottles. Bur­berry also uses data to empower staff to recommend relevant products.
EasyJet flew high at the 2014 Marketing Society Excell­ence Awards, taking home five prizes, including the Grand Prix. The budget airline's determination to improve its perception among all customers, including business flyers, is paying off. In September, it increased its order of new planes by 27 to 170.
With Galaxy's growth slowing, brand-owner Mars looked to the past to build the future. Its Audrey Hepburn ad (highly commended in The Mark­eting Society Excellence Awards) used CGI and revived the 'Why have cotton when you can have silk?' line. Galaxy is to add treat-sized bars and has part­nered (RED) to drive HIV awareness.
The combination of affordable design and addictive meatballs ensures the Swedish retailer has a place in consu­mers' hearts. IKEA's determination to be frugal has led to creative innova­tion with social media and digital mar­keting. The campaign launch of the 2015 Bookbook catalogue, a parody of Apple's iPad, is witty and clever.
Re-entering the sports-car segment after 40 years, with the F-type con­vertible, was a bold move. Highly commended at The Marketing Soci­ety Excellence Awards for Global Marketing and Brand Revitalisation, Jaguar has posted UK sales growth of 16% year on year. The Jaguar XE's star-studded launch didn't disappoint.
The Partnership goes from strength to strength as it celebrates its 150th anniversary. 'Bear and Hare', its Christmas camp­aign, dominated the airwaves and won The Market­ing So­ciety's Brand Activation Award. John Lewis' old-fashioned customer serv­ice is combined with a nod to the fut­ure in JLAB, its technology incubator.
No one should face cancer alone. This simple, compelling insight is the basis of Macmillan's campaign. The likelihood to donate among those not currently affected by cancer jumped more than 10 percentage points after the push launched. The charity's World's Biggest Coffee Morning raised £20m in 2013, up from £15m.
Who'd have thought a chicken could demonstrate complex, advanced engineering? Mercedes did, and its V8 spot was named best car ad by Auto Express. The brand also won The Marketing Soci­ety Award for Customer Insight; using bio­metrics led to record brand engage­ment and 50% of sales from new buyers.
Netflix is changing the way we watch TV, enabling viewers to binge on their favourite shows. Its use of market-leading analytics to research millions of users' viewing habits means when it creates a show like House of Cards, it's not guessing what they want. Next year's sequel to Crouching Tiger, Hidden Dragon will debut on Netflix.
In March, Next's soaring annual profits, up 12% to £695m, overtook those of high-street rival Marks & Spencer for the first time. The figures represent a remarkable rise for the 32-year-old chain at a time when other retailers have been struggling. The Next directory and website played a key role in its success.
[Telefónica] O2 faces an unforgiving UK mobile market with little cust­omer loyalty. However, its Priority Moments prog­ramme has cut churn and boost­ed advocacy. This year, O2's 'Be more dog' campaign, includ­ing geo-located mobile ads, rein­forced the message of how users can live the 'good life' via special offers and tickets.
Net-a-Porter's discount website, The Outnet, teaches us how a premium retailer can extend its customer base without cannibalising its core brand. The Outnet collaborates with big-name design­ers and partnered Uber taxis for discounts during London Fashion Week. It also carried footage of shoes from a dog's 'collar camera'.
Paddy Power's mischievous comms can get it into hot water. However, the bookmaker's tongue-in-cheek activ-ity, such as its World Cup 'traitor' stunt, sparks publicity. This year, Paddy Power also won The Marketing Society's Cause-Related Marketing Award for its 'Rainbow Laces' work with Stonewall.
The Edinburgh-based travel search engine soared to new heights this year. Stretching from flights into hotel and car-hire searches, it also expanded beyond Europe into Asia and the US. Last year's turnover was up by 96% to £65.8m as web and app users doubled to more than 25m a month.
"People want access rather than ownership," said Daniel Ek, Spotify's 31-year-old CEO. Since its launch six years ago, Spotify has persuaded us that streaming is the future of music consumption. It is now the world's biggest music subscription service with 40m active users and 10m paying subscribers, dwarfing its competitors Deezer and Rhapsody.
Once in a while a business comes along that disrupts an entire market. Uber, the private taxi-hire app, has caused a furore among licensed cab drivers in Europe. London's black cabs' protest strike led to a surge of downloads from publicity. Savvy with social media, Uber offers celebrities free travel in exchange for referrals.
The rest of the world watches as the FMCG company begins to prove that responsible growth is good for business. In Sept­ember, it was named the top sust­ainability leader in the Tomorrow's Value Rating 2014, for the second consecutive year, and topped its industry in The Dow Jones Sustainability Indices World 2014.