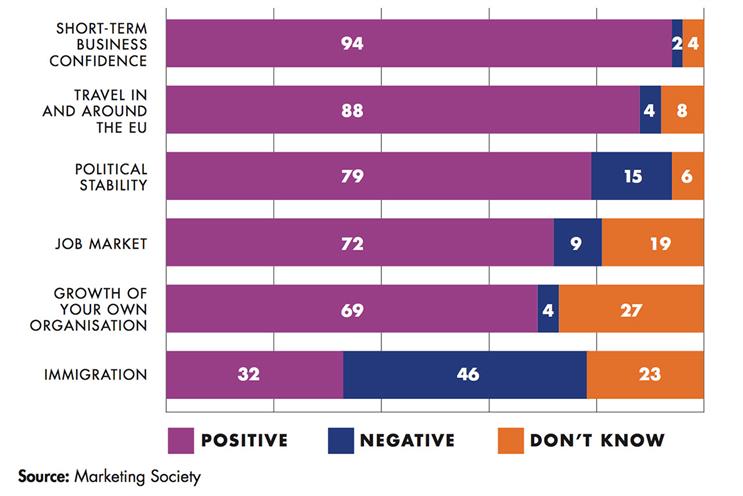 Carried out in partnership with RadiumOne, the organisation polled its members to gain a picture of where they stood on Brexit and the impact that staying or leaving the EU would have on a range of issues.
The research, which was shared exclusively with Campaign, found that 77% of respondents – comprising the most senior marketers and agency executives – intended to vote to remain in the EU in the referendum on 23 June. Just 15% were pro-Brexit, while the remainder (8%) did not know which way they would be voting.
Most of those surveyed (94%) thought a vote to stay would provide short-term business confidence, while 88% raised travelling in and around the EU as another plus point. Almost seven out of ten respondents (69%) thought it would also result in growth for their organisations.
Immigration was the only issue on which the organisation's members appeared less optimistic: 46% thought staying in the EU would have a negative impact, while 32% thought it would have a positive one.
The Marketing Society does not have an official view on the EU referendum. However, speaking in a personal capacity, Hugh Burkitt, its chief executive, said: "Brexit would unquestionably lead to a period of considerable business uncertainty, which is never good for the plans for expansion and innovation on which marketers thrive. I believe the business case for the UK staying in the EU is overwhelming."
New manifesto
Meanwhile, the Marketing Society this week unveiled a new manifesto to help its members become bolder leaders and improve marketing's standing within the wider business community.
It fits with The Football Association chief executive and Marketing Society president Martin Glenn's agenda to encourage more marketers to become chief executives.
Research by headhunters Spencer Stuart found that while the majority of chief executives come from a finance background, the second-most-common group was those with significant marketing experience.
"We shouldn't feel defensive about being marketers," Burkitt said. "If you want your company to grow, you've got to sell more product to consumers – that's a marketer's role."
He added: "It's marketers that have the opportunity to create growth. Finance people can only measure how much money you are making.
"To use a cricketing analogy – the finance people can keep the score but the marketers are the ones making the runs."
Among other things, the manifesto encourages marketers to be more commercially fluent, understand the business case and speak the language of commerce, finance and investment.