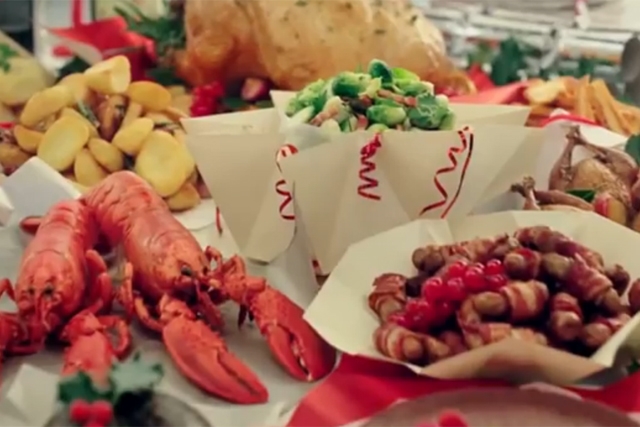 Christmas 2013 can be talked about as a case of "more of the same" as we see a similar to previous years; a tough trading time for players in the "squeezed middle" losing out to both the discounters and more premium offers.
We saw the biggest pre-Christmas discounting for seven years as retailers lost their nerve
The opposite side of this coin is the rise of the savvy shopper, born from the squeezed middle shift to online, which has become even more significant – a successful online performance can make or break the season.
The third and new dimension this year was the "sea of red". The biggest pre-Christmas discounting we have seen for seven years (according to the BRC) as retailers lost their nerve and took a decision to bring forward the traditional Boxing Day sales – not without an impact on profit, most noticeably Debenhams who posted a major profit warning on New Year's Eve.
So who were the winners and losers? Let's look at a few of them in terms of how they performed, what they offered and why it did or didn't work for them.
THE WINNERS:
John Lewis
Bravo! Sales up 7% like-for-like, delivering a record £734m. The department store group won big online, adding 22.6% online sales growth to its 1.2% in-store growth across the period. It also held firm on pricing, not moving in to sales until post Christmas. The investment in another blockbuster ad campaign paid off too, as the Disney-style "Bear and the Hare" won the hearts of the British public. Hats off to this proud demonstration of category leadership showcasing a single product (an alarm clock) Not a dry eye in the living room.
Waitrose
At the premium end of grocery, Waitrose enjoyed just under 4% sales growth, reporting its busiest-ever trading on Dec 23rd as shoppers waited until the last minute to snap up turkeys (up 66%) and mince pies (up 53%). Online played a part too, with massive 49% growth as Waitrose.com continues to establish itself in the market. Like stablemate John Lewis, Waitrose too demonstrated confidence with its charity-led ad campaign 'The Story of Giving Back'. Shoppers already know Waitrose is synonymous with quality and this was a great opportunity to further deepen an emotional connection, talking about the "other stuff" Waitrose does.
Discounters - Aldi and Lidl
Little wonder the sales of fresh turkeys, lobster and champagne rocketed as Lidl's ABC1 shopper profile jumped from 25% to 41%
At the opposite end of the grocery spectrum, discounters have become disrupters, with both of the major players expected to show double digit growth.
Lidl
Lidl owned Christmas with huge shifts in both range and shopper profile. Its busiest Christmas in 24 years kicked off with its first-ever ad festive campaign, 'A Lidl Christmas Magic', showcasing a luxury range set to a One Direction cover. Pure genius. Little wonder the sales of fresh turkeys, lobster and champagne rocketed as Lidl's ABC1 shopper profile jumped from 25% to 41%. If anyone knows the savvy shopper it is these guys – I would go as far as saying they have democratised luxury for the masses.
Aldi
A stellar performance from Aldi as disloyal shoppers switched to the discounter and Nielsen figures (till sales not like for like) show a whopping 40% growth. Aldi went hard with a value message this Christmas in its ad campaign, featuring top brands (such as Lindt) and their own brand offer in comparison. It clearly worked – if you want to do Christmas for less, Aldi was the place to be.
Next
Next took a different path from the pack and it paid off, delivering a storming Christmas of 12% sales growth. The number-two clothing retailer is set to make more profit than arch rival and number one, M&S. Next didn't discount prior to Christmas and held on until Boxing Day; the retailer also sat out the big ad campaign battles, opting instead for online fashion show footage. Next held its nerve, stuck to its strategy and reaped the rewards - in spades.
Primark
Primark is another winner at the discount end of clothing, with an expected 22% rise in sales. Primark led with an ad which shamelessly displayed every aspect of throwaway fashion one will ever need for the Christmas season: a doll's house with models showcasing the onesie, the Christmas jumper, the sparkly party dress and the fluffy nightwear. A one-stop-shop that worked.
Sainsbury's – Not really a winner, but the best of the bunch
So tough is the middle ground that flat is good, and a 0.2% sales increase is a win for the number -two grocer. Justin King's "busiest ever" Christmas included their highest recorded footfall and a whopping £110m worth of loyalty card redemption from savvy shoppers. It seems that Sainsbury's has accepted its position in the middle and decided to own it: its ad campaign "Moments That Make Christmas Special" uses YouTube-style footage to show real Christmas moments of real people. It is functional, personal, and authentic; a celebration of the ordinary and of the middle ground. Sainsbury's is being itself, and like the ordinary people it targets, it's managing to hang on respectably well.
THE LOSERS:
Not everyone had a happy Christmas: big names suffered, most noticeably Tesco, M&S, Debenhams and Morrisons
M&S
Despite a fashion overhaul and huge ad investment, the oil tanker that is M&S is still stubbornly resisting a turnaround
A Christmas bloodbath for Marc Bolland as the "sea of red" pre-Christmas discounting saw the 10th consecutive quarter of decline for general merchandise (clothing) with a 2.1% fall. A flat group performance was saved again by food with a 1.6% rise and a strong online performance of 22.7%. Despite a fashion overhaul and huge above-the-line investment, the oil tanker that is M&S is still stubbornly resisting a turnaround. For the first time ever, M&S staged a flash sale on the Saturday before Christmas, with 30% reductions off clothing lines. It may have driven essential purchasing but seems incongruent with the premium "fashion" drive and sumptuous Christmas ad that promised us a fairy-tale Christmas full of Magic and Sparkle, sadly lacking in the company's performance. Maybe 2014 will be their year…
Tesco
Bad news again for the number-one grocer as Christmas brought a 2.4% fall in like-for-like sales. That was despite a 14% growth online, impressive considering Tesco accounts for 47% of the online grocery market. Smaller formats in fewer stores are cited as the root cause of decline, but where rival Sainsbury's are celebrating the middle ground, Tesco still seems to have trouble coming to terms with its position. Its Christmas ad offering reflected this, with a nostalgic look at Christmas through the eyes of a family; but where Sainsbury's used real people, Tesco didn't quite take the plunge and opted for faux-reality footage. It doesn't quite ring true, just as it feels like the business can't quite accept what is happening to it. 2014 will be a crucial year for the giant of British retail
Debenhams
A nightmare at Christmas for Debenhams, who like M&S got the red mist and heavily slashed prices before the 25th in an attempt to drive sales. It got them to flat (+0.1%) but caused a corresponding drop in profit of 1% and a resulting major announcement to the city on New Year's Eve. Online grew by 27%, but it was just not enough. The department store group's desperation showed in its Christmas ad campaign, which simply showcased the goods, catalogue-style, instead of telling a richer and emotional brand story like competitor John Lewis.
Morrissons
Another Loser this Christmas with disappointing sales figures is Morrisons, with like for like sales down 5.6%. Not having an online offering or much of a convenience store format is starting to leave Morrisons behind the rest of the pack (although online trials are now starting in Warwickshire). Even Ant and Dec couldn't swing it for Morrisons, as they starred in the ad campaign – like the rest of the business, feeling a little behind the times.
Conclusions
Hold your nerve when it comes to slashing prices - once you have given it away, there is no getting it back
Today's consumers are smart and well-informed and their loyalty has to be earned. The ingredients to a successful season are a combination of the following:
The head and heart – Win the mind through your offer in store and tug at the heartstrings with your emotional communications. Hold your nerve when it comes to slashing prices; once you have given it away, there is no getting it back.
The online and offline – The shift is not going to reverse any time soon. Think of one seamless operation and customer journey, not two different beasts.
Celebrate what you stand for – all of this years' winners did just that.