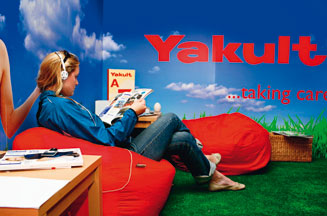 Not long ago, the only face-to-face contact that brands had with consumers was while handing out samples in a shopping centre or railway station. However, with live demonstra­tions and branded events on the rise, experiential has emerged as a standalone marketing discipline.
Experiential specialists have taken sampling and added in brand engage­ment, thereby helping companies to create a lasting impression with consumers.
Overlap with traditional field marketing remains, with sales and merchan­dising specialists such as CPM and REL also carrying out a significant amount of experiential work. Conversely, smaller experiential agencies such as Channel Advantage and Sense receive some of their revenue from retail-based activity.
see also Field Marketing League Table 2009
However, most agencies now specialise exclusively in one or the other. Experiential firms also outnumber traditional field marketers by a strikingly big margin, a sign of the discipline's burgeoning popularity with brands. With winners exceeding losers in the table by two to one, it seems the recession has not been too damaging to the industry.
At the top of the table, FitchLive has grown its revenues by 29%, while SMP in fourth place registered a 98% increase. Other strong performers include Blackjack Promotions, BD Network and The Bailey Group, which trebled its turnover.
'Experiential is clearly being taken more seriously by marketers,' says James Layfield, managing director of The Lounge Group. He has noted a trend for clients to appoint a staff member tasked with overseeing brand experience activity, which in most cases is an unprecedented remit.
Experiential offers brands the potential to connect with people in a unique way, at a time when consumers are mired in economic uncert­ainty. 'People don't know who to trust, and the discipline helps fill their need for real first-hand experiences,' argues Sharon Richey, managing director of experiential agency BEcause.
For their part, brands are coming to see experiential as central to how they define themselves and engage with consumers.
'More than ever, they understand the power of engaging emotionally with their audiences, and the value that can deliver,' says Richard Dorman, senior marketing manager at Sony Ericsson.
Innovation is important as a way to grab consumers' attention, he adds. When Sony Ericsson briefed experiential agency Iris to promote audio improve­ments on its handsets and MP3 players, the agency came up with the idea of putting on rock concerts in total darkness, making the audience's hearing more sensitive.
Dorman also points to brands' need to make experiential part of their overall mar­keting campaigns, rather then treat it as a one-off event. This is a concern for cereal brand Jordans, which has been working with Sledge to promote awareness of its green policies through interactive exhib­itions at Kew Gardens and elsewhere.
'It's really important to integrate it into other activity,' argues Carol Welch, mark­eting director at Jordans. The brand has taken care to link the events to on-pack promotions to reinforce the message and extend the reach, which, according to Welch, now exceeds 1m people.
Similarly, Closer is running a campaign for lager brand Tuborg at music festivals. The activity encourages visitors to 'act up' for the cameras. Clips and stills are then shown on big screens around the sites. To extend the campaign's reach, fans can view high­lights on a dedicated Tuborg music website and social networking sites.
Experiential may be a 'must-have' for many marketers, but it has not altogether escaped the effects of the recession. Some agencies report a higher level of acti­vity being cancelled out by lower returns.
'More brands are deploying it, but in a different way,' explains Iris Experience business development director Cameron Day. 'They might once have spent £1m on a project, but that budget is now cut in half.'
Experiential agency TRO reports that clients are taking longer to commit to new projects, with planning decisions that would normally have been made last autumn delayed well into this year.
On the other hand, the closer scrutiny that financial directors are giving to mar­keting budgets means that experiential is getting noticed further up the management chain. 'That's a good thing, as it means our work is being seen and approved at a higher level,' says TRO chief executive Rob Allen.
TRO handled a 16-day nationwide road­show in April to support the launch of Sam­sung's Tocco Ultra handset. The camp­aign engaged with 20- to 35-year-old urban professionals, a group that, typically, has a cynical attitude toward purchasing in a saturated mobile phone market.
Consumers touched an interactive holo­gram of the handset, which automatically transformed into a 'Text-to-win' message. About 800,000 people saw the promotion, of whom 60,000 used their phones to directly participate.
There is evidence of a disconnect bet­ween tact­ical and ongoing strategic activity, which is also being experienced by retail-facing agencies. The relative strength of contract work is benefiting agency RPM, which has just recruited 16 additional permanent staff members. Among the sector's longest-established players, it now finds itself involved in campaign planning with its clients' other marketing agencies.
Along with several other agencies, RPM also reports a stronger focus on ROI by clients. 'Like all marketing disciplines, we are seeing a greater degree of accountability and a bigger need for return on investment,' says managing partner Hugh Robertson.
However, this is broadly welcomed, with agencies keen to show they can deliver. Day has been pleased to see a growing demand for events with quantifiable results.
Targets now have more to do with direct sales than encouraging customer loyalty, he says. 'That makes it much easier to get a clear ROI link. We're seeing clients using experiential for that much more, especially in the highly competitive retail market.'
In a recent campaign for coffee brand Lavazza, the agency eschewed the appr­oach of distributing samples and instead targeted sales of Lavazza's coffee machine itself, which was far more profitable.
Data capture was an integral part of a campaign by BEcause on behalf of pro­biotic drink brand Yakult, which has a high profile, but wanted to educate consu­mers about the benefits of its products.
A branded marquee was set up in the ExCel centre in London's Docklands for this year's Flora London Marathon, where visitors could play interactive games, have a head massage, play Nintendo Wii or access advice on exercising. As well as distributing 8000 samples, the campaign recorded that 45% of participants made purchases and 70% said they would do so in the future.
Measurability was also high on the agenda at a recent roadshow campaign by Event Marketing Solutions for the British Heart Foundation. As a result of the event, 43% of visitors said they would eat more healthily, and 22% agreed to share the information with their family and friends.
This has been a testing time for a marketing discipline experiencing its first serious recession. That experiential looks set to emerge in pretty good shape is testament to the regard in which mark­eters hold the discipline. N
Rizla bringing the past back to life
Entertainment remains a big part of experiential activity, especially for brands targeting the under-35s.
In the 20s, cigarette-papers brand Rizla employed a music troupe to tour the UK. Agency Exposure brought the idea back to life for the festival season, with musicians and DJs offering entertain­ment. Consu­mers can talk to the DJs as they play, while staff hand out sample packs.
The brand also filmed the activity for use in future communications. The event, which is now in its third year, takes in festivals including Lovebox, The Big Chill and Bestival.
Rizla brand manager Alison Williams says: 'It has provided a link to the brand's earliest heritage and gives an authentic flavour to our experiential activity.'
Methodology and Sarbanes-Oxley
Information was collated by Marketing by sending a survey to each agency directly. This year, for the first time, we have separated field marketing and experiential agencies into separate leagues, reflecting the increased distinction between the disciplines.
All the respondents have been ranked according to their 2008 turnover, apart from RPM, TomTom Nation and REL, which have submitted figures for their financial years ending March 2008, March 2009 and June 2009 respectively. Momentum UK is affected by the Sarbanes-Oxley Act and cannot extrapolate its field marketing figures from the rest of its marketing services, so we have been unable to include it in the table. CPM purchased TRO in August 2008 and, therefore, five months of TRO's turnover are included in CPM's overall turnover figure for 2008. TRO's full-year figures are listed separately.