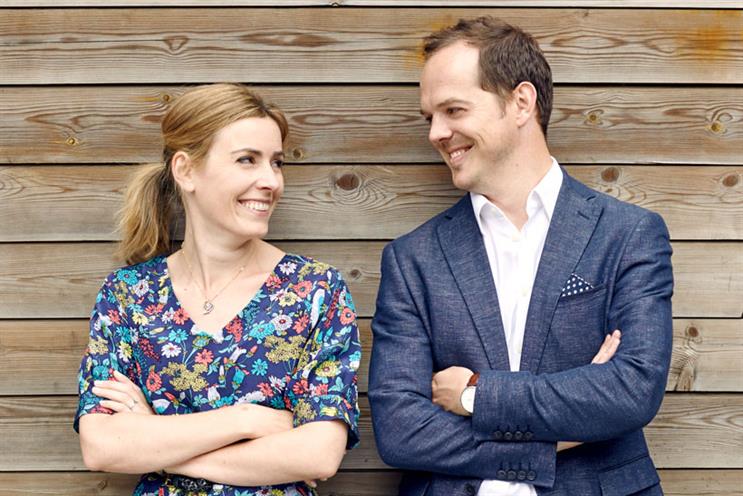 Lizzie Penny
Joint founder of The Hoxby Collective
The news in recent months has been littered with tales of industry leaders leaving the industry in search of greater work life balance. But this is only one symptom of a much wider problem, with industry estimates suggesting that 58% of women leave the sector after having a baby.
Given diversity is key to creativity this is a shocking statistic and a worrying trend.
When Alex Hirst and I set up The Hoxby Collective, it was indeed partly because I wanted to spend more time with my family. I was running Futureproof – a traditional agency – and was juggling this with trying to be a good mother to my first child. Alex had a different catalyst for wanting to create this new way of working - he loathed his daily commute and the 14+ hour days slowly eroded his passion for work.
Frustrated, we asked ourselves four key questions: one, is the traditional 9-5 (a concept conceived over 200 years ago and yet still so prevalent) still fit for purpose; two, does anyone truly benefit from presenteeism and the 'coat on chair' culture; three, why is some of the best talent being excluded from the workforce because of geographical location, parental responsibility or a myriad of other reasons; and, four, how can we engage that talent in order for them to feel fulfilled and happy?
Our solution was to offer not just flexible working, but to create what we refer to as the workstyle movement. We enable all those within the Hoxby community to choose exactly where and when they like to work. The result is that, wherever they may be in the world and whatever their circumstances they can fit their work around their lives and not the other way round .
My advice to mothers in the creative industries would be to question what you want from your life and work, and try to work with your employer in order to create that perfect balance



Four years (and in my case, two children) later, The Hoxby Collective has grown to over 400 members in 29 countries. 68% of those are women. We're a lifeline for working parents, digital nomads, carers for elderly relatives, those with disabilities or those who for many other reasons can't engage with work in the traditional way. However, our bottom-line ethos is that agile working liberates all Hoxbies to pursue their personal vision of happiness, even if that means the freedom to go to the beach on a sunny day. This isn't just a social reformation, it's a commercial one too - an agile workforce is more motivated, more engaged in the work they're doing and more productive.
When I spoke to Independent Consultant Jo Royce, who has exceptional agency credentials, about this recently, she emphasised that traditional agencies need to up their game and embrace trust and respect to attract, retain and motivate the best people. "They need to take not just a customer-focused approach to business but also an employee-centred one. Newer and more progressive businesses know that being productive is not dependent on working regular hours at a desk and in the office."
So, do our female industry leaders feel that their employers grant them the autonomy to manage their children and their workload?
Sara Tate, chief operating officer, TBWA\London, suggested that we should be able to have our cake and eat it - and the solution needs to encompass conversations about job sharing and flexible hours, as well as remote working: "Allowing the worlds of work and family to successfully co-exist is about altering perceptions of what 'great' looks like. It's summed up for me in shop-bought birthday cakes. I used to think hand-crafted cake was the height of mothering perfection. Now I know the real win-win is my daughter getting the three-tier rainbow unicorn cake she really wants from Marks & Spencer , and me not having to find nine spare hours in which I fail to make it. Similarly, we need to adjust our view of what 'great' looks like in the workplace. It should no longer be a case of everyone present and correct behind desks from 9am to 5.30pm, answering the phone on three rings."
Shared parental leave is also a hot topic at the moment, with the government reported take up a devastatingly low 2%. For Hoxby 2% feels like a drop in the ocean. The Hoxby model creates the opportunity for genuine co-parenting (as Alex exemplifies, himself working a four-day week). In a tender open letter to his daughter, on International Women's Day, Alex explained, "By working flexibly, I want to be an inspiration to you as my daughter but, just as importantly, I want to be a more inspirational person to your mummy. By doing that I acknowledge every day that your mummy, that woman who brought you into the world, has the same equal entitlement as me to work and to pursue her career."
My advice to mothers in the creative industries would be to question what you want from your life and work, and try to work with your employer in order to create that perfect balance, be it working fewer hours, working flexibly or from home. A century after women got the right to vote, we shouldn't have to fight for a flexible working future. Let's change the conversation, and create a new working world - one inherently without bias.
Alex Hirst
Joint founder of The Hoxby Collective
In my opinion, any business which ejects female team members - at any level - through maternity discrimination is not a business that is giving its clients or their customers effective representation, nor is it benefiting from a diverse pool of ideas.
For creative companies like Hoxby - the work is only made richer by the diversity of those that contribute to its creation, and by the conditions they work in. It's imperative that creativity is nurtured within our teams and not stifled by the presenteeism and exclusion of rigid, outdated working policies.
Interestingly, our 2017 report on The Impact of Presenteeism on Workplace Happiness highlighted the fact that 80% of those surveyed said that flexible working not only had a positive effect on their mental health, but also helped them to enjoy work more. A happier workforce is a more productive one.
The Hoxby Collective is a meritocracy. We judge quality of output rather than how or where it was produced. As such, there is literally no reason why a working parent cannot be a valuable and regarded member of our community.
Not only that, we're doing creative work differently too – crowdstorming ideas, bringing the client into the process and using our flexible talent pool to act as a much more natural extension of their business than the traditional agency model. As an example, we recently brought together a subset of women from the community to act as a consumer focus group for leading skincare brand, Dermalex. They provided insight and feedback to creative territories after having contributed to our crowdstorming initiative that saw us win the business from our more traditional counterparts.
It is this monumental structural reform to the way people work that will bring the level playing field so badly needed for equality to be brought to the workforce, akin to the views shared by Anne-Marie Slaughter, in her book Unfinished Business.
Through our ongoing journey with The Hoxby Collective, we have learned a great deal about virtual leadership and re-evaluating trust. We have learned about using technology to build teams and culture. For us, a flexible future does not require an office, nor restrictive hours that impact on family-time. We are a place of refuge for the extraordinary talent alienated by the corporate way of life, and with every new member that joins us, we take another small step closer to a world of work without bias and a happier, more fulfilled society.