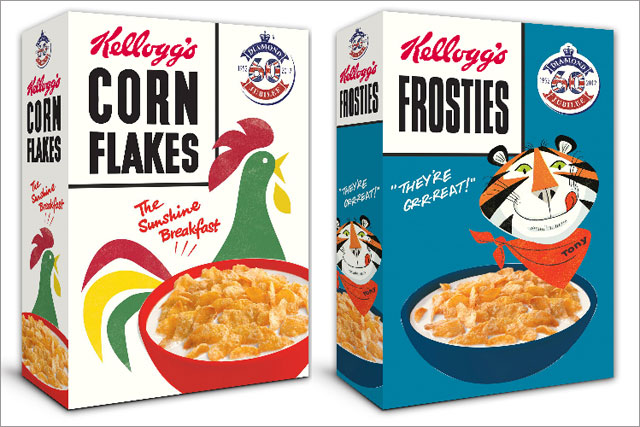 1. Kellogg's cereal packaging has turned the clock back 60 years to mark the Jubilee.
The cereal giant has unveiled a range of limited edition collectors' boxes which have been inspired by Kellogg's drawings dating back to the 1950s, when the Queen came to the throne.
The line-up includes the first Coco the Monkey design for Coco Pops and the original Snap, Crackle and Pop characters on Rice Kripsies.
2. Marmite maker Unilever has given the "love it" or "hate it" spread a royal makeover to celebrate the Queen's Diamond Jubilee.
The limited-edition pots of Marmite have been renamed "Ma'amite" and come with a new look jar to honour the Queen's 60th year on the throne.

Unilever has changed its famous yellow top to red and the jars will be labelled with a Union Jack emblem, featuring a picture of a crown.
3. Bentley has launched a tailored edition of its Mulsanne luxury sedan to mark the occasion.

The Mulsanne Diamond Jubilee has been developed by the Mulliner division.

There will be 60 limited editions of the title sold in China, one for every year of Her Majesty's reign.

4. Paddy Power is offering 110/1 odds on the Queen's boat suffering a collision during the Thames Diamond Jubilee Pageant.


5. Tabasco sauce maker McIlhenny Company is celebrating the Queen's Diamond Jubilee with a limited-edition pack.
The company, which was granted a Royal Warrant in 2009, is rolling out limited-edition packs of the pepper sauce brand.
A red, white and blue box, featuring diamond artwork, will house the bottle and will feature an on-pack promotion for one person to win a diamond worth £15,000 from Williams & Son of London.