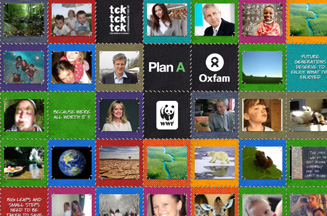 The campaign, hosted at www.marksandspencer.com/PlanA, invites customers, employees, investors, suppliers and anyone concerned for the wellbeing of future generations to create an individual patchwork which includes a personal image and a message to those taking part in the Copenhagen negotiations.
The first person to 'patch' was Marks & Spencer Executive Chairman Sir Stuart Rose. In his message he said: 'Copenhagen is a unique opportunity to do the right thing. Doing nothing is not an option.'
Other high profile 'patchers' that have already shown their support are Zac Goldsmith, Twiggy, Myleene Klass, Laura Bailey, Noemie Lenoir, Philip Glenister, and Erin O'Connor.
Ed Miliband, Secretary of the State for Energy and the Environment, is also supporting the campaign. He said: "I am happy to see M&S supporting its customers in taking action. That is important because we will need all the popular pressure we can get to strike a deal that is ambitious, effective and fair.
"The world cannot tackle climate change if we leave it to politicians alone. We also need people, companies, charities and every other group in society to act together."
The final quilt and a physical representation will be presented to the Government in advance of the summit, which starts on 7th December.
Richard Gillies, Director of Plan A, said: 'Our ambition is to reach out to a mainstream audience and demonstrate to those involved in the COP15 event that the M&S family is engaged in the climate change debate. Climate change is no longer a fringe debate, UK high street shoppers care and are demanding action so it's vital that we communicate this."
The campaign was created by Digit.