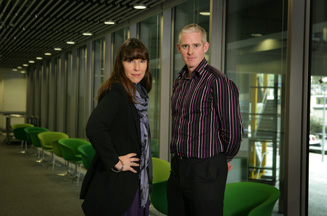 Sustainability will be a key issue over the next decade, shaping government policy, business strategy and how we live our lives.
As the world's population grows by billions and the Western way of consumption is adopted by hundreds of millions of people in the developing world, we are running out of the basics - trees, clean water, farmland and so on. Meanwhile, we are driving changes to our climate at a rate not seen for many thousands of years.
So, what has all this got to do with marketing? First, businesses will have to adapt to this challenge, telling stories about the sustainable products and services they will be developing. Moreover, we believe that communication, even more than technology, is the key to building a sustainable future.
To illustrate why, we're going to share five key lessons from M&S' sustainability journey. It is important to stress the word 'journey', as no business in the world can claim to have come remotely close to sustainability.
The first lesson is not unique to M&S. Many global businesses, including Nike, Unilever and Google, have recognised that the days of corporate social responsibility (CSR) are over.
CSR was all about managing a few sensitive areas that had the potential to generate positive or negative headlines. To be a credible player today, however, you have to understand all the social and environmental issues that are relevant to your business.
To tackle these, you need a clear business case, commitment from the top and alignment throughout the ranks. This covers not only your own operations, but also your supply chain and the way your customers use your products.
In 2006, M&S recognised that it needed to start working systemically to make its business more sustainable by addressing the social and environmental issues on which it had an impact. These span our supply chains (thousands of factories and farms), our own operations (hundreds of stores and lorries) and the use of the millions of products we sell each year. M&S then made 100 commitments related to these issues.
Lesson number two: we did not call this approach 'the M&S' sustainability plan'. We gave it instead the much more memorable name 'Plan A' - because there is no Plan B when it comes to saving the planet. We hit on the name only two weeks before launch, when our then head of internal communication, Robert Nuttall, raised the concern that we had a great idea but no inspiration. Our communications teams developed the Plan A brand and, in one fell swoop, our task was made much easier.
Internally, Plan A has been a powerful change brand, helping 75,000 M&S employees and 2000 suppliers to see the links between activities as disparate as taking trans fats out of food, reducing energy use and promoting Fairtrade.
Externally it has allowed us to demonstrate to stakeholders and the 10% of our customers who are 'green crusaders' that M&S is committed to playing a leading role on sustainability.
However, lesson number three is that Plan A is not a consumer-facing brand. For 18 months we thought it was, but we struggled to bring our stories to life for our mainstream customers. Plan A was an improvement on 'M&S' sustainability plan', but it was not enough to connect with 90% of our customers.
Earlier this year, our marketing team developed a customer strapline for our Plan A activities - 'Doing the right thing'. Our customers could connect with this simple sentiment that sum­med up our reasons for selling only Fairtrade coffee and tea, or using only free-range eggs.
However, even more important learning was emerging. Lesson four is that consumers buy more deeply into sustainability when they are engaged in change, and not just told about it. We know that consumers want business to do the 'heavy lifting' on sustainability, but you get more traction when consumers are given the opportunity to make some easy contributions themselves.
Plan A has encouraged customers to recycle their clothing with Oxfam and is rewarding them for cutting their energy use with M&S Energy. We will show our customers that, as we do more, there is more they can do, too.
This takes us to our fifth and final lesson: a sustainable future will be achieved only when people feel they are part of a 'tribe' for change. They must be made aware they are not alone, but one among millions of individuals who are all making small changes that together make a big difference.
These tribes will not be formed ran­domly on the internet, but rather by working with the grain of people's day-to-day lives. Your 'tribe' might be your religion, your football club, your allotment committee, or it might be a brand you consume with millions of other people each day. Brands are tribes with huge daily convening power across the globe, and enormous potential to inspire more sustainable living.
Consumption is at the heart of the sustainability challenge and many aspects of how we communicate today drive unsustainable consumption. The businesses that will be prospering in a decade are those that are radically committed to becom­ing more sustainable. As important, they will also have found a way of communicating that change is necessary, possible and desirable.
Mike Barry is head of sustainable business and Lucy Calver is head of food and Plan A marketing at M&S