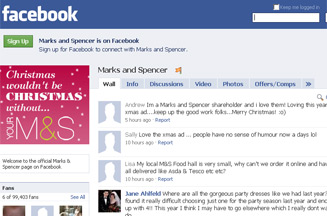 Customers are invited to log onto facebook.com/marksandspencer and put their questions to Nayna between 1pm and 2pm.
A number of people have complained the Advertising Standards Authority claiming that M&S' star-studded TV campaign is sexist, because of 'Life on Mars' actor Philip Glenister's comment about model Noemie Lenoir "prancing about in her underwear."
This is the second live web-chat M&S has hosted on Facebook. In June customers put questions to M&S' head of sustainable business, Mike Barry, about the retailer's Plan A - M&S' 100-point eco-plan.
McIntosh said: 'Facebook is a fantastic platform for communicating with our customers. It's direct, responsive and popular with almost 100,000 fans of the M&S facebook site.
'We want to hear what customers think of our marketing; what we've done well, what we've done less well and what they want more of,' McIntosh said.