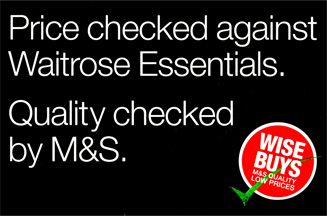 It is understood to be the first time M&S has run a campaign specifically naming Waitrose.
The press ad shows a series of products, which include mature Cheddar cheese, lean minced beef and orange juice, with M&S either matching or beating the 'Waitrose Essentials' product on price.
The headline of the ad says: 'Price checked against Waitrose Essentials. Quality checked by M&S.' The endline rads: 'Every week we check our Wise Buys products against the equivalent products from the Waitrose Essentials range, so you can be sure you're getting M&S quality at great value for money.'
Last year, Waitrose launched an 'Eat in for £10' promotion which was almost identical to a campaign run by M&S.
Steven Sharp, executive director of marketing at M&S, responded in a letter to Marketing, saying that Waitrose should 'dream up something worth copying.'